Looking for Hostwinds web hosting review? then this detailed review is exclusively for you.
Hostwinds is the hosting provider that doesn't rely on third parties and has no middlemen. They own their work and promises.
Hostwinds offers hosting solutions from shared web hosting to dedicated hosting. Each hosting is an ideal solution for a business. Their shared web hosting is the perfect fit for personal websites, blogs, and small businesses.
Their hosting plans include all necessary features like unlimited storage, unlimited bandwidth, free SSL certificates, Weebly website builder, free dedicated IP, and admirable customer support. Later, we'll look into that more.
Hostwinds Web Hosting Review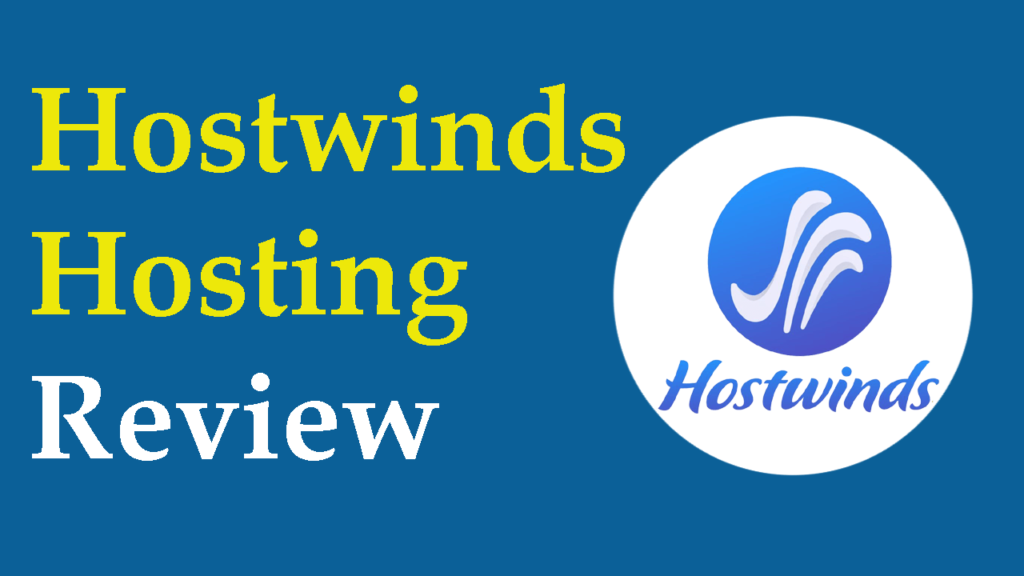 Our Hostwinds web hosting review covers all topics that you need and want to know about. And we'll put their promises on tests.
Hostwinds At A Glance
Hostwinds was founded in 2010 by Peter (CEO of the web host). The hosting company boasts that it owns and manages its hardware, servers, systems, and applications. Because third-party vendors can create unnecessary downtime for their customers.
As you know that website reliability matters a lot, that's why Hostwinds ensures a 99.9999% uptime guarantee.
With their every hosting tier, you get everything unlimited like unlimited SSD storage, subdomains, bandwidth, FTP accounts, databases, email accounts, and customer support.
What Hosting Solutions Are Offered By Hostwinds?
Hostwinds offers different types of hosting products to cover different businesses' requirements.
Web Hosting (Shared Hosting): This starts at $5.24 a month and is the right option for beginners, bloggers, and personal websites.
Cloud Servers: Their basic plan starts at $0.006931/hr which includes 1GB RAM, 30GB storage, and 1TB bandwidth. They're completely customizable to meet your requirements.
VPS Servers: They're organized into two categories as Linux VPS (starts at $8.24/mo) and Windows VPS (starts at $12.74/mo). They provide you with a set amount of dedicated resources specifically for your account.
Dedicated Servers: Their packages start at $122/mo which gives you complete control over your server and 100% isolation from other users.
In this Hostwinds web hosting review, we only focus on their shared web hosting service.
Hostwinds Web Hosting Plans Review
Under the Hostwinds web hosting category, there're Shared Hosting and Business Hosting. The main difference is that Business Hosting delivers a faster page loading speed. That's why Business Hosting plans are more expensive than normal Shared Hosting.
Let's look at each one in detail.
#1. Shared Hosting
There're three tiers under the shared hosting sub-category such as Basic, Advanced, and Ultimate. The only difference among them is how many domains you can connect to the server.
| Aspects | Basic | Advanced | Ultimate |
| --- | --- | --- | --- |
| Pricing | $5.24/Mo | $6.74/Mo | $8.24/Mo |
| Renewal Pricing | $6.99/Mo | $8.99/Mo | $10.99/Mo |
| Domains | 1 | 4 | Unlimited |
| Bandwidth | Unlimited | Unlimited | Unlimited |
| Storage | Unlimited | Unlimited | Unlimited |
#2. Business Hosting
Hostwinds Business Hosting is developed with your business requirements in mind. For Business hosting, Hostwinds utilizes Litespeed web servers and optimizes its network path selection.
In fact, they boost your website speed up to 500% faster than normal shared hosting servers.
| Aspects | Basic | Advanced | Ultimate |
| --- | --- | --- | --- |
| Pricing | $8.99/Mo | $10.49/Mo | $12.74/Mo |
| Renewal Pricing | $11.99/Mo | $13.99/Mo | $16.99/Mo |
| Websites | 1 | 4 | Unlimited |
| Bandwidth | Unlimited | Unlimited | Unlimited |
| Disk Space | Unlimited | Unlimited | Unlimited |
Features Of Hostwinds Web Hosting
Hostwinds web hosting comes with useful features which will help you in offering quality services to your audience.
#1. Free Website Transfer
If your website currently is hosted on another hosting provider but you want to migrate your website to Hostwinds. Luckily, Hostwinds will move your website fastly and efficiently free of cost.
The hosting provider will handle everything for you. And once your website is completely migrated, then you can review your website (is it working or not).
Keep in mind that free website migration credit is valid for the first 60 days of signup.
#2. cPanel and Softaculous Auto-installer
With Hostwinds web hosting, you get the latest cPanel to manage and control your website with ease. And Softaculous is included that enables you to install hundreds of web applications including WordPress and Joomla with a single click.
#3. Weebly Website Builder
If you don't have any website development skills or cannot hire a developer to build your website, then Weebly Website Builder comes in handy.
Weebly Website Builder contains useful tools (including drag and drop builder) that help you make a professional-looking website.
Read More: Nexcess StoreBuilder Review – Is It Perfect for Your Online Store?
#4. Unlimited SSD Storage And Bandwidth
Each Hostwinds web hosting plan comes with unlimited SSD storage and bandwidth. Hence, you'll receive peace of mind about the resources.
SSD-based disk space gives your website a speed boost and delivers a better user experience. And unlimited bandwidth ensures optimal website performance and tends to see more traffic coming to your website.
Read More: What is Monthly Bandwidth in Web Hosting? & How Much Do You Need it?
#5. Free SSL Certificates
Hostwinds provides free SSL certificates to safeguard the confidential information of your visitors and website.
The main purpose of an SSL certificate is to secure your website but it also conveys trust to visitors, improves search engine ranking, and verifies ownership of the website.
Read More: What Is An SSL Certificate? & What are the Different Types Of SSL Certificates?
#6. Unlimited Email Accounts
A professional email address creates a sense of trust and then the public takes your business seriously. That's why Hostwinds enables you to create unlimited business email accounts.
Performance
Your website performance directly affects your conversion rate, revenue, and reputation. That's why you must obtain a better website performance.
Speed Tests
To check how fastly load a website (that is hosted by Hostwinds), Let's run tests using GtMetrix and Pingdom.
GtMetrix: The website was fully loaded in 814 ms with a 98% performance rate and A-grade.

Pingdom: The same website was loaded within 2.01 seconds with a 70% performance rate.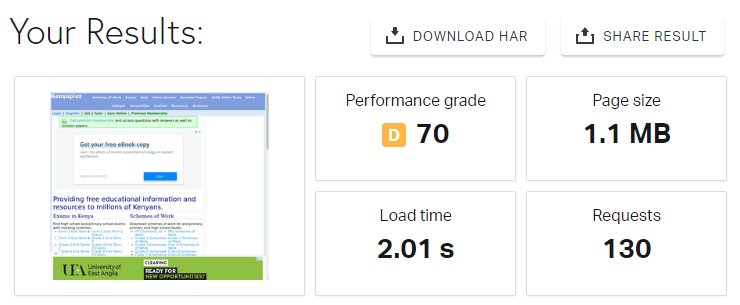 The website (which is hosted by Hostwinds) needs to optimize media files to load faster.
Uptime
Hostwinds offers 99.9999% uptime guarantee. This means that maybe your website will be down for 31.56 seconds per year.
And HRANK (analyzes reliability of hundreds of web hosts) report has shown that Hostwinds has delivered 100% uptime for the last 30-day.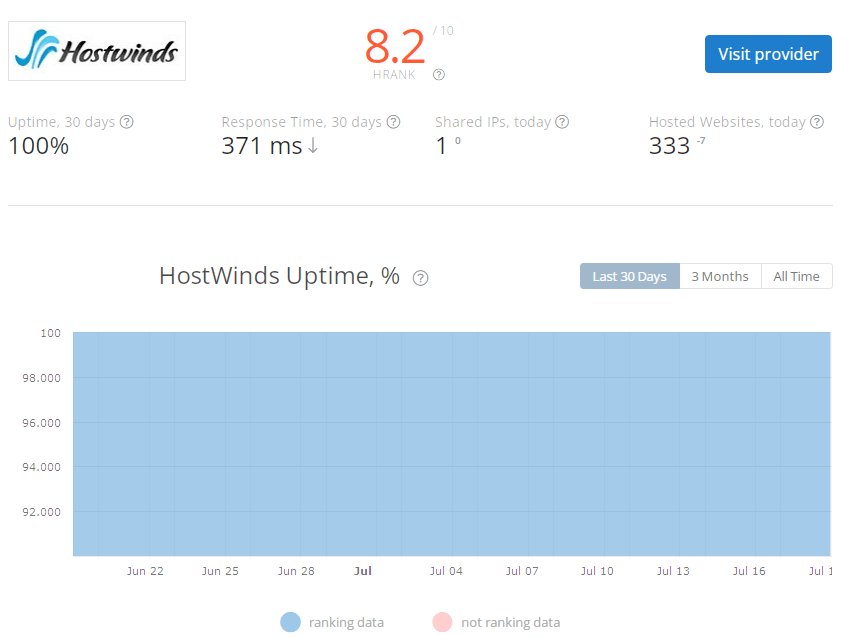 Read More: What Is Uptime In Web Hosting? & TOP 10 Uptime Monitoring Tools
How Better Customer Support Is?
Hostwinds customer support representatives are available 24 hours a day, 7 days a week, and 365 days a year.
You can get in touch with them through live chat, opening a ticket, and email. Additionally, if you want to solve problems by yourself, then you should benefit from its useful blogs, tutorials, and product documentation.
I reached them several times via live chat. Their agents answered my questions efficiently and behaved toward me like a friend.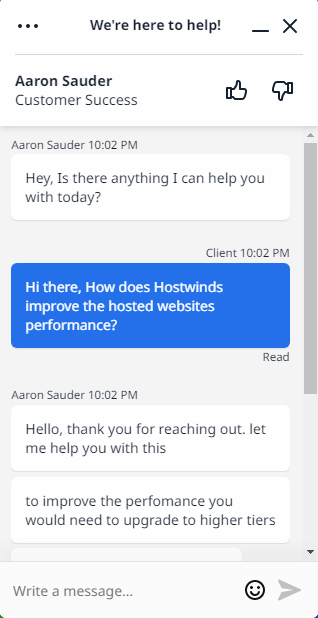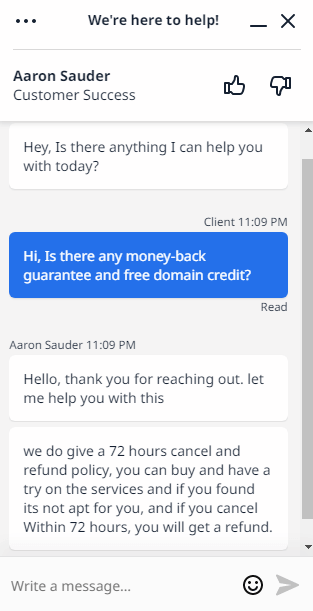 Read More: How to Evaluate Best Web Hosting Customer Support & Why You Need it?
Why You Should Consider Hostwinds Web Hosting? (3 Reasons)
Here're three reasons to consider Hostwinds web hosting solution.
#1. Better Performance
Great Uptime: With Hostwinds web hosting, you get 99.9999% uptime guarantee which is higher than the industry standard.
Faster Speed: You get up to 500% faster page loading speed than normal shared hosting with Hostwinds Business Hosting. Because Hostwinds uses Litespeed web servers.
SSD Storage: Instead of HDDs, Hostwinds utilizes SSD storage to give your website lightning speed.
#2. Everything Unlimited And Good Features
Hostwinds web hosting gets you unlimited SSD disk space, unlimited bandwidth, unlimited email accounts, unlimited databases, unlimited customer support, unlimited FTP accounts, unlimited subdomains, and the option between one and an unlimited number of hosted websites.
In addition, you obtain free SSL certificates, free website migration, easy website builder, instant setup, Softaculous auto-installer, and many more.
#3. Optimal Customer Support
You get optimal customer support 24/7/365 via live chat, tickets, and email. Their support agents are knowledgeable. And also you can access the helpful tutorials, guides, product documentation, and blogs on their website.
What Are The Downsides Of Hostwinds Web Hosting?
Here're some disadvantages of Hostwinds web hosting.
#1. A Bit Expensive And Short Money-back Period
The Hostwinds web hosting pricing is a little bit expensive. Because you get the same and more helpful features at a lower price from most web hosts.
The refund window is 72 hours which is the shortest. To put it simply, you must make a refund request within the first 72 hours of purchase If you don't want to stick with it.
Most web hosting companies like Hostinger, DreamHost, HostGator, Bluehost, InMotion Hosting, and SiteGround offer you the same and more features at lower prices. And they also come with at least a 30-day money-back guarantee.
Read More:
#2. Lack Of Data Centers
Hostwinds has two data centers in the United States (Seattle and Dallas) and one in the Netherlands (Amsterdam).
So it's not good for those that want to target an audience out of these locations. Although, Cloudflare CDN is the right solution that distributes your website content on worldwide servers.
#3. No Free Domain And Backups
Free domain and backups aren't included in Hostwinds web hosting plans. While other hosting providers offer auto-backups and a free domain with shared web hosting plans.
Read More:
Pros And Cons
Here's the summary.
Conclusion
Do we recommend Hostwinds web hosting?
Yes, because Hostwinds web hosting comes with a bunch of useful features that assist you to build your website. You get faster page loading and a better uptime guarantee.