As you know that it's crucial to host your website on a reliable hosting company that is perfect for your online business and comes with a ton of useful features and pros.
Usually, web hosts offer several hosting solutions i.e managed WordPress, shared, reseller, VPS, WooCommerece, and dedicated hosting. But you've to choose the right hosting solution amongst them for your business.
Among them, managed WordPress hosting is ideal for WordPress websites to gain faster speed, better uptime, automatic updates, and much more for optimizing the WordPress websites.
I recommend you to choose the managed WordPress hosting for your WordPress website with medium traffic.
This InMotion Hosting managed WordPress hosting review highlights important aspects that you should know about.
Before digging into the detailed InMotion Hosting managed WordPress hosting review, let's talk about what managed WordPress Hosting is?
What is Actually Managed WordPress Hosting?
Some web hosts offer unmanaged hosting solutions to their clients. In the simple term, once the customers purchase the unmanaged hosting solutions, then it's the responsibility of customers to manage, secure, speed up, update and grow their website.
By contrast, managed (WordPress) hosting helps the clients by taking some responsibilities for their websites, managed WordPress hosting solution manages and keeps care of several segments of the customers' websites including 1-click WordPress installation, automatically updates, security, speed, auto-backups, solving the issues instantly, configure the servers, provide staging environment, come with multiple around-the-clock support options, and much more.
It simply means some tasks of your website manage through the web host, and also aid you to easily manage the rest of the tasks to build your digital presence.
Let's take a look that how InMotion Hosting has become a well-known hosting provider?
About InMotion Hosting
The InMotion Hosting company launched in 2001 and offers a number of value-for-money products.
InMotion Hosting is the well-known hosting provider for fast speed, decent uptime guarantee, high security, 24/7/365 technical support, first-year domain registration with zero cost, free site migration with zero downtime, and more.
The hosting brand boasts that most websites move to their hosting, WordPress 375,000+ times have been installed on their hosting, and more than 300 professionals that manage all segments of the hosting system.
InMotion Hosting Managed WordPress Hosting Review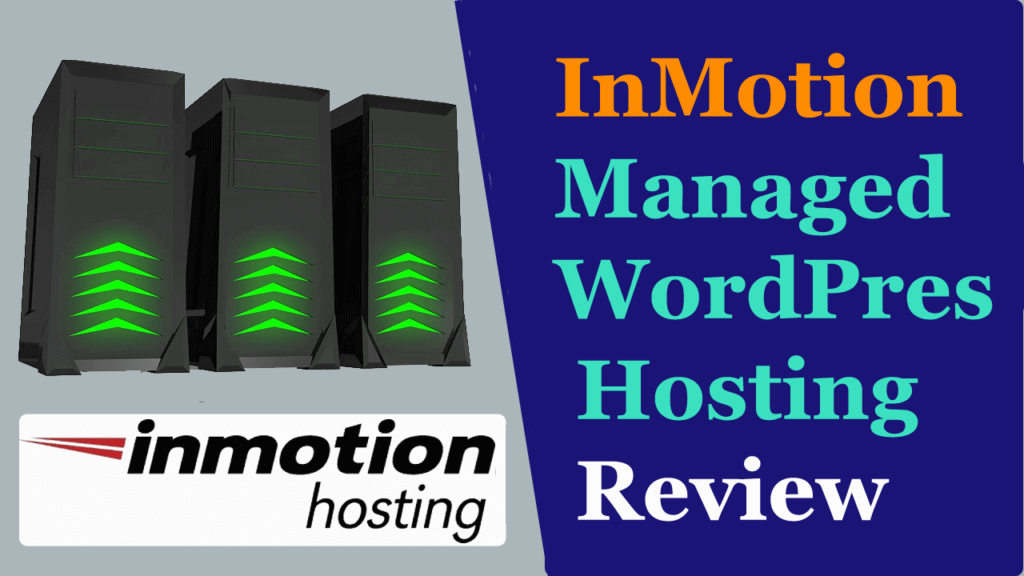 This InMotion Hosting managed WordPress hosting review is covered everything from performance testing to pricing plans to pros & cons. By the end of this InMotion WordPress hosting review, you'll take the better decision that is InMotion managed WordPress hosting ideal for your business.
The optimized WordPress hosting of InMotion Hosting is trusted by 50,000 customers with WordPress web hosting.
InMotion Hosting Managed WordPress Hosting Performance Review
InMotion Hosting optimized WordPress hosting bold claims of 40 times faster and better performance than standard hosting along with an uptime guarantee of 99.99%. They offer Free NVMe SSD storage, NGINX & Apache, Varnish, PHP 7, PHP 8, WP-CLI, Imagemagick, and free CDN to boost your website speed and performance.
SSD based webspace gives your website a speed boost.
NGINX and Apache are popular and WordPress competible server operating systems, these server operating systems use to improve performance.
Varnish is the page caching tool, used for websites' performance boost.
The free content delivery network assists you to load your website around the clock from anywhere.
Speed Testing Results
We've checked the speed of a website that is hosted on InMotion Hosting and got good results. We've added a screenshot that demonstrates that the website is installed on InMotion Hosting and we've checked that website through IsItWP (It's an online platform that identifies the hosting provider of any website).

We found these results of the hosted website through the Gtmetrix speed testing tool.
Performance: 99% – A-Grade
Loading Time: 801ms
Test Server Location: Vancouver, Canada

In addition to Gtmetrix speeding testing, we've checked the performance and loading time via Google PageSpeed Insight.
We've got the following results for both desktop and mobile gadgets.
Desktop Results
Performance: 96%
First Contentful Paint: 0.8 seconds
Largest Contentful Paint: 1.2 seconds
Mobile Results
Performance: 81%
First Contentful Paint: 2.6 seconds
Largest Contentful Paint: 4.1 seconds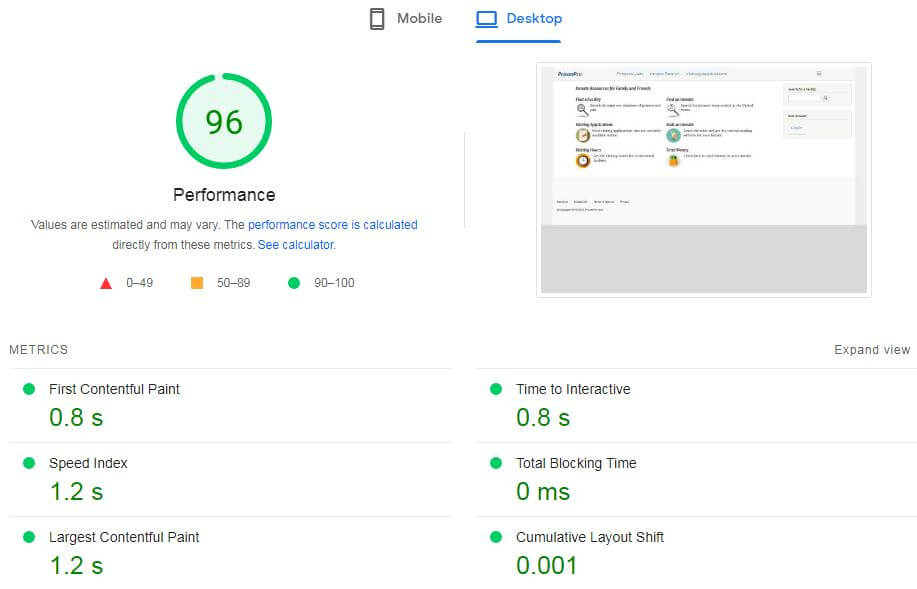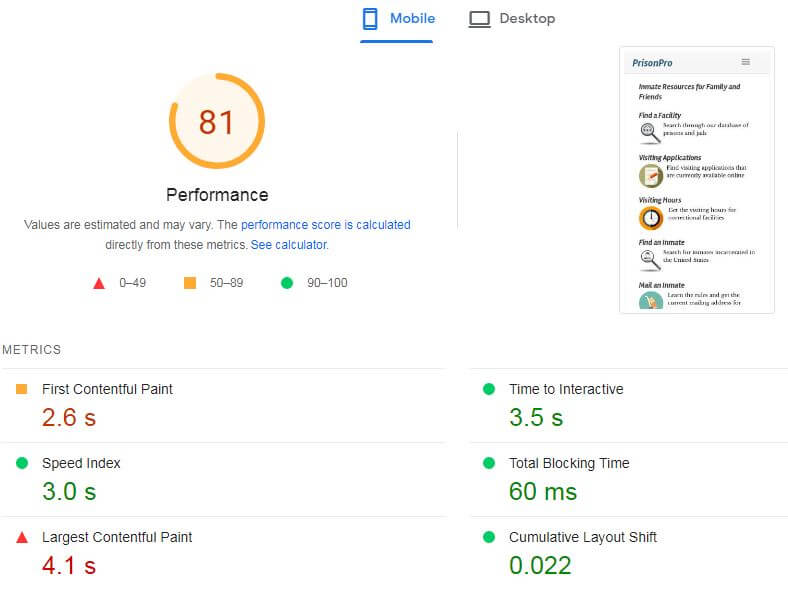 Moreover, we've analyzed the website speed for different locations via the Pingdom speed testing tool.
We've got 91%, A-grade performane and 225ms speed for Washington D.C.
91%, A-grade performane and 1.13 seconds of load time for Japan
90%, B-grade performance and and 1.18 seconds of load speed for UK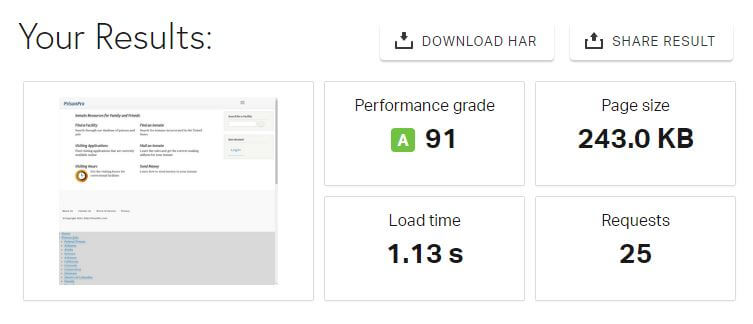 Although, the performance and speed are good but also need to improve.
InMotion Hosting Managed WordPress Hosting Plans Pricing Review
As you know that each online business needs and wants various features and tools to play with, hence, the platform comes with multiple different plans suitable for different businesses.
Their managed WordPress hosting is organized into 4 plans: WP-1000S, WP-2000S, WP-3000S, WP-4000S.
| Aspects | WP-1000S | WP-2000S | WP-3000S | WP-4000S |
| --- | --- | --- | --- | --- |
| Price | $4.99/mo | $4.99/mo | $10.99/mo | $17.99/mo |
| Renewal Pricing | $8.99/mo | $11.99/mo | $14.99/mo | $29.99/mo |
| Websites | 1 | 2 | 3 | 6 |
| SSD Storage | 50GB | 100GB | 150GB | 200GB |
| Performance | 10x | 20x | 30x | 40x |
| Free SSL | ✔️ | ✔️ | ✔️ | ✔️ |
| Unlimited Bandwidth | ✔️ | ✔️ | ✔️ | ✔️ |
| Unlimited Email | ✔️ | ✔️ | ✔️ | ✔️ |
| Security Suite | ✔️ | ✔️ | ✔️ | ✔️ |
| Marketing Tools | ✔️ | ✔️ | ✔️ | ✔️ |
| Google WorkSpace | ✔️ | ✔️ | ✔️ | ✔️ |
| Advanced Caching | ✔️ | ✔️ | ✔️ | ✔️ |
| Jetpack | X | Jetpack Personal | Jetpack Personal | Jetpack Professional |
| Dedicated Opcode Cache Pool | X | X | ✔️ | ✔️ |
| Dedicated IP | X | X | X | ✔️ |
You should keep in mind that all aforementioned plans include free SSL, unmetered bandwidth, unlimited business email addresses, advanced caching, Google Workspace, marketing tools (BlogGrid-Website Builder, customer management tools, $150 advertising credit), and Security Suite (free SSL, hack & malware protection, automatic backups).
Let's have a look at each plan in detail.
#1. WP-1000S
The starter WP-1000S package allows hosting a website paired with 50GB SSD webspace, 10 times better performance for $4.99 per month. Once the billing cycle of your purchased plan ends, you'll pay $10.99/mo for renewal.
| | | | | |
| --- | --- | --- | --- | --- |
| Terms | 3-Year | 2-Year | 1-Year | 1-Month |
| Pricing | $4.99/mo | $5.99/mo | $6.99/mo | |
| Renewal Pricing | $8.99/mo | $9.99/mo | $10.99/mo | |
#2. WP-2000S
The WP-2000S plan lets you install up to 2 websites with 100GB SSD disk space, 20 times better performance, Jetpack Personal for 4.99 a month. The renewal cost is $15.99 per month.
| | | | | |
| --- | --- | --- | --- | --- |
| Terms | 3-Year | 2-Year | 1-Year | 1-Month |
| Pricing | $4.99/mo | $5.99/mo | $6.99/mo | |
| Renewal Pricing | $11.99/mo | $13.99/mo | $15.99/mo | |

#3. WP-3000S
The WP-3000S pack comes with up to 3 websites, 150GB SSD storage, 30 times better performance, Jetpack Personal, Dedicated Opcode Cache Pool.
| | | | | |
| --- | --- | --- | --- | --- |
| Terms | 3-Year | 2-Year | 1-Year | 1-Month |
| Pricing | $10.99/mo | $11.99/mo | $12.99/mo | |
| Renewal Pricing | $14.99/mo | $17.99/mo | $19.99/mo | |
#4. WP-4000S
The WP-4000S plan gets you to host a maximum of 6 websites, 200GB NVMe SSD website storage, dedicated IP, 40x performance, Jetpack Professional, Dedicated Opcode Cache Pool.
| | | | | |
| --- | --- | --- | --- | --- |
| Terms | 3-Year | 2-Year | 1-Year | 1-Month |
| Pricing | $17.99/mo | $18.99/mo | $20.99/mo | $25.99/mo |
| Renewal Pricing | $29.99/mo | $32.99/mo | $36.99/mo | $46.99/mo |
Here are the lists of pros and cons as part of this InMotion managed WordPress hosting review.
Pros of InMotion Managed WordPress Hosting
As an InMotion WordPress hosting customer, you enjoy the following advantages.
#1. 24/7/365 WordPress Technicians Support
Do you know that you can contact them not being a customer through multiple options? – InMotion Hosting's WordPress technicians are available 24/7/365 via email ticket system, online chat, and voice call.
Their U.S.-based support is available for everyone in between even it's not a customer and also answers the questions instantly.
In addition to expert support, you can benefit from a huge knowledge base on its site containing helpful articles, blogs, videos, tutorials, guides.
#2. Decent Uptime Guarantee
Imagine that you publish quality content on your website but your website is frequently down, then your quality content doesn't matter. Therefore, you should consider a reliable web host that offers a minimum 99.9% uptime guarantee.
InMotion Hosting is the reliable web host because its hosted websites are accessible online almost 7 days a week. Their uptime guarantee is 99.999%, which is almost great because the hosted websites experience very little downtime.
In addition to their word of mouth, we've found the 99.960% uptime guarantee of InMotion Hosting through HRANK.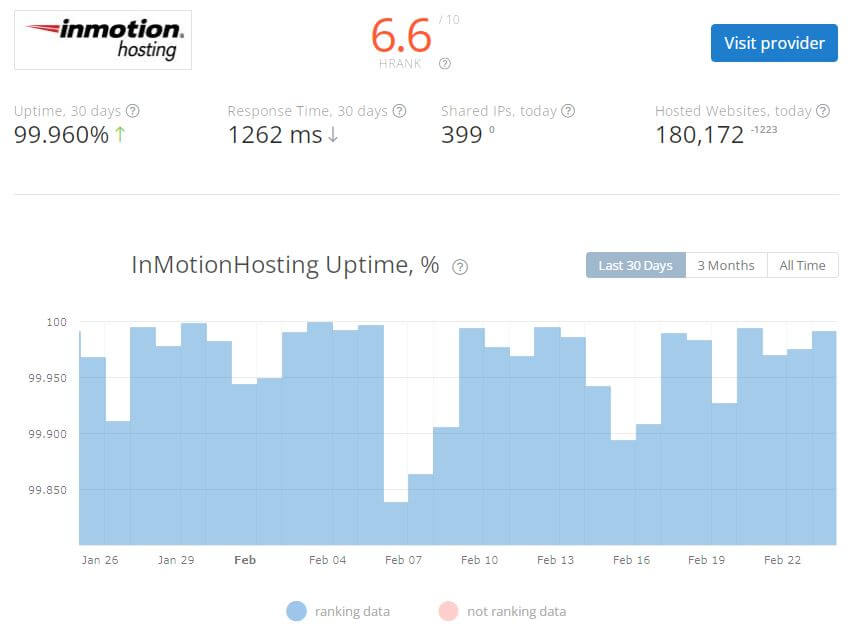 #3. Faster Speed and Better Performance
As mentioned earlier, they offer fast webpages load speed and better performance for hosted websites. Along with that, you can boost your WordPress website speed and performance more with WP-CLI, Imagemagick, free CDN, PHP 8 provided by InMotion Hosting.
#4. Free Domain Registrationa and Transfer
Usually, to transfer your existing domain to another domain registrar or register a new domain name, you'll pay almost $10-$20 a year.
InMotion Hosting saves you that amount of money by offering free domain registration and transfer with the annual plan for the first term. But once the first year passes of your purchased plan, you'll pay about $17.99/year for domain renewal.
#5. Safety and Security
More than 30,000 websites are hacked on daily basis according to ITChronicles report. That's why it's important to choose a reliable and secure hosting provider. And InMotion Hosting is one of the secure and reliable web hosts.
To keep safe and secure your website, InMotion's managed WordPress hosting provides with you a bundle of security features. They provide free SSL certification (HTTPS version) for the lifetime of your purchases plan that you can install with a couple of clicks, premium protection of malware & hack, DDoS protection, chargeable automatic backups to keep safe the data, and much more.
Their TDS (Threat Defense System) refers to a suite of security solutions that keeps safe and secure your website from Dos, DDoS, brute force attacks.
#6. Completely Risk Free
Normally web hosts guarantee 30-day money-back but InMotion Hosting isn't one of them. They offer 90-days money-back guarantee, which is very long in the industry.
This means their hosting services are completely risk-free, you can get 100% refund if you aren't satisfied, and cancel your purchase within 90 days.
Although the 90-day money-back guarantee is valid for 6 months or longer billing cycles, the 30-day money-back guarantee is valid for monthly billing cycles.
#7. Free Site Transfer without Downtime
If your website is hosted on another host but wants to transfer it to InMotion Hosting. Luckily, you'll benefit from their free site migration pro with zero downtime feature. This means that your wordPress website will move to InMotion Hosting with ease and with no downtime experienced.
#8. Unlimited Business Email Accounts
As an InMotion managed WordPress hosting customer, you can create countless email addresses for your domain name. The email account's storage is 250MB.
#9. Data Centers Directly on IXP
The data centers of InMotion Hosting only exist in the USA (Los Angeles and Washington D.C.), which is not great for those sites that want to reach the audience outside of the USA. But their servers are located on IXP (Internet Exchange Points) which aids in loading your website quickly.
#10. Easy Site Creation
BoldGrid is the drag-and-drop WordPress page builder that allows you to create your beautiful and great website without writing a line of code. Their drag-and-drop page builder includes 200+ eye-catching templates and responsive mobile design.
#11. Advanced Caching
Do you know what is caching? – storing or stocking the copies of website content in temporary storage or cache is called caching. When the visitors navigate to the website, copies of the website will be instantly loaded.
Fortunately, you get the advanced caching tool with any InMotion managed WordPress hosting plan that you choose for your project. The advanced server caching lets you choose a cache profile.
#12. Exclusive Support for eCommerece
If you run an eCommerce store, here's the good news for you. The InMotion managed WordPress hosting helps you to gain the trust of your clients through securing the payment and clients' data on your eCommerce store. Along with that, you can easily integrate payment processors into your eCommerce store.
#13. Unmetered Bandwidth
With InMotion managed WordPress hosting, your website bandwidth will never reach its limit.
Your website data will be sent to as many visitors come to your website instantly and smoothly due to unlimited bandwidth.
Cons of InMotion Hosting Managed WordPress Hosting
Here's a list of three cons that maybe you don't like.
#1. Data Centers Based in USA
The data centers are located in the USA (Washington D.C and Los Angeles) that's not good for most websites that want to target other countries' audiences except the USA. But as mentioned earlier, their data centers are located on Internet exchange Points that help to deliver a good website speed.
#2. No Free Backup
Unlike most WordPress hosting that throws free backup feature in hosting plans, InMotion Hosting doesn't offer free backup, they charge $24 per year for backup. But you can frequently backup your website via some plugins with zero cost including UpdraftPlus WordPress Backup Plugin.
#3. Tedious Verification Process for Non-US Customers
Once you purchase the InMotion Hosting's service, they verify your application through a phone call for security purposes. But that process is a bit difficult for non-Us customers.
Solution of InMotion Hosting Verification for Non-US Customers: I have the solution for you because I experienced it. Once you purchase the service, directly get in touch with the support team via live chat and share the issue. Firstly they'll confirm you and then you'll be asked a few questions about your website (i.e what will you post on your website? etc). When you answer their questions, they'll activate your account and send you the username & password via email to log in to your account. But keep in mind that this process takes some time.
Conclusion of InMotion Hosting Managed WordPress Hosting Review
The better performance, a free domain name for the first year, 24/7/365 technical support, advanced cashing, unlimited email accounts, a number of marketing tools, 150$ marketing credit, BlodGrid-website builder, 99.99% uptime guarantee and much more make the InMotion's managed WordPress hosting right option for entrepreneurs, bloggers, WordPress enthusiasts, developers, agencies, organizations.
in addition to the aforementioned features, InMotion Hosting features 1-click WordPress installation within a minute, automatically updates WordPress & plugins, Jetpack Professional, free 200+ themes, free Secure Sockets Layer certificate, and much more for your building your professional WordPress website.
if the above-mentioned three cons aren't problems for you, you should definitely host your website on InMotion Managed WordPress Hosting.
Read More: Bluehost Managed WordPress Hosting Review
InMotion Hosting offers RealBSG users up to $432 discount for the first term. To save up to $432, click on the below exclusive button.