Looking for fully managed hosting plans for your next project? So read this Nexcess hosting review that helps you to find out whether it's the right hosting solution for your next project or not.
Nexcess is the sister brand of Liquid Web which currently manages more than 500,000 websites around the earth planet. Nexcess focuses on fully managed hosting plans and supports many CMS (Content Management System) platforms including WordPress, Magento, WooCommerce, Craft CMS, Sylius, OroCRM, Drupal, and ExpressionEngine.
In addition to managed hosting, they promise 24/7/365 admirable support, a 99.99% uptime guarantee, better performance, enhanced security, and much more, But we will analyze them through this Nexcess Hosting review to find out whether it is true to its promise or not.
Nexcess Hosting Review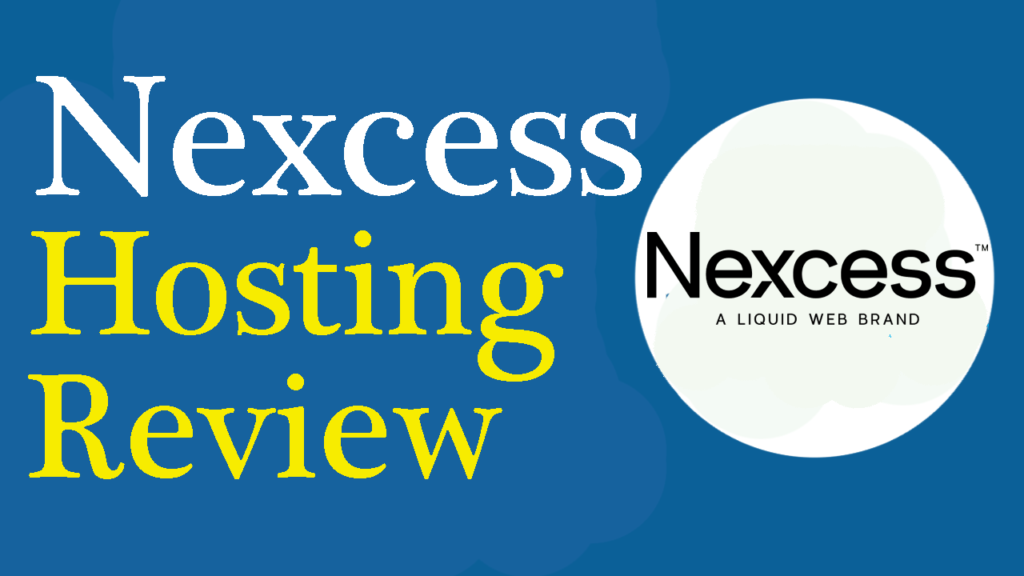 Our unbiased and detailed Nexcess hosting review covers many aspects like speed testing, uptime results, customer support, plans pricing, features, and pros & cons. By the end of this Nexcess hosting review, you'll make a better decision for your new website.
About Nexcess
Nexcess is the sister brand of Liquid Web (the family of brands) that offers a wide range of managed hosting plans such as WordPress, Magento, WooCommerce, flexible cloud, and enterprise hosting. In addition to the vast range of hosting products, they offer domain registrar, SSL certificates, and StoreBuilder.
The hosting company has 23 years of experience in the industry and 10 data centers around the globe as well as powers over 500,000 websites.
The hosting provider offers a bunch of useful features including visual regression testing, one-click staging, free daily backups, 24/7 network monitoring, free site migration with zero cost, and much more to build your professional WordPress website, WooCommerce store, or Magento site.
Nexcess Hosting Performance Review
The faster-loading speed and ultra-reliability of a website are the two important factors in getting ranked in search engines, generating more revenue, and building customers' trust.
In contrast, if your website loads slowly and frequently experience downtime, you'll lose sales and audience trust as well as your competitors will outrank you. This is the reason that you should keep in mind both uptime and speed when you go with a web host.
Speed Testing
They use advanced technologies such as premium image compression, built-in CDN (Content Delivery Network), advanced caching, and much more to give your website fast lighting speed.
We'll run the speed test of the website that is hosted on Nexcess WordPress hosting plan through top-notch speed testing tools.
Let's test the speed of Nexcess's hosted website to see how fast loads the website.
#1. GTmetrix
GTmetrix is the popular speed testing tool that analyzes a website's data relevant to speed and finds out the top issues on the website.
The website obtained a 97% of performance score with an A-grade and was fully loaded within 1.1 seconds from Vancouver, Canada.

#2. Load Focus
Load Focus is the cloud-based testing tool that is used for running load and performance tests of websites, applications, and more with hundreds of thousands of concurrent users.
On Load Focus, we ran the performance and load test by sending up to 20 virtual concurrent users within 60 seconds window.
We saw an average response time of 214ms during traffic spikes which is still faster.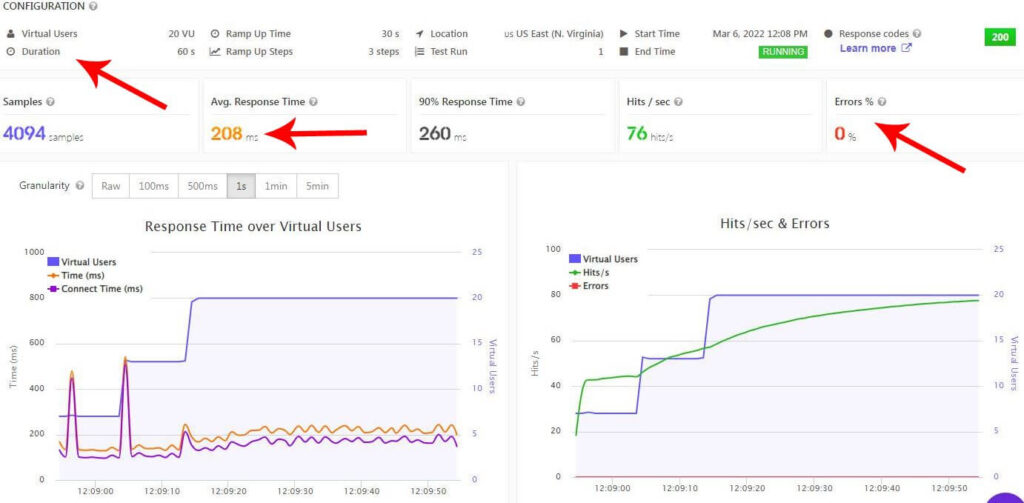 Overall, Nexcess delivers a fast lighting speed even if your website is visited by hundreds of concurrent users. And your website will be never affected in the high-traffic scenarios because Nexcess maintains its performance.
Uptime Guarantee Testing
Nexcess claims a 99.99% uptime guarantee, let's check it on the HRANK.
HRANK is the web hosts rating system based on uptime, research, analysis, and experience. They keep track of 300 hosting companies.
So on the HRANK platform, we saw that Nexcess delivered an uptime of 99.975% for the last 30 days, which is quite impressive.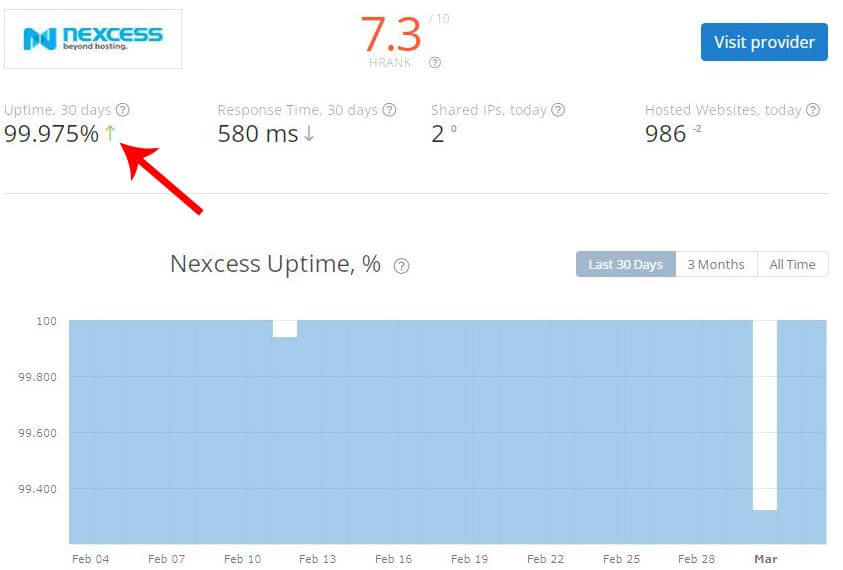 Customer Support Review
Every time you face an issue or have a question related to hosting, you just have to share the question or problem with the Nexcess support team via chat, phone call, or email (ticket support). The customer support agents are available 24/7 and behave like a friend.
Along with that, you can find out the problems' solutions and answers to questions on their helpful knowledge base.
Live Chat
The hosting company's experts are glad to connect you because they directly show a chat pop-up when you visit their website. They respond to you in under a few seconds through this option.
I asked the two queries from an agent can I register a free domain with WordPress hosting? and how Nexcess secure the hosted websites. the agent's answers were helpful.
They answered that domain registration is not free, costs you $15 a year and they monitor the servers 24/7, install free SSL certificates, provide a web application firewall, prevent DDoS attacks, detect & remove malware, and much more.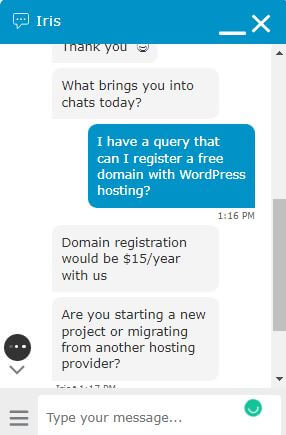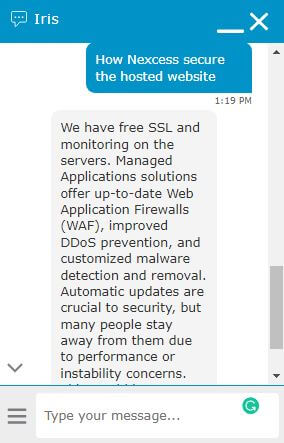 Phone Call
In addition to live chat, their phone support is good. But some users have complaints about its phone support because sometimes the calls drop due to technical issues. Overall, the representatives are polite and the phone support is excellent if a technical issue doesn't happen.
Ticket And Email Support
If you want detailed information, you should open a ticket. The support experts will respond to you with details within a few minutes.
You can also contact the Nexcess support team via the following emails.
Huge Helpful Knowledge Base
Not enough that, you can also benefit from their useful tutorials, guides, articles, blogs, and videos. They've provided the solutions to most issues and answers to questions. And also try to cover the rest of the issues or queries.
What Hosting Products Are Offered by Nexcess?
Here's the list of hosting products offered by Nexcess.
Managed WordPress Hosting
Managed WooCommerce Hosting
Managed Magento Hosting
StoreBuilder
In this Nexcess hosting review, we specifically focus on its managed WordPress hosting solution.
Nexcess Fully Managed WordPress Hosting Plans
The completely Nexcess managed WordPress hosting gets you ultra-fast speed, more security, smart monitoring tools, better customer support, auto-scalability, free 15 premium plugins, and more.
All hosting plans include WordPress core auto-updates, plugins updates, visual comparisons, no average fees, no traffic limits, free site migration, 24/7 security monitoring & technical support, email accounts, Stencils for RapidSite creation, 1-click staging, free SSL, daily backups. Not only that, but you also gain iTheme Security Pro, the latest PHP version compatibility, CDN, image compression, image lazy loading, and a 30-day money-back guarantee.
Currently, you can choose from the following 6 plans of WordPress hosting.
SPARK Plan: The plan charges you $4.75/mo for monthly billing cycles and allows you to install a WordPress website paired with 15 GB storage and 2 TB bandwidth.
MAKER Plan: This pack costs you $19.75/mo for monthly contracts and lets you host 5 websites paired with 40 GB web space and 3 TB bandwidth.
DESIGNER Plan: The package is priced at $27.25/mo for monthly billing cycles and allows you to publish up to 10 websites paired with 60 GB storage and 4 TB bandwidth.
BUILDER Plan: You'll pay $37.25/mo for monthly billing contracts and receives you to install up to 25 websites paired with 100 GB storage and 5 TB bandwidth.
PRODUCER Plan: You'll pay $74.75/mo for monthly billing cycles. This plan includes 50 websites, 300 GB storage, and 5 TB bandwidth.
EXECUTIVE Plan: This package costs you $137.25/mo for monthly billing contracts and enables you to get live up to 100 websites paired with 500 GB storage and 100 TB bandwidth.
ENTERPRISE Plan: This plan charges you $249.75 a month and incorporates 250 websites along with 800 GB storage and 10 TB bandwidth.
Quick Note: Keep in mind that monthly pricing is just for the first 6 months. After the 6 months are up, the plan will renew at the normal rate. You'll pay the same monthly price for 12 months by choosing an annual plan. If you want to save more money, you should pay annually.
| Plans | Monthly Price | Sites | Storage | Bandwidth |
| --- | --- | --- | --- | --- |
| SPARK | $9.50/mo | 1 | 15 GB | 2 TB |
| MAKER | $39.50/mo | 5 | 40 GB | 3 TB |
| DESIGNER | $54.50/mo | 10 | 60 GB | 4 TB |
| BUILDER | $74.50/mo | 25 | 100 GB | 5 TB |
| PRODUCER | $149.50/mo | 50 | 300 GB | 5 TB |
| EXECUTIVE | $274.50/mo | 100 | 500 GB | 10 TB |
| ENTERPRISE | $499.50/mo | 250 | 800 GB | 10 TB |
Top 19 Features of Nexcess Managed WordPress Hosting
Nexcess offers you helpful features that you need and want to build your WordPress website. Let's talk about the top features that you obtain with a Nexcess hosting plan.
#1. Free Daily Backups
Some web hosts even managed hosting providers don't offer automatic backups, some hosting providers come with weekly or monthly backups which aren't good solutions for those who update their website with fresh content on daily basis.
But luckily Nexcess isn't of them. Nexcess takes daily backups of hosted websites and stores them for 30 days which is a win-win situation.
Read More: How To Backup Your WordPress Website?
#2. Auto-scaling
If your website is hosted on another web host and gains huge traffic spikes occasionally, your website could be shut down if the web host doesn't offer auto-scalability.
But not at Nexcess, If your site is hosted on Nexcess and sometimes faces sudden huge traffic spikes, then Nexcess will provide your website with more resources to deal with huge traffic.
Keep in mind if your website regularly experiences high-traffic spikes, then you should upgrade your plan to acquire more resources.
#3. Multiple User Accounts
If you have a team, agency, or organization where you need to manage your website-specific tasks by other people, you have to grant the people varying degrees of access to your account.
Nexcess allows you to create multiple user accounts to grant people access to manage your hosting account and website.
#4. StoreBuilder
StoreBuilder is the eCommerce paid add-on that includes a bundle of useful tools. It creates a unique homepage for your eCommerce store within a few minutes and focuses to make sure your store is accessible day and night without downtime.
With the StoreBuilder, you get an abandoned cart recovery feature that tracks all the customers that started but haven't completed the purchase.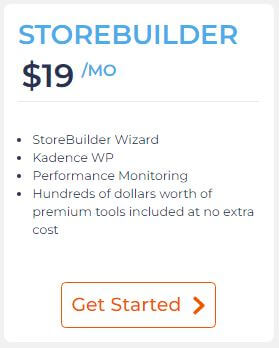 Read More: Nexcess StoreBuilder Review: Is It Perfect for Your Online Store?
#5. One-Click Staging
If you want to experiment with something new in your WordPress website, but don't want to bungle your current site, that's where one-click staging comes in handy.
You just need a couple of clicks to create a staging version of your site where you can experiment with the plugins, content, themes, new codes, changes, and everything that you desire. Once you've made the changes in the staging version and want to merge the changes to your current live site, you can do it with a single click.
#6. Free Site Transfer
If you already own a website that is hosted on a bad web host but want to migrate to Nexcess. Here's GOOD NEWS for you, Nexcess will transfer your website FREE OF COST.
To move your site to Nexcess, apply the following steps.
Firstly, purchase a hosting plan from Nexcess
Reach out to the support team and request the site migration
You'll be asked for your current web hosting details
They'll schedule a time for your site transfer
Finally, your website will be migrated to Nexcess free of cost and the migration process takes 2-5 business days.
#7. Multi-Layered Caching
Multi-Layered Caching is the technology technique that Nexcess uses to store your website data into cache or temporary memory that helps you to boost your website performance and speed.
#8. Free Automatic SSL
The SSL is the short form of Secure Sockets Layer certificate and is also known as the HTPPS version. It's very important for every website on World Wide Web. Thankfully, Nexcess comes with free automatic SSL certificate installation.
Read More: What Is An SSL Certificate? & What are the Different Types Of SSL Certificates?
#9. Nexcess Built-in CDN
Do you know how important the Content Delivery Network (CDN) is for your website? Using CDN, Nexcess includes a built-in CDN that will serve your website content from the CDN Point of Presence nearest to the visitor. This translates to ultra-fast load times for your website.
Nexcess built-in CDN comes with 22 Points-Of-Presence (located data centers) distributed around the globe to speed up content delivery to local visitors.
#10. Automatic Updates
Do you want to get a hosting plan that automatically updates your WordPress core and plugins? Obviously, YES. So you should host your website on Nexcess managed WordPress hosting.
Keeping an updated version of software protects your website from known vulnerabilities and saves you time for posting fresh content.
#11. Stencils Sites
The Stencils feature allows you to create a copy of any website you have and use the copy as a template for another site. This will help you quickly get a website live with the design you've tested and approved.
#12. Free Email Accounts
You can create business email accounts depending on the number of sites listed on your plan. For instance, you can create only one business email account with the SPARK plan.
#13. Visual Regression Testing
Nexcess provides you with a visual compare tool that shows you how the plugins will impact the look of your website.
#14. Latest PHP8+ Compatibility
All Nexcess WordPress hosting plans are equipped with the latest PHP8+ versions. However, you can change it to older PHP versions if needed.
The best part, once you switch to another PHP version, they'll run a compatibility check to make sure your website won't have any issues. If they discover any issues, they'll show you that there was an issue however allow you to process the update to that PHP version.
#15. Image Optimization and Lazy Loading
Nexcess managed WordPress hosting has partnered with TinyPNG to automatically optimize your images. Thus, you get access to the Compress JPEG & PNG Images plugin powered by TinyPNG at no extra cost.
The plugin lets you automatically optimize JPEG, PNG, and WebP images without ever having to open an image editor. Optimizing images translates to image lazy loading.
#16. iThemes Security Pro Plugin For FREE
iThemes Security PRO is a better WordPress security plugin that offers 30 security features. It uses 30-way to protect your WordPress website against hackers, malware, vulnerabilities, and other attacks.
iThemes Security PRO starts at $80 a year for one WordPress site but luckily it's included free of cost with Nexcess managed WordPress and WooCommerce hosting.
Read More: iThemes Security PRO Review: Is It the Best Security Plugin?
#17. iThemes Sync For FREE
iThemeis Sync is a premium tool ($69 a year) that enables you to manage multiple WordPress websites from a single and easy-to-use dashboard.
The tool saves you time and hassle as it allows you to perform admin tasks from one place such as updating WordPress core & plugins with one click, monitoring WordPress uptime, viewing GSC & Google Analytics reports, managing themes & plugins, performing backups, and much more.
#18. Qubely Pro For Free
Qubely Pro is an advanced toolkit that improves your Gutenberg editor experience. This helps you to make beautiful websites in a short time.
This includes premium blocks, 150+ built-in sections, ready starter packs, and many functionalities to the Gutenberg editor. It enables you premium blocks such as Advanced Post Grid, Form Builder, Price List, Testimonial Carousal, Gallery, Post Carousal, Team Carousel, and Image Carousel.
Qubely Pro costs $39 a year for one website but fortunately, it comes pre-bundled with Nexcess WordPress and WooCommerce hosting plans.
#19. WPMerge For Free
WPMerge is an easy-to-use plugin that makes it easier to push staging site changes to the live website. The plugin will not replace the data and content that you need on your live website. This allows you to easily merge two different databases in a complex process.
WPMerge comes pre-packaged with Nexcess WordPress and WooCommerce hosting although it separately costs $99 a year for one website.
#20. 30-Day Money-Back Guarantee
Nexcess ensures a 30-day money-back with a 100% full refund and will give back the money within 7-10 days.
Keep in mind that some services such as domain registration, setup fees, SSL certificates, dedicated servers, and clustered services aren't refundable. And you can use your registered domain elsewhere.
7 MAJOR Reasons to Consider Nexcess Managed WordPress Hosting
There're many alternatives to Nexcess, but why you should go with Nexcess?
#1. Fully Managed Environment
If you just want to create and publish content on your website without ever managing tedious tasks, you should host your website on the Nexcess managed WordPress hosting.
Nexcess's managed WordPress hosting includes one-click WordPress installation, daily automatic backups, WordPress core updates, plugin updates, visual regression testing, one-click staging, and much more.
#2. Enhanced Security
Website security is speedily becoming more and more important due to the hacking of thousands of websites on daily basis. This is the reason that you have to choose a hosting provider that includes advanced security features.
Nexcess managed WordPress hosting includes the following features to protect your WordPress website from hackers.
Free SSL Certificates: The connection between your web server and visitor's browser will be encrypted with an SSL certificate.
Automatic Daily Backups: Your website's files and content will be backed up every single day to ensure that your website data is safely stored.
iTheme Security Pro: This is a better WordPress security plugin installed on over 1 million websites. It protects your WordPress website against brute force attacks, vulnerabilities, malware, and other attacks.
Read More:
#3. Lighting Fast Speed and Admirable Reliability
Nexcess offers many tools and features to give your website fast lighting speed and it also ensures 99.99% availability.
Nexcess CDN: This offers 22 global locations and advanced caching to speed up your content delivery.
Image Fast Loading: The TinyPNG plugin is included that optimizes images to instantly load.
99.99% Uptime: They ensure a 99.99% uptime which is higher than the industry standard.
#4. No Overage Fees and Traffic Limits
Unlike other web hosts that charge the websites' owners for every 1,000 visitors over the monthly visit limit, Nexcess never charges you for sudden traffic spikes.
Nexcess will instantly allocate more resources to your account when your website faces huge traffic spikes.
#5. Excellent Customer Support
Their support agents are very polite and available 24 hours a day and 7 days a week. I contacted them several times via live chat while I write the Nexcess hosting review and every time I got a good response.
#6. Premium Plugins FREE of Cost
Nexcess includes these premium plugins that save you hundreds of dollars a year.
iThemes Security Pro: Starts at $80 per year for one WordPress website
iThemes Security Pro: Starts at $80 per year for one WordPress website
iThemes Sync: Starts at $69 a year for five websites.
Qubely Pro: Starts at $39 a year for one website.
WPMerge: Starts at $99 a year for one website.
#7. Ease Of Use
Nexcess uses its built-in website management panel called Client Portal. Nexcess's Client Portal is well-structured, easy to use, and intuitive. This helps you to easily launch and manage your website.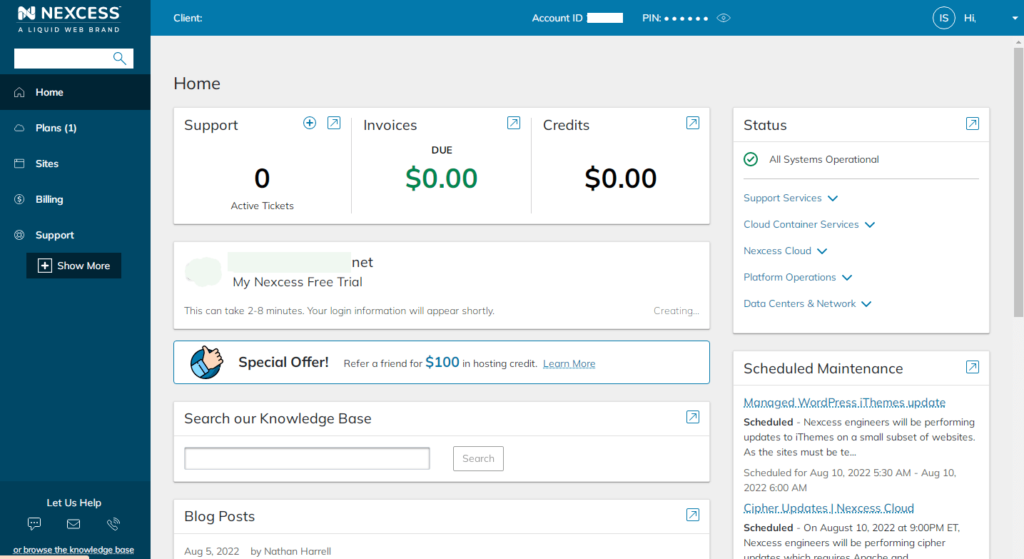 Pros and Cons of Nexcess Hosting
let's take a look at the upsides and downsides of Nexcess hosting plans.
Conclusion of Nexcess Hosting Review
Nexcess hosting services are overall great for those who want fully managed hosting solutions.
They maintain several aspects of your website including automatic updates, ultra-fast speed, superior security, and much more. Moreover, they come with a ton of useful features including admirable customer support, free site migration, staging environment, free SSL certificates, and Nexcess CDN.
I highly recommend you Nexcess hosting as it offers you everything that you need to make, build, and manage your website. Additionally, you get the huge discount on managed hosting plans. So what are you waiting for?
I hope you found useful our review Nexcess hosting review.