Wondering about how to create an online store that fastly sells more products? then read this Nexcess StoreBuilder review that covers everything you need to know.
Your online store website helps you to make passive income, get new customers, build your brand, and create unique shopping experiences before you even open a physical store.
According to a BigCommerce report, 43% of customers use social media and the internet to research products before purchasing.
Almost 11.5% of sales in the first quarter of 2020 were online sales due to covid-19.
In addition, it's expected that 22% of global retail sales will be online sales by 2023, based on 2019 results (eCommerce sales made up 14.1% of global retail sales in 2019).
To create your own online store, there're many commerce platforms such as Nexcess Store Builder, Shopify, Wix, and Squarespace.
Nexcess Store Builder makes it easier to create your online store within a little amount of time. And it lets you enjoy adding unlimited products to your online store.
Nexcess StoreBuilder Review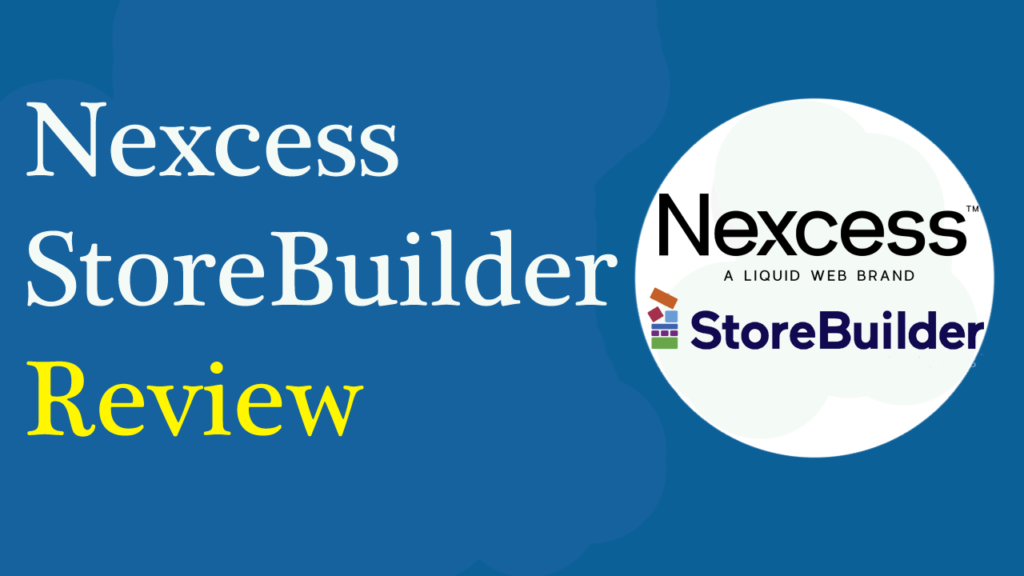 Our Nexcess Store Builder review aids you to find out answers to your questions including what is Nexcess StoreBuilder? is it best for your online business? what features do you get with it? why you should choose it? and much more.
What is Nexcess StoreBuilder?
StoreBuilder by Nexcess is the online shop builder that lets you create high-performing e-commerce sites with ease.
Nexcess StoreBuilder will create a unique storefront based on the questions series, then you can customize it, set up payment processing, upload products and you can fully customize everything that helps you to successfully build your online shop.
Read More: Nexcess Hosting Review
Features of Nexcess StoreBuilder
Nexcess StoreBuilder comes with unique features that make it easier to build your successful eCommerce store.
#1. Create An Excellent Unique Store
Nexcess StoreBuilder creates an online store for you within a few minutes based on question series. To put it simply, when you signup for the Nexcess StoreBuilder account, you'll be asked some questions about your niche, web designing experience, have you prepared content, and so on.
But you should keep in mind that these answers affect your online store's design and template.
Once you've answered the questions, then it will choose a template and design that works best for your store. You can then customize and change the template and design however you need it.
---
"Your Online Store, Your Rules"
---
PRO TIP: It's better to tell when you answer the questions that you have web design and content creation experience even if you don't have one. Applying this tip will result in the creation of your professional online store.
#2. Kadence WP Built-In
What is Kadence WP? It's a popular WordPress theme that was built deeply through integration with WordPress Block Editor and Gutenburg. It's most compatible with Nexcess StoreBuilder and other page builders.
You're lucky because you get this WordPress excellent theme for free with Nexcess StoreBuilder.
#3. Staging Environments
I recommend you to firstly create a staging version (environment) of your website or store before getting live it on World Wide Web. The staging environment of your website lets you experience everything before it affects your live store like themes, plugins, designs, etc. And once you've done the right changes, then merge or publish them.
Luckily, Nexcess StoreBuilder fulfills the need for a staging environment where you can do anything before pushing it live to customers.
#4. Premium Plugins
With the Nexcess StoreBuilder, you get several premium plugins that are worth hundreds of dollars, as listed below.
Better Product Reviews For WooCommerce
Kadence Blocks – PRO Extension
Kadence Blocks
Kadence Pro – Premium addon for the Kadence Theme
Redis Object Cache (installed on MWCH new install sites)
Spotlight – Social Media Feeds
WooCommerce (installed on MWCH new install sites)
WooCommerce Stripe Gateway
WP101 Video Tutorial Plugin
#4. Performance and Sales Monitoring
Nexcess StoreBuilder keeps an eye on your online store's performance and sales, both are key metrics of your store's efficiency.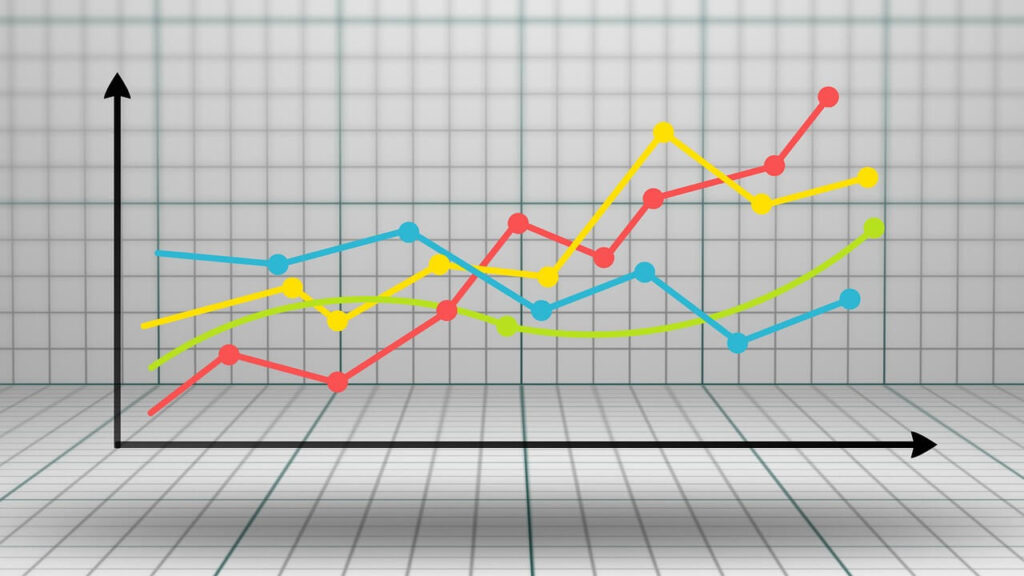 #5. Abandoned Cart Recovery
A study shows that the average cart abandonment rate is 70%, that's why you should utilize Abandoned Cart Recovery.
Abandoned cart recovery enables you to send automated emails to customers who add the products to the online shopping carts but they didn't purchase due to any reason.
The abandoned cart recovery not only boosts your store's revenue but also builds a strong relationship between your store and customers.
Fortunately, Nexcess StoreBuilder aims to increase your store's profit by following up with the customers with automated emails. In the simple sense, you get the abandoned cart recovery that assists you to generate more revenue.
#6. Customer Reviews
According to Trustpilot (2020), almost 89% (9 out of 10) of consumers read online customer reviews before purchasing. And 79% of consumers say that they trust online reviews as much as personal recommendations, reported by BrightLocal (2020).
Today, online shoppers read customer reviews about a product or service before purchasing it. Customer reviews not only influence customers' purchase-decision but build customers' trust and your brand credibility.
Once you create your online store and upload products with Nexcess StoreBuilder, then your customers can leave reviews and rate your products. The positive customer reviews will speedily build your online store.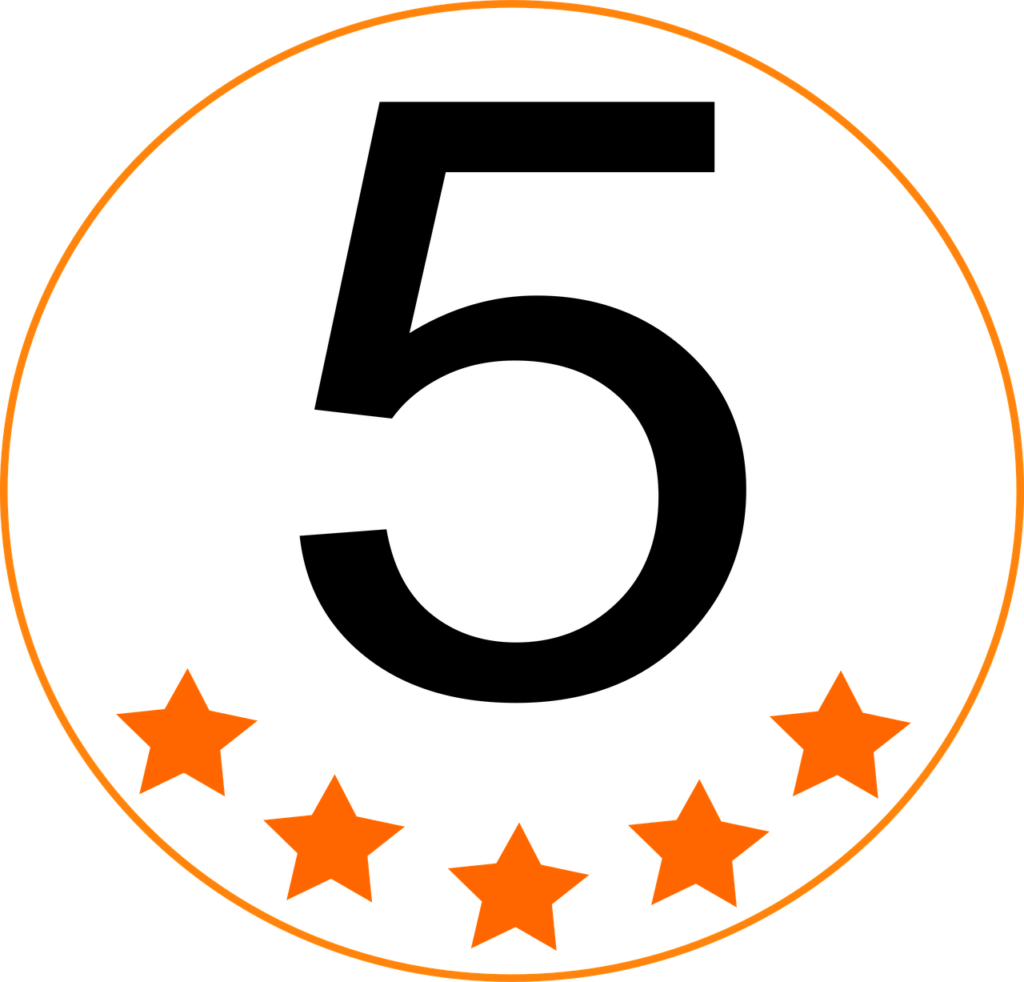 #9. Automatic Updates
Nexcess Storebuilder wants that you just focus on your products, content, and branding. And we handle automatic updates (like software updates and maintenance) for you.
Why Choose Nexcess StoreBuilder? (9 MAJOR REASONS)
Nexcess StoreBuilder is the leading eCommerce solution that includes fully custom templates, bundled selling tools, monitoring (sales, performance, security), and many more useful features that you need to get succeed.
Here's the list of MAJOR reasons to choose Nexcess StoreBuilder over other options.
#1. Affordable Pricing and Long FREE-TRIAL Period
Nexcess StoreBuilder is the cheapest solution to create your online shop with ease. If you are new to Nexcess StoreBuilder, it has a gift for you in terms of a 30-day FREE TRIAL. Are you ready to accept its gift, if your answer is YES. Then click on the below button and get started with FREE TRIAL.
Once your FREE-TRIAL period ends, it will charge you $19 per month while others charge higher.
Here is the pricing and free trial comparison of Nexcess StoreBuilder and its alternatives.
Here you can see that Nexcess StoreBuilder is the cheapest solution and still offers you a 30-day FREE TRIAL. And its alternatives cost you higher and provide you either 7-day or 14-day FREE-TRIAL.
#2. Sell Unlimited Products
Nexcess StoreBuilder hasn't placed limits on how many products you can upload to your store. You can upload and sell unlimited products. The more products you upload and sell, the more sales you'll drive and more revenue will generate.
#3. Hundreds of Payment Gateways
Once you've created your account on Nexcess StoreBuilder, you can add hundreds of payment gateways to your eCommerce website.
#4. 24/7/365 Ecommerce Support
Nexcess has a dedicated eCommerce customer support team that will aid you 24 hours a day, 7 days a week, 365 days a year – every time you need support, they'll help you.
You can contact its eCommerce experts by phone, email & chat. In addition, an extensive knowledge base is available to find answers to your questions.
I personally reached out to its eCommerce agents several times and fastly got responses.
Here you can see the chat screenshots.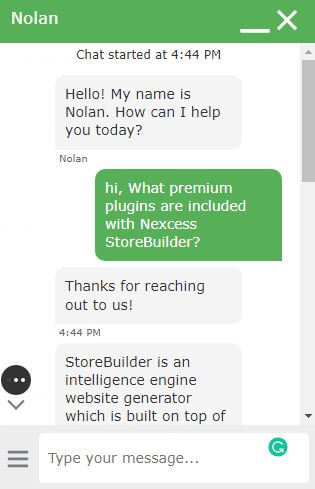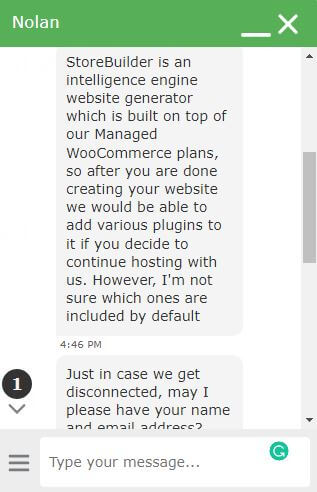 #5. Security Monitoring
Statistical data shows that around 30K – 40K websites get hacked every single day. that's why your online shop's security matters a lot because if your eCommerce website gets hacked, your sales revenue will be dropped, your site's performance will be affected, your customers will be disappointed, etc.
To keep safe your online store and customers, Nexcess StoreBuilder includes in-built security. And it applies advanced security hardening and proactive monitoring. Along with that, it has integrated WAF (Web Application Firewall) with its infrastructure that keeps safe from DDOS attacks, malware, lockouts, brute force attempts, XSS, SQL injections, etc.
#6. Better Performance
Nexcess ensures a 100% uptime guarantee which means your online store won't experience downtime. Also, it focuses to speed up your online store.
Your eCommerce website's speed matters a lot. The faster your eCommerce website loads, the customers more likely to make purchases.
The main features that you get with Nexcess StoreBuilder are auto-scaling and caching system. Both are included to improve the performance of your store.
#7. Ease of Use
Nexcess StoreBuilder comes with easy-to-navigation. You can easily add content, upload products, manage orders, set up payment processing, and much more.
#8. No Ecommerce Transaction Fee
Shopify, Squarespace, and Wix have eCommerce transaction fees. But fortunately, Nexcess StoreBuilder doesn't cost you eCommerce transaction fees.
#9. Risk-Free 30-day Trial
Nexcess focuses on customer stratification, that's why it offers you a 30-DAY FREE TRIAL of StoreBuilder. Its risk-free trial lets you experience how to create a successful online store.
PRO TIP: If you're new to the eCommerce industry, then firstly you should signup for a free trial. But, if you're an eCommerce expert, then purchase a plan that starts at $19 a month.
Pros and Cons
Take a look at the pros and cons of Nexcess StoreBuilder.
Conclusion
Nexcess StoreBuilder is one of the best commerce platforms in the market. The lowest pricing, risk-free 30-day trial, admirable customer support, advanced security, premium plugins, and much more are great.
I highly recommend you to create your online store with Nexcess StoreBuilder, get started with a 30-day free trial.
Once you've built your online store with Nexcess StoreBuilder, it will generate you passive income, build your brand, and makes stronger your relationship with customers.
So what are you waiting for? start with Nexcess StoreBuilder's 30-day free trial.
Read More: