The vast majority of shared hosting plans are available which makes it a little harder to choose the right plan. That's why we've come up with our detailed DreamHost shared hosting review that aids you to make the perfect decision for your website.
About DreamHost
DreamHost is a well-known hosting company that powers more than 1.5 million websites and has 400,000+ customers.
WordPress.org recommends 3 web hosts: DreamHost, Bluehost, and SiteGround. You should know that DreamHost is one of the most reliable hosting companies and is recommended for reasons.
The great feature that makes DreamHost stand out is the longest 97-day money-back guarantee.
What Hosting Products Are Offered by DreamHost?
DreamHost offers shared hosting, managed WordPress hosting, VPS, dedicated servers, cloud hosting, and WooCommerce hosting plans.
Let's dig dive into them.
Shared Hosting: Starts at $1.99 a month and enables you to enjoy free domain, free SSL certificate, fast SSD storage, free website migration, WP Website Builder, 97-day money-back guarantee, and much more.
Cloud Hosting: Charges you $4.50 per month for the basic plan and gets you 512 MB RAM, 80 GB storage, and unlimited monthly data transfers.
VPS Hosting: Priced at $10.00/mo and delivers you managed performance, high security, managed updates, unlimited bandwidth, unlimited traffic, custom control panel, SSDs, email, SSL certificate, unlimited domains, and so on.
Managed WordPress Hosting: Costs you $12 a month and comes with more powerful features like staging, on-demand backups, caching, managed automatic updates, and dedicated WordPress support.
WooCommerce Hosting: It charges you $12 a month for creating WordPress-powered online stores.
Fully-Managed Dedicated Server Hosting: Starting at $149.00/mo and receives you extreme performance, 100% uptime guarantee, expert support, full root access, shell access, reboot or power-cycle your server, RAID 1 storage, uncapped bandwidth, DDoS protection, Ruby Version Manager (RVM), OPcache, and much more.
Let's get started with our DreamHost shared hosting review.
DreamHost Shared Hosting Review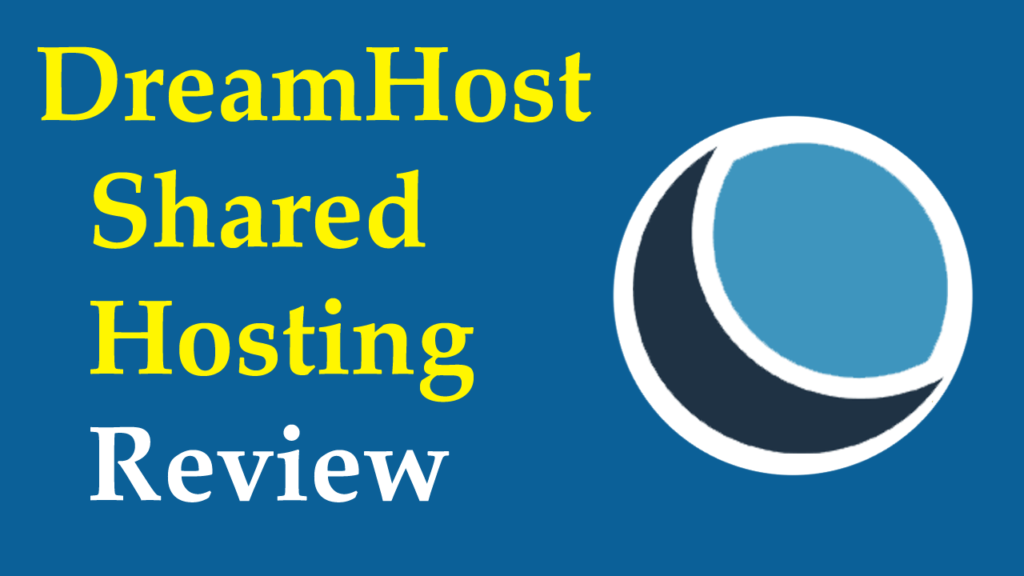 This DreamHost shared hosting review covers everything you need to know: performance tests, customer support, plans pricing, pros & cons, and why you should choose it.
Performance Tests
Every website owner wants to have a better website performance. Because it actually has large and measurable effects on your engagement rate and profit. To put it simply, those websites that have better performance boost conversion rate, generate more revenue, improve SEO, ensure more clicks, and reduce bounce rate.
You should keep in mind that your web hosting provider plays a critical role in your website's performance. That's why you should choose a web host that delivers you better website performance.
Let's run the performance tests of DreamHost hosting.
Speed Tests
The faster your website, the more visitors will come and it will increase the targeted actions on your website. Your website's speed directly affects your visitors and customers.
Imagine, if your website takes too much longer to fully load, then your customers and visitors leave it.
I tested a website (one-page website) that is hosted on DreamHost via the two popular website speed checker tools and I got these results.
GtMetrix: The performance was 100% (A-Grade) and the website loading time was 303ms.

Pingdom: The performance was 95% (A-Grade) and the loading time was 252ms.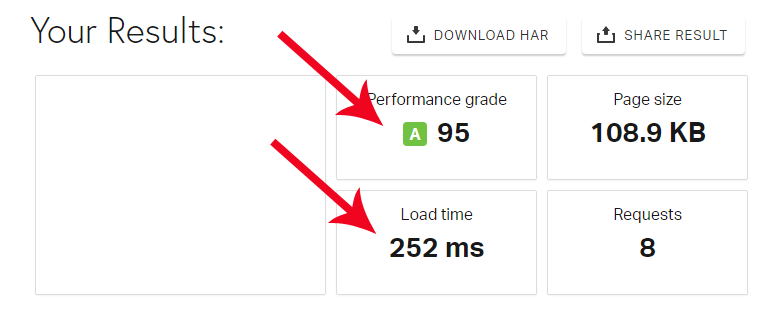 So that website passed both speed tests and I got great results. Quite Impressive.
Uptime Tests
Uptime is one of the most critical things that matters a lot. Uptime is the amount of time that your website is accessible.
According to HRANK (web hosting rating system), the uptime of DreamHost was 99.907% for the last 30-days.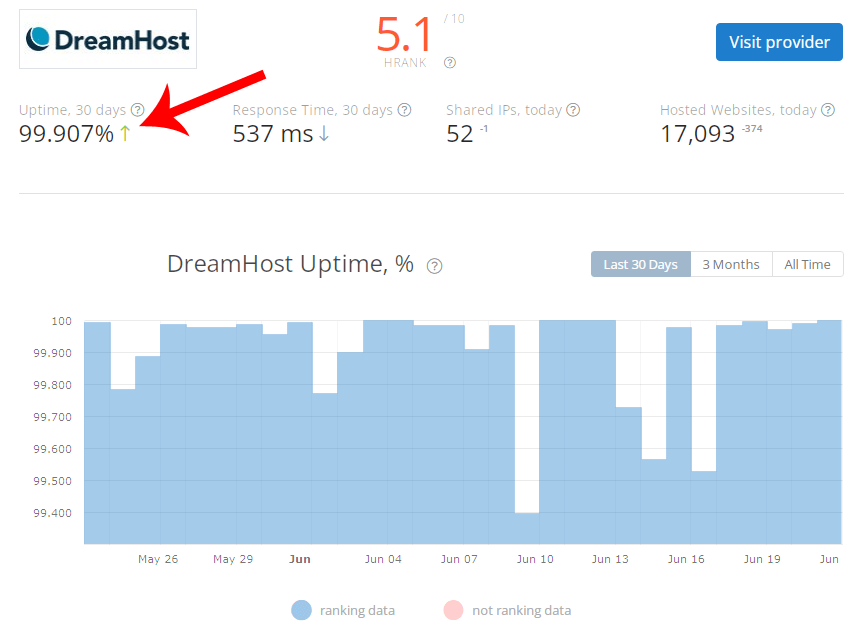 But you should know that DreamHost offers a 100% uptime guarantee and gives you money back if your website gets down.
How Excellent the Customer Support Is?
The DreamHost's customer support is good but it is limited. They provide you with live chat, ticket system, an extensive knowledge base, and forums.
They claim 24/7 customer support but actually, their live chat support is available only between 3:00 AM and 9:30 PM Pacific Time. And you can contact them by clicking the icon at the bottom of the left-hand side.
I reached them on live chat and asked a few questions from a sales representative. And I received helpful answers. The agents were knowledgeable and helpful.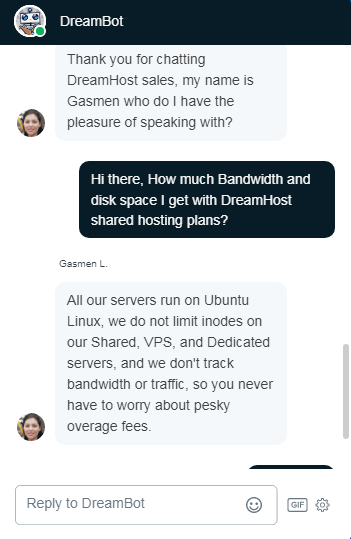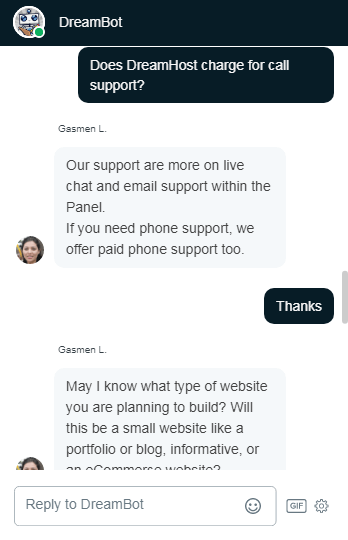 Also, phone support is available but you will pay for a call to customer support.
Plans Pricing
DreamHost provides two plans for shared hosting: Shared Starter and Shared Unlimited
Shared Starter Plan
The Shared Starter package is suitable for beginners and gets you to install one website, free domain, unlimited traffic, WordPress pre-installed, free automated WordPress migration, WP Website Builder, fast SSD storage, free SSL certificates, and more useful features.
Quick Note: The free domain credit is valid for those who sign up for 1-year or 3-year contracts. And the free domain must be used within the first 3-months.
If you want to get a business email address, then you will pay $1.67 per month separately.
You can opt-in for monthly, 1-year, or 3-year contracts. Here you can see the prices for these contracts.
| Contracts | Monthly | 1-Year | 3-Year |
| --- | --- | --- | --- |
| Pricing | $1.99/Mo | $2.95/Mo | $2.59/Mo |
Shared Unlimited Plan
The Shared Unlimited plan works best for those who want to publish multiple small websites. The package lets you enjoy publishing unlimited websites, 1-year free domain name, WP Website Builder, WordPress Pre-installed, free automated WordPress migration, fast SSD storage, free SSL certificates, and unlimited business email accounts.
| Contracts | Monthly | 1-Year | 3-Year |
| --- | --- | --- | --- |
| Pricing | $2.99/Mo | $2.95/Mo | $3.95/Mo |
Features of DreamHost Shared Hosting
The excellent shared hosting plans come up with excellent features and DreamHost shared hosting plans let you enjoy these excellent features.
#1. Free Site Migration
Maybe you've published your website but you encounter some problems like high renewal prices or your web host doesn't provide you the perfect features. Then you should transfer your website to DreamHost if it is perfect for you.
DreamHost offers free WordPress website migration with zero downtime via the automatic migration plugin.
#2. FREE Domain Name
Getting a free domain with a shared hosting plan is the best option to get live your website with a low budget.
Fortunately, DreamHost shared hosting plans let you enjoy a free domain name for the first year.
Keep in mind that you can register a free domain when you sign up for an annual or 3-year billing cycle. And the free domain credit will be no longer available if you don't use it within the first 3 months.
The free domain name credit is only valid for these extensions: .COM, .NET, .ONLINE, .ORG , .SHOP, .BLOG, .CLUB, .INFO, .TECH, .XYZ, .STORE, .DESIGN, .ME, .SITE, .ART.
Read More:
#3. FREE SSL Certificates
DreamHost shared hosting plans enable you the free Let's Encrypt SSL certificates that protect your visitors' information, give your visitors peace of mind, and increase your search engine ranking.
#4. Email Accounts
Your business email address builds trust, attracts more visitors, develops stronger relationships, and provides a consistent form of communication. That's why having a business email is crucial.
The DreamHost Shared Starter plan doesn't include a free email account, it costs you $1.67/mo, which is not so good. But the Shared Unlimited plan lets you create unlimited email accounts.
#5. WP Website Builder
Every DreamHost shared hosting plan comes with WP Website Builder which makes it easier to create your beautiful website. The WP Website Builder includes 200+ professional templates and a drag-and-drop editor.
Read More: Nexcess StoreBuilder Review – Is It Perfect for Your Online Store?
#6. WordPress Pre-installed
Once you've signed up at DreamHost, then if you choose WordPress for powering your website, it will be pre-installed. So you don't have to install it yourself. The WordPress pre-installed feature saves your time.
#7. Unlimited Bandwidth & Storage
DreamHost claims that we do not limit inodes (files, folders, emails, and anything you store on the server) on our shared hosting packages. In addition, they don't track bandwidth or traffic, so you never have to worry about pesky overage fees.
The Shared Starter package incorporates 50 GB of disk space and the Shared Unlimited plan includes unlimited storage.
#8. DreamHost Control Panel
DreamHost uses a custom-built control panel that gets you admin access to everything needed to build your website. The DreamHost control panel lets you create new email accounts, enable Let's Encrypt SSL, forward domains, add users and do everything with ease.
#9. FREE Privacy Protection
DreamHost protects your personal information for free. Your personal data security is always included.
#10. Automated Backups
A great way to keep safe your website is to take backup. DreamHost takes backup of your website every single day.
Read More: How To Backup Your WordPress Website?
Why You Should Use DreamHost Shared Hosting? (3 REASONS)
Like plants need the right environment to grow, WordPress websites grow when they are hosted on the right web hosting plans.
The vast majority of hosting companies meet the minimum WordPress requirements. But 3 web hosts are officially recommended by WordPress.org: DreamHost, BlueHost, and SiteGround.
As DreamHost is WordPress's recommended hosting provider, that's why you should consider it.
#1. BETTER Performance
DreamHost delivers better performance to the hosted websites by utilizing advanced technologies.
Fast Solid State Storage: DreamHost uses fast SSDs (Solid State Drives) to give your website fast-lighting speed. In fact, your visitors and customers love fast-lighting website speed.
Optimized Servers: DreamHost has designed all of its services with optimum WordPress performance in mind. From its servers to database software, all its tech is built to run your WordPress website like a dream and gets you the best configurations.
100% Uptime Guarantee: DreamHost is so confident about its uptime guarantee. The web host will put $$$ back in your pocket if your site goes down.
#2. 97-Day Money-Back Guarantee
Normally web hosts offer a 30-day money-back guarantee and there're rare hosting providers that come with a longer money-back guarantee.
DreamHost offers 97-day money-back guarantee which is the longest in the web hosting industry. And InMotion Hosting is the only web host that offers a money-back guarantee close to DreamHost. InMotion Hosting offers 90-day money-back guarantee.
#3. Complete Kit for Beginners
DreamHost shared hosting comes with all the features that beginners need to power their websites. Their shared hosting plans include free domain (with annual and 3-year contracts), free SSL certificates, unlimited disk space, unmetered bandwidth, automatic backups, free privacy protection, free WordPress website migration, and many more useful features.
Pros and Cons
To go ahead in the DreamHost shared hosting review, take a look at its advantages and disadvantages.
Conclusion
DreamHost is one of the recommended and reliable hosting companies on the market. Their shared hosting packages enable you all the important features that you need to create, managed, and build your website.
So what are you waiting for?
I hope you've got helpful details in our DreamHost shared hosting review.