Finding a fully managed WordPress hosting solution for your WordPress website isn't an easy task because dozens of providers are available on the market. That's why today we've come up with our detailed Kinsta managed WordPress hosting review to find out whether is it perfect for your WordPress website or not.
Let's get started.
Kinsta Managed WordPress Hosting Review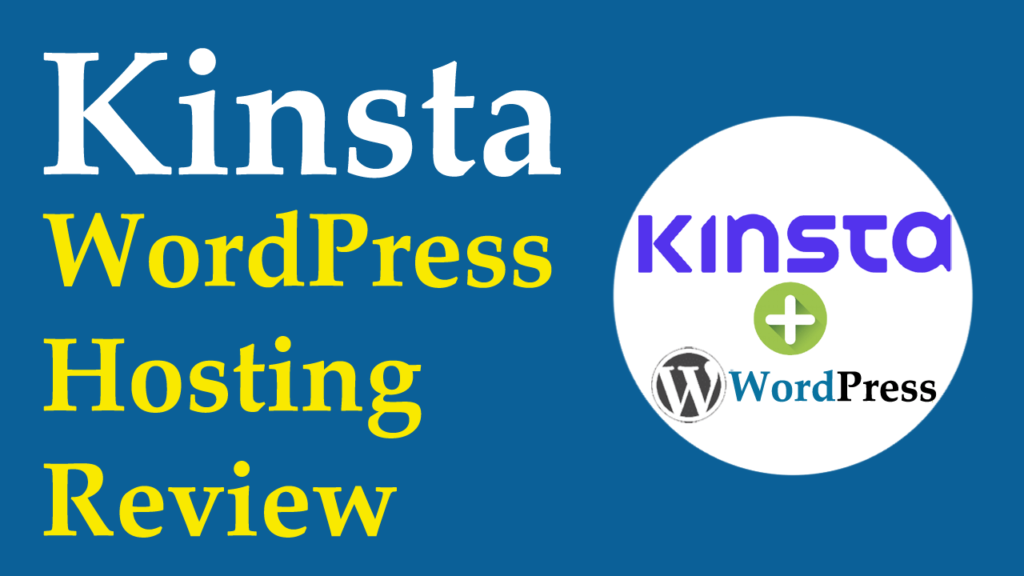 Our Kinsta WordPress hosting review covers the features that you get with Kinsta, pricing plans, performance, speed tests, uptime results, customer support, ease of use, and pros and cons.
Kinsta At A Glance
Kinsta is the premium managed WordPress hosting provider for WordPress websites that need advanced performance, superior security, and lightning-fast customer support. The hosting provider is trusted by 24,400 companies from 128 countries.
Kinsta managed WordPress hosting solutions work best for high-traffic blogs, startups, online shops, agencies, universities, and Fortune 500 companies.
What is Managed WordPress Hosting?
Managed WordPress hosting (also called optimized WordPress hosting) is a package where your hosting provider manages your WordPress site and optimizes the server, In simple words, your hosting provider takes care of some key tasks to save you time & money and get peace of mind.
There're no set criteria for managed WordPress hosting and what you get with it. And features offered by web hosts vary from provider to provider.
Most managed WordPress hosting providers offer you the following features.
Update your WordPress core and plugins if they won't create any issues
Perform automatic backups to keep safe your website databases, images, and files
Scan your WordPress website for security threats and instantly deal with them
Configure your web server to meet your needs
Offer you a staging site or staging environment to test plugins, themes, codes, and new changes
Available 24 hours a day and 7 days a week to help you
Deliver you better performance and lightning-fast speed
As mentioned earlier, many managed WordPress hosting companies are available like Kinsta, Nexcess, Flywheel, and Cloudways. But we'll dig dive into Kinsta managed WordPress hosting in this review.
Bird's Eye View
Take a look at the summary table of Kinsta managed WordPress hosting review. Here we focus only on the first 3 plans, although you can choose from 10 plans,
| Aspects | Starter | Pro | Business 1 |
| --- | --- | --- | --- |
| Starting Price | $35/Mo | $70/Mo | $115/Mo |
| WordPress Installs | 1 | 2 | 5 |
| Monthly Visits | 25,000 | 50,000 | 100,000 |
| Storage | 10GB | 20GB | 30GB |
| Free SSL | ✔️ | ✔️ | ✔️ |
| Free CDN | 100GB | 200GB | 400GB |
| Staging Site | ✔️ | ✔️ | ✔️ |
| Free Migrations | ✔️ | ✔️ | ✔️ |
| 24/7 Support | ✔️ | ✔️ | ✔️ |
| Daily Backups | ✔️ | ✔️ | ✔️ |
| PHP workers/Site | 2 | 2 | 4 |
| Malware Removal | ✔️ | ✔️ | ✔️ |
| Hack-Fix Guarantee | ✔️ | ✔️ | ✔️ |
| 99.9% Uptime | ✔️ | ✔️ | ✔️ |
| 30-day Money-back | ✔️ | ✔️ | ✔️ |
Kinsta WordPress Hosting Review Summary Table
15 Features of Kinsta Managed WordPress Hosting
Kinsta comes with all the necessary plus advanced features and technologies that boost your website performance, improve security and make it easier to manage your WordPress website.
#1. Google Cloud Platform
Google Cloud Platform is a public cloud infrastructure that offers you to access computer resources housed in Google's data centers. The same infrastructure Google uses for its end-user products such as Youtube, Google Search, and Gmail. It's built with faster, scalable, and consistent performance in mind.
Kinsta uses Google Cloud Platform's premium tier network which charges a little bit more to maximize your website performance. To put it simply, it speeds up your content delivery and ensures the highest website availability.
Kinsta's customers see a performance boost from 30% to up to 200%. Quite Impressive.
#2. C2 Machines
C2 machines, the new compute-optimized VMs deliver the best performance and are designed to handle compute-intensive workloads. They handle even the most demanding WordPress websites.
Kinsta offers terrific reliability and the highest-end CPUs using C2 machines.
#3. Premium CDN For FREE
Kinsta CDN (powered by Cloudflare) comes pre-bundled with every plan to decrease the loading latency. The CDN provider has a huge network of servers that spans more than 200 cities in 100+ countries.
In addition to the performance boost, it discovers and blocks DDoS attacks or any malicious event, caches your website content, and offers Wildcard SSL certificates to secure your domains and subdomains. This saves you money and time as well as gets you peace of mind.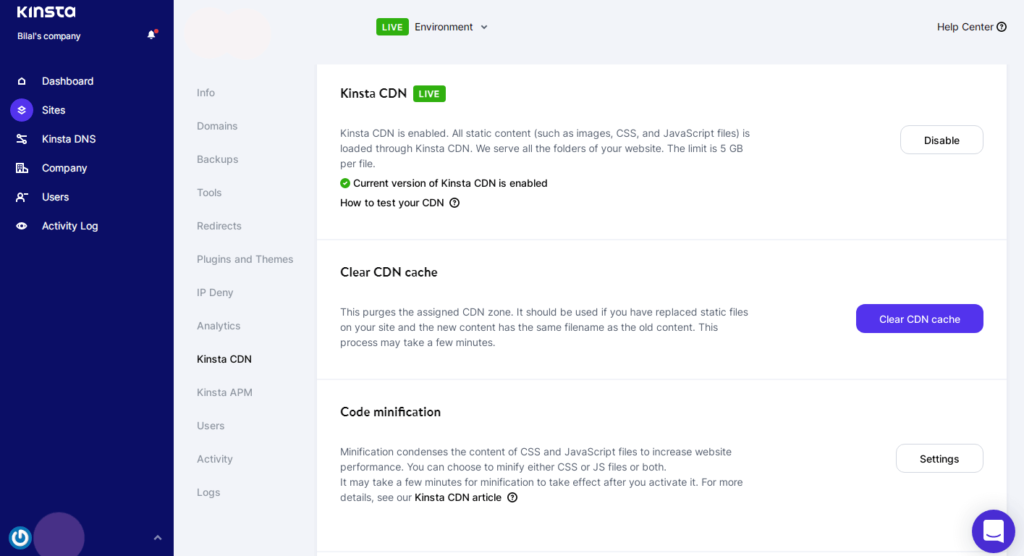 #4. FREE SSL Certificates
Kinsta managed WordPress hosting plans enable you free SSL certificates to encrypt the data transferred between your web server and visitor's browser. Activating an SSL certificate enhances your website security, improves performance, and boosts search engine ranking.
SSL certificates ensure if you log in to your WordPress admin dashboard using public wifi, no one will be able to break your login credential.
Read More: What Is An SSL Certificate? & What are the Different Types Of SSL Certificates?
#5. Free Premium Migrations
Kinsta offers you two types of website migrations, premium migrations and unlimited standard migrations.
All Kinsta WordPress hosting plans allow you one or more premium migrations free of cost. You have to fill out the migration form in the MyKinsta dashboard and their experts will do the rest. However, you can pay extra for bulk premium migrations.
In addition, Kinsta offers you an unlimited number of standard migrations. But the exception is that it's not valid for multisite networks or websites using WP Engine's LargeFS.
Here's the complete guide on how to request a migration at Kinsta.
#6. Server-Level Caching
Kinsta caches your website content, files, and databases on worldwide servers to reduce the loading time and bandwidth as well as handle more traffic.
Read More: What is Web Caching? & What Are The Different Types of Web Caching?
#7. Staging Sites
A staging environment or staging site is the ideal solution to keep your website safe from defacing. It allows you to test everything such as themes, plugins, codes, and changes before pushing them to the live website.
Once you've completed changes and ensured that everything works perfectly, you just need a single click to get live changes on your website.
More than 42,300 Kinsta-hosted websites use a staging environment.
#8. Daily Backups
Kinsta offers you daily automatic backups and keeps them for a minimum 14-day and longer on higher plans.
You can also purchase the Extra Backup add-on that takes a backup every hour or six-hour and stores for 24 hours. You'll pay $50 per month for six-hour backups or $100 per month for hourly backups of a single website.
We all know that storing your backups in cloud storage is an important step. Hence, Kinsta offers the External Backup paid add-on that stores your backups one per week or month either in Amazon S3 or Google Cloud Storage.
You can easily restore the backups to the live site or staging site in the MyKinsta dashboard.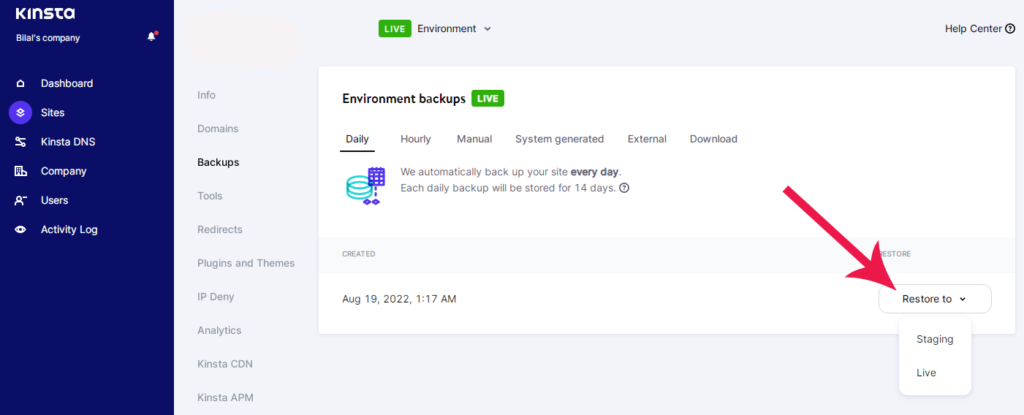 Read More: How To Backup Your WordPress Website?
#9. Choose From 34 Global Data Centers
As you get access to Google Cloud infrastructure with Kinsta. so you can choose from 34 data centers as close as possible to your target market to load faster.
Their data centers are located in Belgium, United States, India, Netherlands, Finland, Germany, Hong Kong, Indonesia, United Kingdom, Spain, Australia, Italy, Canada, Japan, France, Chile, Brazil, South Korea, Singapore, Taiwan, Poland, and Switzerland. You can choose from a few data centers in some countries such as the US, India, and Japan.
You're allowed to choose a different data center for each site because Kinsta allocates a separate container for each site.
#10. Free Hack-Fix Guarantee
As you know Kinsta is the premium managed WordPress hosting provider, it takes care of your website security. In addition to offering security features, the hosting company offers you a free hack-fix guarantee.
To put it simply, if your website gets hacked, they'll completely clean up your website and get it back to working order for free.
#11. Kinsta's APM Tool
Kinsta's built-in APM (Application Performance Monitoring) tool discovers performance issues that slow down your website. This translates to a performance boost.
#12. Weekly Automatic Database Optimization
Kinsta also takes care of your website maintenance as it optimizes your database automatically once a week. This keeps your hands off optimizing your database manually.
#13. SFTP Accounts
You can create unlimited SFTP (Secure File Transfer Protocol) accounts that allow you to deliver files by adding an extra layer of security to the process. SFTP uses the Secure Shell protocol (SSH) to encrypt the data being transferred.
#14. SSH Access
Kinsta gets you SSH (Secure Shell Protocol) access which enables you a secure way to access, control, and modify your remote web server over the internet.
#15. Completely Risk-Free
If you want to see what the MyKinsta dashboard looks like and how it works without purchasing any plan, you should signup at Kinsta Demo. This gets you to access a clickable demo of the MyKinsta dashboard but you cannot install a live website on it.
However, if you intend to launch your next project, purchase one of Kinsta managed WordPress hosting plans. All packages come back with a risk-free, 30-day money-back guarantee.
You can also cancel your plan at any time you want and get a refund for the unused resources. In the simplest sense, if you signed up for an annual plan and want to cancel your contract during the year (let's say at month 6), the company will refund you for the unused portion. So it's completely risk-free.
Pricing Plans
Kinsta managed WordPress hosting comes with Starter and Pro plans as well as four Business and Enterprise packages. Additionally, if you need more resources, get in touch with the support team to provide a custom plan for you.
Note: You access the same infrastructure (powered by the Google Cloud Platform) with any Kinsta plan. Upgrading your plan only increase the number of WordPress installations, visitors, and amount of web space.
The prices mentioned here are for monthly billing cycles. You get 2 months free when you signup for an annual plan which is even better.
Starter Plan: Starts at $35/mo and allows you 1 WordPress install, 10GB disk space, and 25000 monthly visits.
Pro Plan: Costs you $70 a month and enables you 2 WordPress installs, 20GB disk space, and 50000 monthly visits.
Business 1, 2, 3, 4 Plans: Prices range from $115/mo to $450/mo. They enable you 5-40 WordPress installs, 30GB-60GB storage, and 100000-600000 monthly visits.
Enterprise 1, 2, 3, 4 Plans: Prices range from $675/mo and $1650/mo. They come up with 60-150 WordPress installs, 1 million-2.5 million monthly visits, and 100GB-250GB storage.
Need More: If you need a custom plan, contact the support team and share your needs like the number of WordPress installs, monthly visits, storage, PHP workers, and other special features.
Speed Tests
I signed up for their Starter plan to measure how fast load a website and check every aspect of the Kinsta hosting service.
I launched the WordPress website and chose the Dalles, US data center. I installed the Colibri WP theme and added demo website content. I ran several speed tests from different global locations using GtMetrix and Pingdom.
GtMetrix Results
The WordPress website was fully loaded in 527 milliseconds at the fastest from San, Antonio, TX, USA server location. Although, the same website took 1 second to load at the slowest from Vancouver, Canada.

Here's the summary table of GtMtrix speed tests.
| Test Server Location | Loading Time | Performance Score |
| --- | --- | --- |
| San, Antonio, TX, USA | 527 Milliseconds | 100% |
| Hong Kong, China | 746 Milliseconds | 96% |
| Vancouver, Canada | 1 Second | 97% |
Pingdom Result
The website loading time was 1.08 seconds with a 90% (B-grade) performance score from Washington D.C, USA server location.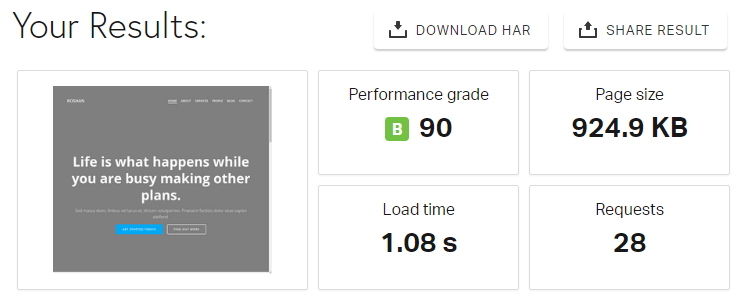 Here's the summary table of Pingom speed tests.
| Test Server Location | Loading Time | Performance Score |
| --- | --- | --- |
| Washington D.C, USA | 1.08 Seconds | 90% (B-Grade) |
| San Francisco, USA | 1.18 Seconds | 90% (B-Grade) |
| London, UK | 1.8 Seconds | 88% (B-Grade) |
So the speed tests result is pretty good.
SLA Backed Uptime
Uptime is the amount of time that your website remains available and is described in a percentage.
Kinsta offers you a 99.9% uptime guarantee also known as SLA (Service Level Agreement). This indicates that maybe your website will be down for 43 minutes and 50 seconds per month. Although, they delivered 100% uptime for last month July 2022.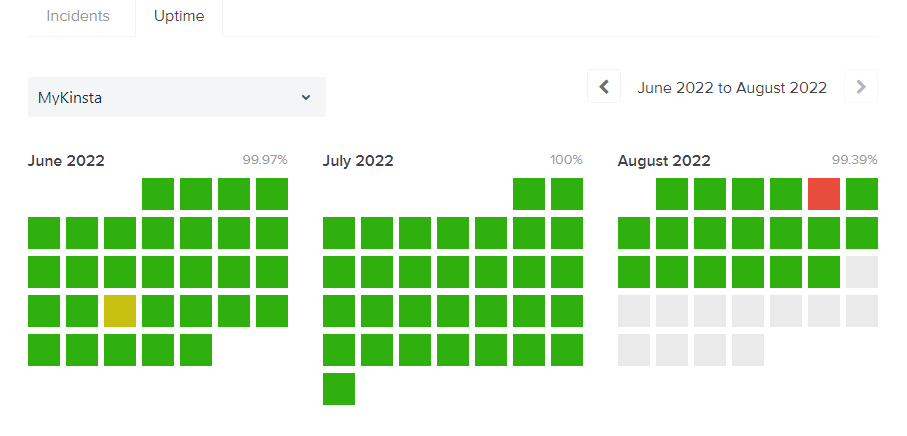 If your website experiences more downtime, the hosting provider will compensate you. But keep in mind Kinsta doesn't compensate you if your website is down due to your error, however, their experts help you get back it up. Moreover, they monitor your website availability every 2-minute.
How Good Customer Support is?
With Kinsta, you always have a team of WordPress experts, developers, engineers, and knowledgeable on the other end. Their WordPress experts are available 24 hours a day and 7 days a week to help you troubleshoot your WordPress website fastly and efficiently.
Kinsta offers you live chat to quickly solve your problems and answer your questions. Although they don't offer phone support.
They store all your live chats and conversations to access anytime you want, so you'll never have to ask a question again.
I got in touch with them and asked a few questions. Their WordPress expert answered my questions efficiently and quickly. Here you can see the screenshots.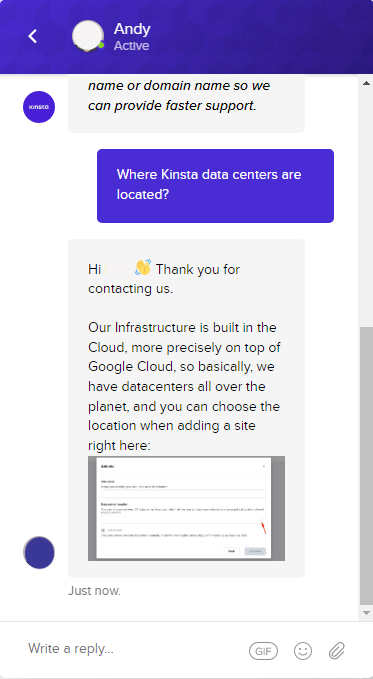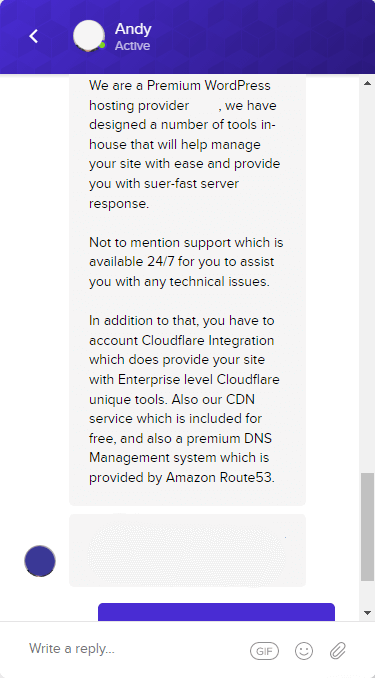 Ease of Use
Signing up at Kinsta is straightforward and takes only a few minutes. Kinsta provides its built-in dashboard called MyKinsta which is well-structured and easy to use. Even if you're non-techy, you can easily switch between different options and manage your WordPress website.
Here's what the MyKinsta dashboard looks like.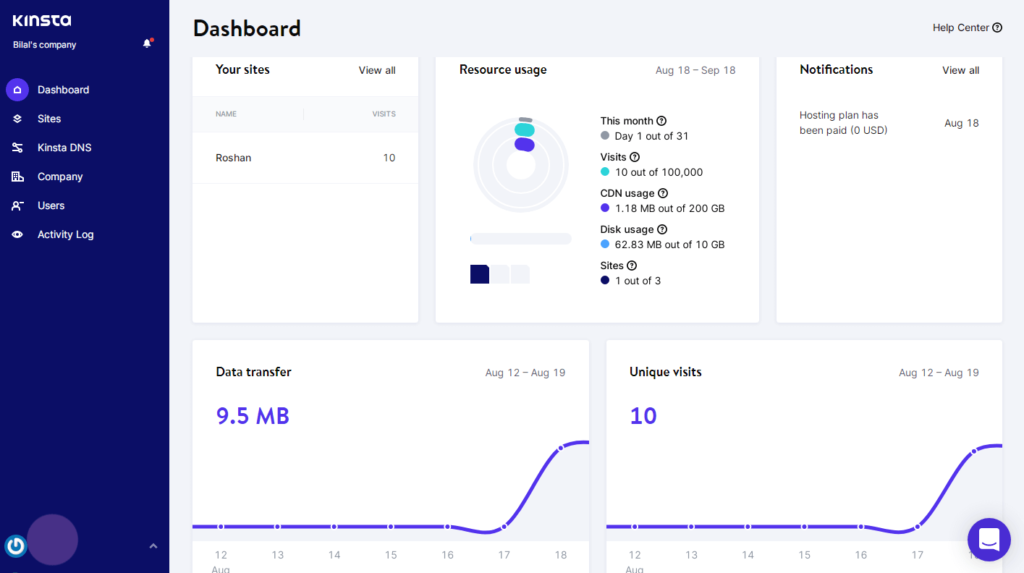 Within the dashboard section, you can see the most important metrics such as Your Sites, Resources Usage, Notifications, Data Transfer, Visits, and much more.
From the left-sidebar, you can navigate to different sections such as Sites, Kinsta DNS, Analytics, Company, Users, and Activity Log.
Why You Should Choose Kinsta Managed WordPress Hosting? (3 Major Reasons)
Kinsta caters to different websites like high-traffic blogs, online shops, enterprise clients, startups, agencies, universities, and organizations.
Here are the 3 major reasons to host your WordPress website with a Kinsta WordPress hosting plan.
#1. Superior Security
According to Forbes figures, an average of 30,000 websites get hacked every day. That's why Kinsta takes care a lot of your website security.
Free SSL Certificates: Kinsta offers you free SSL certificates to secure and encrypt the data transfer between your visitor's browser and the web server.
Daily Automated Backups: They take backups of your website content, databases, and files on a daily basis at no extra cost.
Cloudflare's Enterprise-level Firewall: This includes Cloudflare DDoS protection to keep safe your WordPress website.
Two-Factor Authentication: The company allows you to enable two-factor authentication for your Kinsta account.
SFTP Accounts: SFTP allows you to transfer files that are encrypted.
SSH Access: SSH is a network protocol that lets you remotely manage your web server and perform other tasks.
Automatically Ban Attackers IPs: They automatically block IPs that have 6+ failed login attempts in a minute.
Free Hack-Fix Guarantee: In case, your website gets hacked, then what next? they will clean up your website and back it to its original state for free.
#2. Best Performance
Kinsta managed WordPress hosting comes with performance improvements. They use advanced technologies and offer enterprise-level features to maximize your WordPress website performance.
Fastest Cloud Infrastructure: Kinsta services are built on Google Cloud Platform and C2 virtual machines.
Kinsta CDN: The CDN is enabled by default to boost the speed of your content delivery.
34 Global Data Center Locations: You can choose from 34 global data centers to deliver a better user experience to your target audience.
Server-level Caching: They cache your website at server-level on worldwide servers to reduce your website loading time.
Complete Software Container Isolation: They store every website in a separate container to be as self-sufficient as possible.
SLA Backed 99.9% Uptime Guarantee: At least, 99.9% uptime is guaranteed in SLA (Service Level Agreements).
#3. Leading Customer Support
Kinsta experts are available via live chat every time you need and want help. Their WordPress experts and developers are knowledgeable and glad to assist you. Their live chat is one click away and most times they fix your issues with a single reply.
In addition to leading customer support, they provide useful resources such as extensive knowledgebase, blogs, help center, ebooks, podcasts, and more.
Pros and Cons
Here're the lists of pros and cons of Kinsta managed WordPress hosting.
Pros
👍 Top-notch Customer Support
👍 Google Cloud Infrustucture & C2 Machines
👍 Free SSL Certificates
👍 Premium CDN For Free
👍 Server-Level Caching
👍 Staging Environment
👍 Free Premium Migrations
👍 Automatic Daily Backups
👍 34 Global Data Centers
👍 Built-in APM Tool
👍 Weekly Automatic Database Optimization
👍 Free Hack-Fix Guarantee
👍 SFTP Accounts and SSH Access
👍 Completely Risk-Free
Cons
👎 No Phone Support
👎 No Free Domain
👎 No Email Accounts
Conclusion
Kinsta is the ultra-reliable, secure, and premium managed WordPress hosting provider trusted by 24,400+ organizations. The web host caters to different WordPress websites from high-traffic blogs to large WooCommerce stores.
Kinsta hosting services are built and designed with the best performance, enhanced security, and leading customer support in mind. These are what every website owner needs to grow online.
Kinsta managed WordPress hosting plans come with free premium migrations, SSL certificates, CDN, server-level caching, staging environment, automatic daily backups, APM tool, hack-fix guarantee, and much more.
Their services are risk-free, offer you a 30-day money-back guarantee and you can cancel at any time.
So what are you waiting for? Launch your business WordPress website within a few minutes.
Read More: