How to choose a web hosting provider makes sense a lot. Because your web host plays a critical role in your online business and website, it can make or break your website and business.
As you know when you get started with a new website, you need a domain name and web hosting. The domain name is the address of your website and web hosting is the place where your website files will be stored.
We all know that web hosting solutions are offered by so many web hosts, that's why it is a hard task to choose the ideal web hosting company. But don't worry, this blog aids you how to choose a web hosting provider that works best for your website or application.
Let's get started on how to choose a web hosting service.
How to Choose A Web Hosting Provider?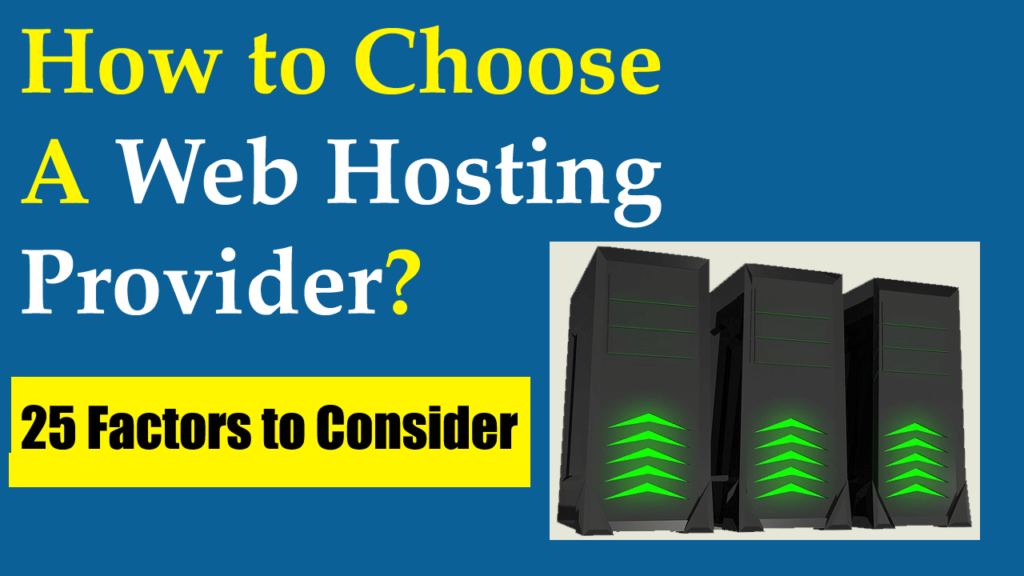 Choosing the perfect and excellent web hosting provider ensures your website won't be affected by web hosting-based issues and other relevant problems.
You should consider 25 factors before choosing a web hosting provider.
These 25 factors come down to 5 categories: Performance, Security, Customer Support, Cost, Optional Extras
Your website's performance matters a lot to your users and customers and your web host plays a key role in your website's performance.
To put it simply, if your web host provides you with high-performance servers, it meant you'll get more clicks, generate more revenue, gain better search engine ranking, increase conversions, and reduce bounce rate These all things lead to success in your business.
You should pay attention to these features to get better website performance.
Uptime refers to the amount of time that your website is reachable, accessible, and running up.
Did you know: According to a Forbes report, when Amazon goes down, it almost loses $66,240 Per Minute, based on Amazon's 2012 net sales.
Make sure to choose a web hosting company that delivers you a better uptime guarantee. The industry-standard uptime is 99.9% which means your website will face a downtime of 8 hours, 45 minutes, and 57 seconds a year.
Most web hosts ensure uptime of 99.9% (three-nines), 99.99% (four-nines), 99.999% (five-nines) and even 100% which is best.
The higher uptime, the better reliability. I recommend you choose a web hosting brand that delivers uptime close to 100%.
Liquid Web and Nexcess, AccuWebHosting, Bluehost and InMotion Hosting come with 99.99%.
Storage is an important component of any web hosting plan.
If you want to launch high-quality visuals (images, videos, etc) website, then you should consider a larger amount of storage. Although, the blog sites don't need more than 1 GB of disk space.
Unlimited and Limited Storage: Some web hosts offer unlimited storage but in reality, there is nothing as it looks. Your website storage is limited with every plan. To find out the actual amount of storage of your plan, reach out to the support team and ask them how much storage is allocated to your account.
SSD Drives vs HDD Drives: When you purchase a web hosting plan, make sure to choose a plan that comes with SSD-based storage. Because SSD-based (Solid State Drive) storage boosts the performance and speed of your website. While HDD-based (Hard Disk Drive) storage negatively affects your website's performance and speed.
In addition, bandwidth becomes more and more important when your website gets traffic spikes. In case your website (which has lower bandwidth) faces big traffic surges, maybe your website crash or fail. I recommend you estimate your bandwidth needs before purchasing a hosting plan.
Keep in mind like storage, there is noting as unlimited bandwidth as claimed by most web hosts.
PRO TIP: If your website resources (bandwidth, storage, etc) are shared with other websites (your website utilizes shared hosting servers), maybe one of the websites consumes a large portion of resources and other websites will fight for reminder resources. If this type of resource isn't suitable for your business, then consider VPS and dedicated hosting.
If your target audience is African residents and your web host's data centers are located only in the US, then it negatively affects your website's performance and user experience.
So the better option is to go with a web host that has data centers close to your target audience. Otherwise, you should consider (CDN).
CDN (Content Delivery Network) boosts the speed and performance of your website and reduces bandwidth usage.
CDN is the network of distributed servers that delivers website content from the origin server across the globe by caching website content close to where each user is reaching the internet.
When you've installed CDN, then your website content is cached on other proxy servers which quickly loads the cached version to visitors when they need it, which actually assists you in traffic surges and reduces the bandwidth usage.
Hostinger, AccuWebHosting, and Bluehost include a free Content Delivery Network, which makes your website faster.
Website caching is the process of storing website data in a server to reuse in the future. In the simple sense, when you visit a website and it has enabled the cache system, that website data will be cached and turns it into HTML files and opens it on your browser. The next time, you visit that particular website, the cache system will load a copy that was stored earlier.
Caching not only boost your website's speed but also reduce the load on your server.
Some web hosts provide caching at the server level which is optimized very well and you don't have to do anything yourself, it's a win-win situation. If your web host doesn't include server-level caching, then you should utilize a plugin.
Scalability means adding more resources to your hosting account when your website grows and needs more resources.
For example, your website grows and gets more visitors, as then your website needs a larger amount of resources (like storage, bandwidth, CPU, etc), your web host must let you add more resources that meet your website needs easily.
Always look for a web host that enables you to scalable your website.
A SiteLock's study shows that sites currently experience almost 94 attacks per day and are visited by bots an average of 2,608 times a week, based on an analysis of 7 million websites.
Patchstack reports that 56% of internet traffic comes from automated sources including bots, hacking tools, scrapers, spammers, and impersonators.
Did you know that around 30,000 websites get hacked every single day? That's why keeping safe and secure your website becomes more important.
Consider these security features when you looking for a web host.
#8. Server Level Security
You should keep in mind the server-level security when you looking for a web host. These are the important specifications that you should look for.
Does your web host install server-level Firewalls that prevent malicious traffic?
Does your web hosting company enable DDoS protection to prevent your website from DDoS attacks?
Does your hosting provider utilize the latest OS patches on your server to remove vulnerabilities?
The SSL certificates keep users' data private, build users' trust, verify ownership of the website, and prevent attackers to create a fake version of the website.
If you haven't installed an SSL certificate on your website, your website will be vulnerable to attackers, the users won't trust your website (untrustworthy), and Google will prevent users from accessing your website (marks it as not secure), you'll lose new visitors.
You have to configure does the web host includes SSL certificates and which type of SSL certificate you need, either standard Let's Encrypt, Domain Validated, Wildcard, or Ecommerce SSL certificate.
The best web hosts, including AccuWebHosting, Hostinger, Nexcess, and HostGator offer free SSL certificates, which saves you money.
#10. Malware Scanning and Removal
Malware refers to software that is created for malicious purposes and activities. And it is tailored to computers and can infect and attack your website.
Did you know what happens if your website is infected with malware? Malware makes your website untrustworthy and negatively affects the reputation, traffic, and revenue of your website.
If your web host scans for malware and removes it, then it's good, otherwise, you should consider other tools that scan for malware and remove it.
Backups are copies of a website's files and databases that can be stored locally on computers, cloud storage, or an external hard drive.
The website backups enable you to turn your website into the previous original version in case your website gets hacked, or faced other issues that make inaccessible your website.
You should find out:
Does the web host include backups feature?
How often do they take scheduled backups (e.g. daily, weekly, monthly)?
How long do they store backups files (e.g. 30 days)?
Can you perform on-demand backup instantly?
If the web host doesn't incorporate the backups feature, then you should use the backup plugins like Updraftplus, this plugin allows for running scheduled backups and performing on-demand backups instantly.
A good web hosting customer support keeps you satisfied and happy. In contrast, bad web hosting customer support leaves you confused and angry.
Maybe most technical issues happen that you cannot fix yourself, that's where the good web hosting customer support comes in handy.
The excellent web hosting companies provide several contact methods including phone call, live chat, email, and ticket support system.
Live chat and telephone support are ideal options to speedily get resolved the issues. The ticket support system and email support are the better options when larger issues occur which take time to get fixed.
It's crucial that the web host delivers 24/7 customer support, which means the customer support representatives are available 24 hours a day and 7 days a week.
The 24/7 customer support refers to getting help and finding answers to questions every time customers come up.
Imagine, if your website is gone down, then you cannot afford to wait in a queue to get in touch with the support team. You actually then need faster customer support to get resolved the problem and get backed your website up.
The Liquid Web and Nexcess respond under 59 seconds via live chat and phone call, which is quite impressive.
Read More:
Once you've connected to the support agent, then you should realize how quickly they provide the solution to your problem. This means if the support experts are knowledgeable, they'll fastly solve your problems.
Some web hosts take too much time even days to get resolved your issues, which is not good.
You should purchase a web hosting plan that fits your budget.
The web hosting companies give you huge discounts on the first term, so I recommend you to signup for the long period e.g. 3-year. This way you can save a lot of money.
The shared hosting pricing starts from $1.58/mo to $5/mo.
#17. Renewal Price or Regular Price
Once the first term (or duration of the purchased plan) ends, then you have to renew your plan to stay with the web host.
The web hosting companies get higher when you renew the plan. If you cannot pay that higher amount of renewal charges, then you have to migrate to cheaper web hosting.
The refund policy comes in when you don't like a web hosting plan after purchase.
You should choose a web host that gives you a money-back guarantee of at least of 30-day with no question asked. Your web host must get you a full refund when you don't like its web hosting plan.
Keep in mind that most web hosts have excluded the domain fees, setup fees, etc from the money-back guarantee.
The optional extras aid you to save you a lot of money. Because most web hosts offer them for free.
Registering a domain name costs you around $5-$15 for a year. But if you want to purchase a web hosting plan and domain for your website at once, then I recommend you to purchase a web hosting plan that includes a free domain name for the first year. That is why you can save money.
Most web hosts such as Bluehost, AccuWebHosting, InMotion Hosting, HostGator, and Hostinger offer free domain name with web hosting plans.
Read More:
It's better to get a web hosting plan that incorporates free email accounts.
If you've built a website already, but want to move to another hosting provider, that's where the free site migration service comes in.
Web hosts' servers utilize operating systems either Linux-based, Windows-based, or Mac-based.
The popular web hosts use Linux-based operating systems.
If you've specifically chosen one of the operating systems which will work best for your website, then you should look for that.
Web hosting companies like InMotion Hosting include a free website builder which makes it easy to create your website. The website builder comes with drag and drop functionality to create an eye-catching website.
The cPanel is the most popular control panel where you can publish websites, manage domains, create email accounts, adjust web files, perform manual backups, and much more.
You should opt for a web hosting company that includes cPanel as part of the web hosting plan.
#25. Free One-Click Installs
The one-click installation of software such as WordPress makes it easier to install the application.
To easily install the WordPress or another CMS (Content Management System), you have to look for a one-click installation feature.
Opting for a web hosting company (before considering the above mentioned-factors) could cost you a lot. That's why you must carefully choose a web hosting provider.
Hostinger, AccuWebHosting, GreenGeeks, InMotion Hosting, and Nexcess are all the best hosting solutions that make your online journey even easier.
I hope you've learned what to look for when buying a web hosting plan or how to choose a web hosting provider. Please share this helpful blog on your social media profiles.