Are you interested to make money as an affiliate? Are you wondering about the best affiliate programs or high-paying affiliate programs?
Let's get started.
10 Best Affiliate Programs (Top 10 High Paying Affiliate Programs)
There are many types of affiliate programs from the commission point of view like high-commission and low-commission affiliate programs.
This blog is all about the best and high-paying affiliate programs.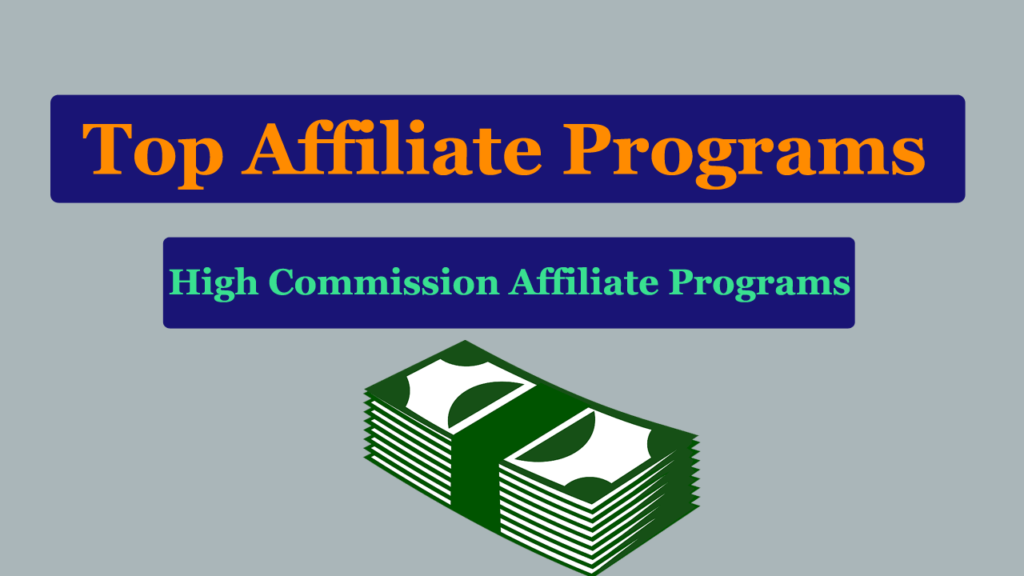 #1. ClickBank
ClickBank is the marketplace where vendors offer the products and affiliates promote these products.
ClickBank has physicals and digital products that you can sell in many countries.
ClickBank is added to the best and high-paying affiliate program. You can earn up to 90% or even 100% commission per sale. That's great.
#2. Elementor
The Elementor is the drag-and-drop website builder tool that is used by most web developers.
It provides integrations, widgets, website templates, and design options that help web developers to create and make websites with ease.
The Elementor affiliate program pays you a 50% commission per sale. The Elementor has five pricing packages (between $49 and $999). It tracks the cookies for 45 days.
#3. Sendinblue
Sendinblue is the company that helps brands and businesses to interact with their customers and audience through emails, SMS, chat, and marketing automation. The Sendinblue platform has 175,000 users globally that grow continuously.
The Sendinblue Affiliate Program provides two streams for bloggers and another one for agencies. You can earn the €5 commission per qualified lead that creates a free account on the platform. Additionally, if a user purchases a service, you will earn €100 per sale that you refer.
#4. Semrush
SEMRush is a platform that comes with 50+ SEO tools. The Semrush shows the comprehensive data of the keywords and websites that have been searched including the keyword difficulty, SERPs, specific country search volume, and global search volume.
The SEMRush affiliate program pays the $200 per sale that you refer and also you can earn the $10 per free trial sign up. The cookie expires after 120 days after the click.
Constant Contact is the digital platform that provides emails marketing tools for brands, businesses, and bloggers.
Its users can target new customers for e-commerce stores, create Facebook and Instagram ads, automate their email marketing campaigns, and send emails to the audience and customers to increase the revenue.
Its affiliate program pays you $5 per lead that signs up for the free trial and $105 per qualified sale. The cookie life is 120 days (3 months).
#6. Digistore24 Affiliate Program
Digistore24 is a marketplace that includes digital and physical products. This affiliate program gets you up to 92% commission per qualified sign-up.
Read More: How to make money with the Digistore24 affiliate program? and Top 10 best products on Digistore24 to promote.
#7. Wix
Wix is the digital platform that provides more options to build websites. By using its tools, you can manually set up your website and e-commerce store. The Wix has 100 million users.
The Wix affiliate program receives you $100 per sale that you refer.
#8. Shopify
Shopify is an e-commerce website builder that rapidly growing. Most e-commerce websites build via Shopify because they provide many amazing features and tools to create e-commerce online stores.
You earn the 200% commission per sale via its affiliate program. The Shopify affiliate program saves the cookies for 30 days.
#9. Superb Themes
Superb Themes is the platform that enables the website themes, especially WordPress themes.
By promoting its services, you can earn a decent commission. The Superb Themes affiliate program gives you 60% commission per sale along with the tracking cookie for 30 days.
#10. ClickMeter
The ClickMeter is the website that provides the tools and services especially link tracking service.
You gain a 90% commission per sale. The interesting about that is the ClickMeter affiliate program gives you $891 per sale.
Also, read our blog about Best 11 Webhosting Affiliate Programs.