Are you looking for an honest Hostinger Affiliate Program Review? you've come to the right place.
Hostinger Affiliate Program Review
The Hostinger is the leading web host that provides its affiliate program for fans. This Webhosting affiliate program gets the affiliates a 60% commission per sale, its commission type is the single payment, not recurring.
Its cookie life is 30 days, the minimum payment threshold is $50, payment options are wire transfer and PayPal.
The affiliate program is available on multiple affiliate networks such as Tube, Impact, and CJ (Commission Junction).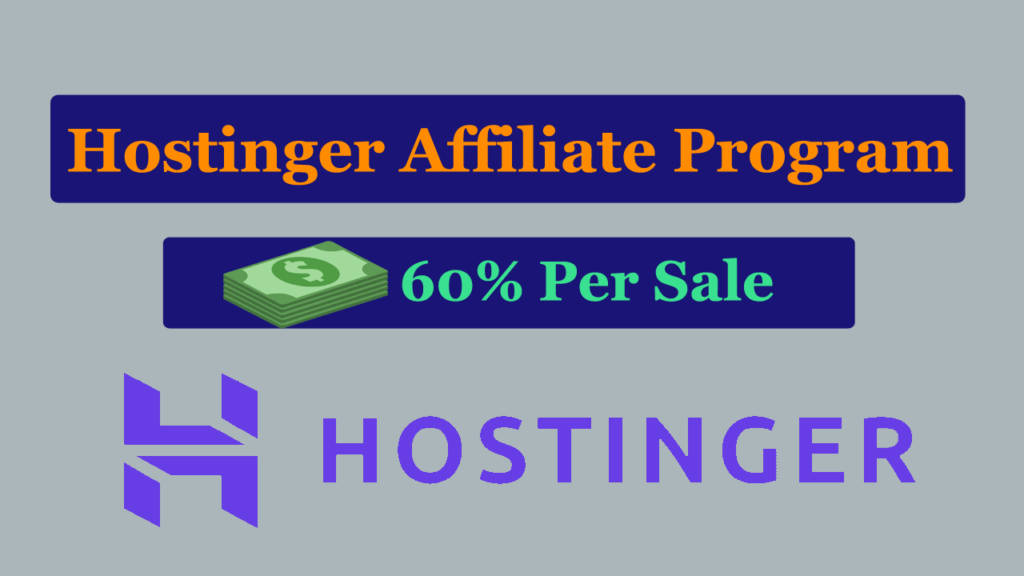 Read More: iPage Affiliate Program Reviews 2021
How To Create Account on the Hostinger Affiliate Program?
It's very easy to become the Hostinger affiliate and its high conversion will assist you to bring new customers quickly due to incredible hosting services.
Click here to redirect to the Hostinger Affiliate program.
Scroll down and click on the become an affiliate to fill out the sign-up form.
Insert the details of your account (your name, email address, business name, website URL, etc).
Once you insert them, accept the terms and conditions, and click the "Sign Up" button.
Next, you'll get the verification email to verify your account, do it (verify your account).
At the finale, wait for the approval and once you become Hostinger affiliate, start earning online.
TIP: Keep in mind when you fill out the sign-up form, make sure that the website URL you provide has good content and traffic. If your website is empty, then maybe they will reject your application.
Features of Hostinger Affiliate Program
The Hostinger affiliate program helps the affiliates to increase the number of sales. For this purpose, they provide some helpful features as listed below.
#1. Banners
This affiliate program comes with many banners for multiple languages. Copy the banners' HTML codes and paste them into the HTML section of the website and blogs to display the banners.
#2. Analytics and Reports
It provides great analytics and statistical data including conversion rate, clicks, impression, and payout data with graphs.
#3. Affiliate Guides
The affiliate guides help you to better know about Hostinger. It provides these affiliate guides in multiple languages in PDF format.
#4. Affiliate Materials
It delivers affiliate materials to its affiliates. The affiliate materials include the Hostinger logo, banners, screenshots, and infographics that you can download to use in your content.
3 Proven Ways to Promote the Hostinger Webhosting Services
Affiliate marketing needs referring customers that make purchases via unique links with the recommendation. Basically, you have to recommend Hostinger's hosting products to your audience, followers, and fans to buy.
Let's talk about 3 proven ways to boost its hosting products.
#1. Social Media Marketing
Social media is an excellent place for posting the information of Hostinger products along with your affiliate links, impressive words, related emojis, Hosting images, Features, and so on that convey the good message, and that message must convince the customers to host their websites on Hostinger.
#2. Affiliate Blogging
In the simplest terms, affiliate blogging means that bloggers write blog posts for promoting the brand's products and services and embed the affiliate links in them. Once the reader clicks the affiliate link and makes the purchase, the blogger will earn the commission. The same goes for Hostinger affiliate blogging.
You have to publish the blog posts about Hostinger's products and services with their features, pros & cons, pricing, important points, etc. The purpose of quality and details blogs is to build trust in your blog by the audience. Once they trust your blog, they will make purchases via your special unique links that's will bring you more benefits.
#3. Paid Marketing
As you know when you search a keyword on Google, it displays the ads on top of search results than organically ranked web pages. That's why I recommend showing your content on top of search results that deliver you great results and you need to pay for it. Google Adwords is the right platform to use for paid media. However, I recommend Facebook Ads Manager.
Hostinger Affiliate Program Pros and Cons
Without mentioning its pros and cons, this review is incomplete.
I highly recommend you to become the Hostinger affiliate to monetize your website because it comes with excellent features that assist you in your online journey.
If you want to give us a suggestion, please feel free to contact us.