Wondering about powerful tips and tricks to complete Youtube watch time? let's learn them.
Youtube allows you to monetize your youtube channels by creating video content for youtube and that's the reason that many users create videos for youtube.
You need to meet the Youtube partner program's criteria, complete the 4000 hours watch time and 1000 subscribers for monetizing your channel.
What's Watch Time?
Watch time meant the amount of time that users watch your videos or spend time on your videos. Also, it's the video ranking factor too. If your videos get enough watch time, then youtube will suggest your videos to the relevant users and in search results.
13 Powerful Tips to Complete Youtube Watch Time
Once you implement the following ways, you will complete the Youtube watch time naturally.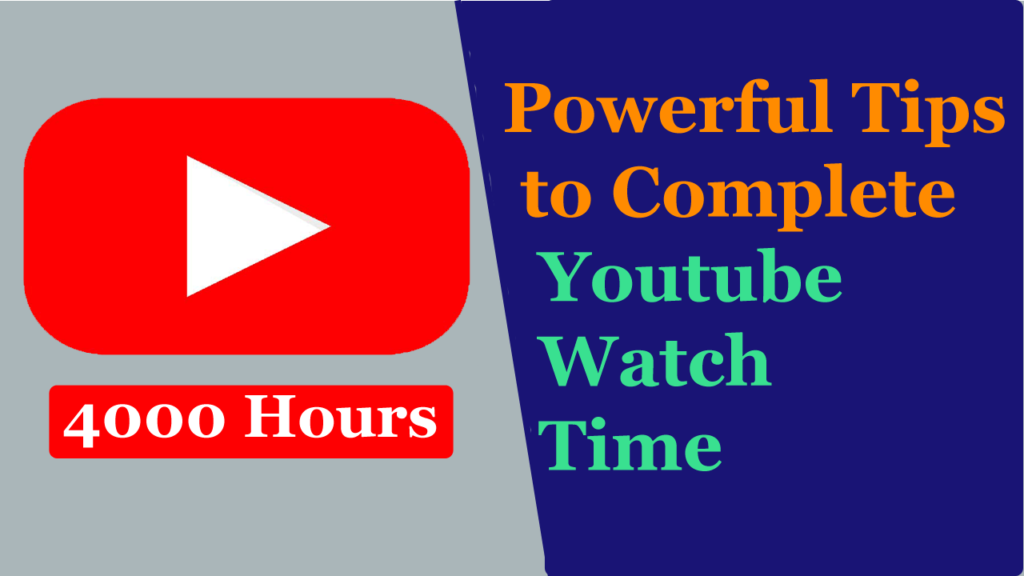 #1. Quality And Quantity
There are quality has two means, quality of the video (resolution, aspect ratio) and quality of the content (value). You should focus on both to get a decent watch time.
Many digital marketers believe that quantity is more valuable than quality in starting a new youtube channel. Because in the starting you are learning how youtube works and if you produce more content, it will show you more data that can help you more as a creator.
Additionally, If there's a trending topic relevant to your niche and viewers need to know about that at a particular time but if you spend many hours and days making a quality video of this topic, maybe you lose some potential viewers that want that information right now.
Here's an example that helps you to understand quantity. Many marketers reviews products, When the product is released, they make a video about product review quickly.
Here I want to mention two terms, bounce rate and audience engagement rate.
Bounce Rate means when someone watches your video, becomes bored from your video, and skips your video. it's called bounce rate. If your bounce rate is high that meant that people don't like your videos.
Audience Engagement Rate shows how much users engage with your videos. If your engagement rate is high, it means that your videos are performing well.
You have to increase your audience engagement rate to recommend your videos and get watch time. You can see the engagement and bounce rate in the channel analytics.
#2. Consistency
Consistency is the key to completing the watch time. If users watch your videos or not, you have to make videos with consistency. For instance, if you are uploading 30 videos in a month, you have a good chance of completing 4000 hours of watch time and 1000 subscribers.
#3. Edit the Videos Property
Before uploading the video, edit the property of the video on your desktop and laptop. There you can add the title, description, subtitles, comments, and star rating. Adding them helps you to improve your video SEO to get more watch time and subscribers.
Read More: How to add title, description, subtitles, comments, and star rating to videos on desktop & laptop?
#4. VidIQ
Use the VidIQ widget (visit VidIQ and install this extension) because it gives you good suggestions for keywords, tags, and ranking of the videos.
#5. Creating Playlist
You should create playlists of relevant videos that provide opportunities for viewers to watch your videos continuously. You should also use the start and end time functions.
By creating playlists, you can rank the playlists separately. Youtube allows you to link the videos at the end of the video, you should do it.
#6. Add Title, Description, Tags, and Thumbnail
To complete the watch time, choose the title, tags, description that reflect your content. The relevant title, tags, description, and tags improve your SEO and get you more views.
You also have to target low competition and long-tail keywords to rank your videos in search results. Generally, youtube automatically creates some thumbnails for your video that you upload but you have to upload the custom thumbnail.
The research shows that best performance videos have custom thumbnails that reflect the content of the video.
A good thumbnail is also important for CTR (Click-Through-Rate). Make sure that the thumbnail you create can encourage and convince the users to watch your video. However, Keep in mind that the thumbnail of your video looks good on the desktop and mobile.
#7. Use Cards Throughout Your Videos
There are many ways that allow you to use cards in your videos but the most powerful way is that link your video to another video. It assists to complete the watch time.
#8. TubeBuddy
Tube Buddy is an extension that suggests the relevant keywords and tags for your video. If you add the best and most relevant keywords and tags in your videos' metadata, you will boost the videos' SEO that gains views.
To take the benefits of tube buddy, click here to navigate to the TubeBuddy website and install it.
#9. Make Long Duration Videos
I recommend that you make long-duration videos ( minimum 10-12 minutes ) in starting that help you to maximize your watch time.
#10. Share Your Videos on Other Platforms
You should build your presence on all other platforms including social media platforms. Once you upload the video, share your video on social media platforms with your audience and also embed your video in relevant blog posts.
Most social media platforms provide you with groups joined by millions of users. The social media groups have a good engagement rate. Share your videos in the groups to drive the users to watch your video and subscribe to your channel.
#11. Encourage People, Family Members, and Friends to Watch Your Videos
You have to encourage and convince your audience, family members, and friends to watch your video and give you feedback. Don't be afraid of the feedback. The Feedbacks help you to improve your video and content quality.
#12. Live Stream
Youtube provides you with a feature called "Live stream". The live stream is basically sharing of unfiltered moments. You have to share the live streams with your audience and viewers.
Not only do you gain a double engagement rate but also gain you huge watch time. For instance, if you are live for 2 hours and 100 viewers watch your live stream, you have gotten the 200 hours of watch time.
The live stream is a good way for completing the 4000 hours of watch time. Keep in mind that don't delete the live stream videos because if you delete them, you will lose all the watch time that have gained them. When many viewers are watching your live stream, youtube will recommend it to the relevant users.
#13. Comments on the Popular Youtube Channels
You should also valuable comment on popular channels to be aware of your channel. Thus, you will encourage and convince the audience to watch your video and subscribe to your channel.
Once you complete 4000 hours of watch time, apply for the Youtube Partner program and wait for the approval. When you get approved, publish ads on your videos to earn money.