All players want a consistent, smooth, and pleasurable gameplay experience for multiplayer video games, requiring a reliable and fast server.
All players want a consistent, smooth, and pleasurable gameplay experience for multiplayer video games, requiring a reliable and fast server.
Running your own game server provides excellent performance, reliable infrastructure, high levels of customization, superior security, and full control of your game.
There are many game server hosting providers available on the market, like Scalacube, MCProHosting, and Hostinger. To help you choose the right host, we'll look at the leading company, Scalacube.
I tested Scalacube's free Minecraft server hosting and analyzed its performance, security, customer support, ease of use, and plan pricing. After completing the research, I have crafted the Scalacube Review.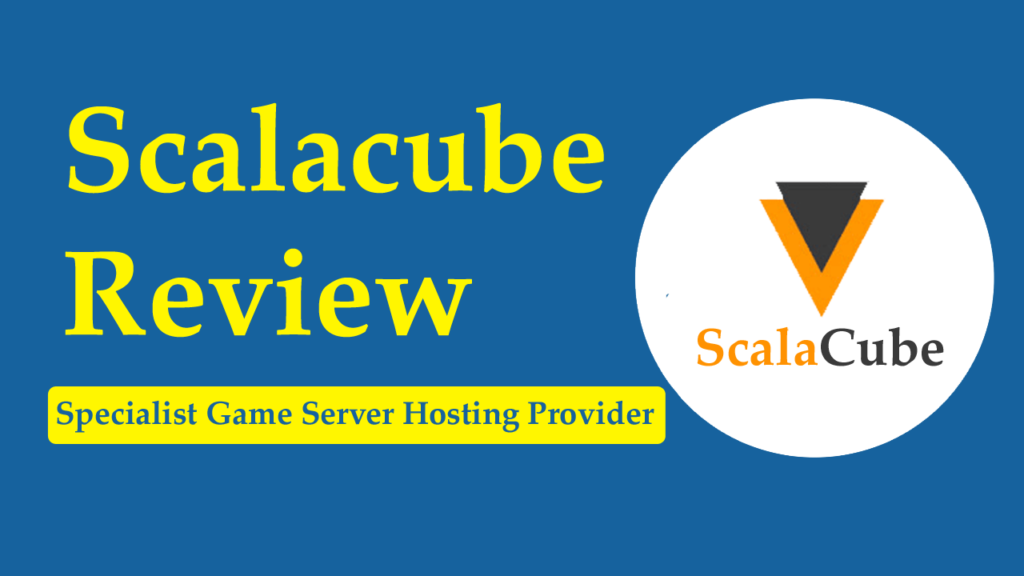 Scalacube offers specialized server hosting for popular games such as Minecraft, ARK, Rust, Project Zomboid, Terraria, Valheim, Hytale, and Factorio.
The game server hosting provider has global server locations in the United States, Europe, Asia, and Australia. These global server locations help you choose the closest server to reduce latency and enjoy faster gaming speeds.
Overall, Scalacube provides optimal server performance, superior security, and a user-friendly control panel, making it the best option to consider.
Your game server's performance is important as it directly affects the enjoyment of your game. The low server performance will disappoint you, while the excellent performance will develop your interest in the game.
The excellent performance means that your server can run games without lagging or crashing.
Scalacube offers the following features to ensure your server is available and functional as well as as has faster speed.
Scalacube offers the following features that improve your game server's performance.
#1. SSD Storage
Scalacube provides SSD storage, which is faster and more reliable than traditional HDDs. SSD-based servers load video games significantly faster than HDDs.
#2. Unlimited Traffic
Scalacube never limits the bandwidth, which helps to handle more upstream or downstream traffic your server receives without negatively affecting performance.
#3. Global Game Servers
Scalacube provides game servers in the US, Canada, India, Australia, Germany, Poland, the United Kingdom, France, and Singapore. You can choose the closest server to where you and your players live, which reduces latency and enhances performance.

#4. 99.9% Uptime
Scalacube provides industry-standard 99.9% uptime, which means your server could face up to 10 minutes of downtime. Although, it doesn't offer an uptime guarantee.
#5. Scalability
Scalability refers to the flexibility to increase or decrease computing resources as needed easily, quickly, and efficiently. When starting, you can choose a fairly small server, then scale it up as your needs expand.
The vast user base and financial success of the gaming industry have made it a common target for cyberattacks. Therefore, picking a secure game server provider is crucial.
#1. DDoS Protection
A DDoS attack is a cyberattack used to disrupt the normal traffic of the target server by sending a massive number of illegitimate requests to the server in quick succession. This will make the server slow down or unavailable as it tries to process these requests.
Scalacube offers DDoS protection, which prevents attackers from hurting your game server with DDoS attacks. Their security experts monitor every threat and instantly take steps to stop the attacks.
#2. Backups
You can manually manage the backups for free. However, Scalacube offers automated backups for $10 (a one-time fee) that guarantee you'll never lose data.

In addition to performance and security features, Scalacube offers the following features.
#1. Full FTP Access
FTP (File Transfer Protocol) is used to transfer files and folders between your local computer and your hosting account. Scalacube offers full FTP access to customize your server's settings accordingly.
#2. Multiple Servers and Unlimited Slots
You can set up an unlimited number of servers with unlimited player slots on a single VPS server, as long as there is enough RAM, storage, and CPU power.
#3. Mod & Plugin Support
With Scalacube Minecraft Server Hosting, you can load over 1000 unique modpacks including SkyFactor and StoneBlock with just a single click installation.
#4. Your Own Minecraft Launcher
Minecraft Launcher saves you time by having all your Minecraft games (Minecraft for Windows, Minecraft: Java Edition, and Minecraft Dungeons) accessible from one location.
Scalacube allows you to create your own Minecraft Launcher. You can edit the list of modpacks and the list of mods in each modpack.
Scalaube provides helpful customer support, but it's limited. Their support agents are available only on working days and hours: Monday to Friday and 9am to 5pm (GMT+2). You can only submit a ticket from your control panel.
I created tickets during non-working hours from the control panel and received helpful and initial responses within a few hours.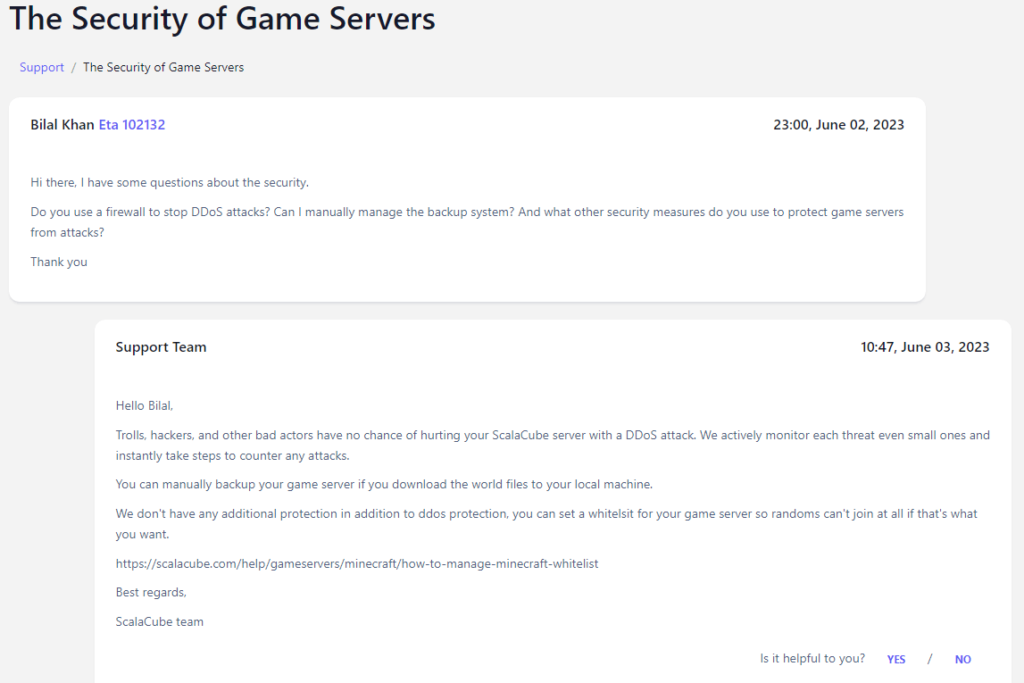 In addition, Scalacube provides an extensive knowledge base full of tutorials, guides, and how-to videos that help you solve the problem on your own.
You can manage your game server via a custom control panel which is simple to use and easy to navigate. It's packed full of essential tools and tabs like game servers, backup system, Minecraft Launcher, Applications, FTP/SSH access, and more.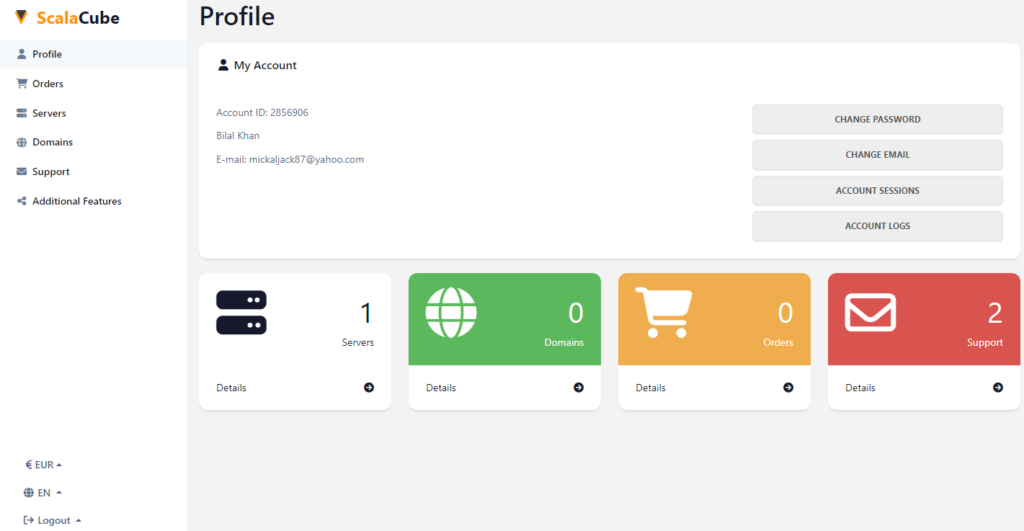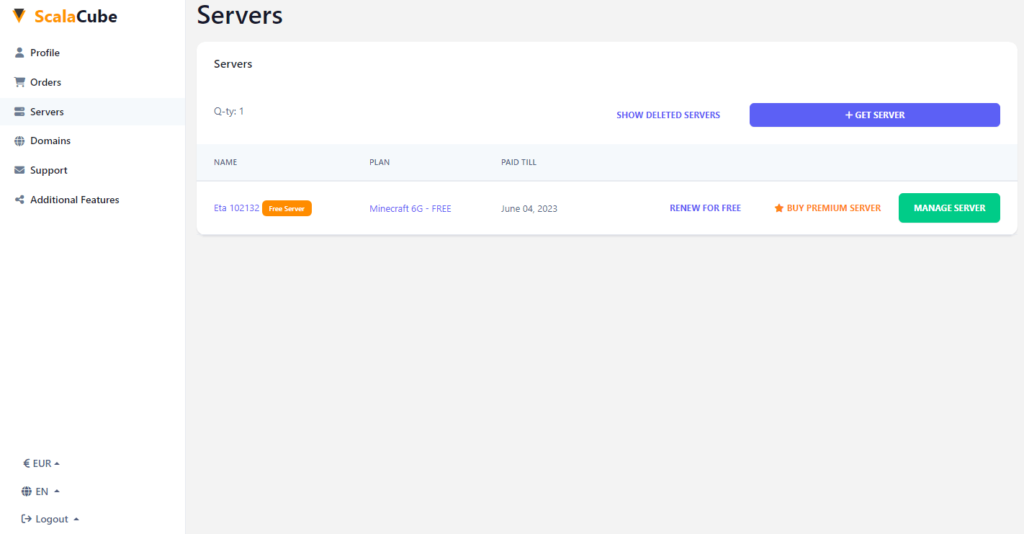 You can easily install any type of Minecraft server like standard, Pocket Edition, Spigot, PaperMC, BungeeCord, and Fabric. In addition, installing a modpack is just a single click away.
Scalacube offers hosting plans for various games like Minecraft, Rust, Ark, Project Zomboid, Terreria, Valheim, Hytale, Factorio, and more.
For this Scalacube review, we'll focus on their Minecraft server hosting. Scalacube offers one free plan and 9 premium plans for Minecraft server hosting.
The free forever plan provides 30GB SSD storage, 6GB RAM, and single server support. The Proxy 768M (entry-level) premium plan includes 768 MB RAM, 2×3.4 GHz CPU, 10 GB SSD storage, and 10 recommended player slots capacity.
Plans
Starting
Pricing
SSD Storage
RAM
Player Slots
Free Plan
Free
30GB
6GB
1
Proxy 768M
$2/M0
10GB
768MB
10
Minecraft 1.5G
$5/Mo
15GB
1.5GB
20
Minecraft 3G
$10/Mo
30GB
3GB
40
Minecraft 4.5G
$13/Mo
45GB
4.5GB
70
Minecraft 6G
$18/Mo
60GB
6GB
100
Minecraft 8G
$24/Mo
80GB
8GB
150
Minecraft 12G
$36/Mo
120GB
12GB
225
Minecraft 16G
$48/Mo
160GB
16GB
300
Minecraft 32G
$96/Mo
320GB
32GB
600
Conclusion: ScalaCube Review
ScalaCube is one of the leading game server hosting providers on the market. The hosting provider offers optimized hosting services for popular games such as Minecraft, Rust, Ark, and Hytale.
ScalaCube provides DDoS protection, 99.9% uptime, better performance, and a user-friendly interface. It's highly recommended.
Is Scalacube free?
Scalacube offers 1 free plan and 9 premium plans for Minecraft.
Is the Scalacube free server good?
The Scalacube free Minecraft server is the ideal choice for individuals who cannot afford a premium server but are interested in playing on a Minecraft server.
How many players can join a free Scalacube server?
Only one individual can play on a free Scalacube Minecraft server.