When looking for a reliable and cheap Minecraft server hosting website, you'll come across different options that may confuse you. Hence, Finding the ideal and budget-friendly game host could be a tedious task for you. Therefore, we have done this work for you.
One of the most affordable and popular Minecraft server hosting providers is Shockbyte. To help you make a better decision, we have analyzed and tested its services to find out whether it is the right choice for you or not.
Our detailed Shockbyte review covers all the aspects of the host like performance, security, customer support, ease of use, pros and cons, and plans and pricing.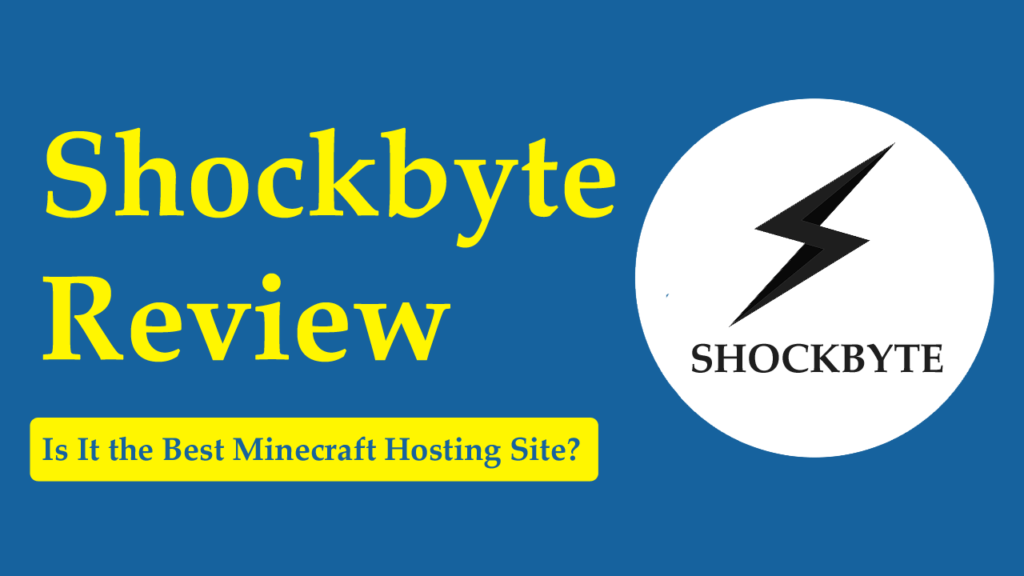 Founded in 2013, Shockbyte is a specialist and reliable game server hosting company based in Australia. The company has server locations in North America, Europe, Asia, and Australia.
Shockbyte offers game servers for Minecraft, Valheim, Arma 3, Rust, Hytale, and Ark: Survival Evolved, but primarily focuses on Minecraft servers.
The game host offers a 100% uptime guarantee, superior security, and powerful features that ensure you get the best out of it.
Performance and Reliability
Shockbyte's Minecraft server hosting comes with the following specifications that ensure that you get the best possible performance and availability:
#1. Unlimited SSD Storage and Bandwidth
Shockbyte's Minecraft hosting plans include unlimited NVMe SSD storage which has a 3000MB/second read-write speed. Additionally, it offers unlimited bandwidth, so your performance won't suffer from storage and bandwidth restrictions.
Shockbyte has servers on four continents: North America, Europe, Asia (Singapore) and Australia. Keep in mind that choosing Singapore or Australia as a server location costs an additional $2.50 per GB. So it's an excellent option for North American and European users, but not so good for Asia-Pacific users.
Shockbyte offers a 100% uptime guarantee for all the applicable services covered by the service level agreement. If its service doesn't maintain this agreement for 5 consecutive minutes, it will be covered by the SLA. However, if there is planned maintenance that may result in temporary downtime, you'll get notified via email or on their official website.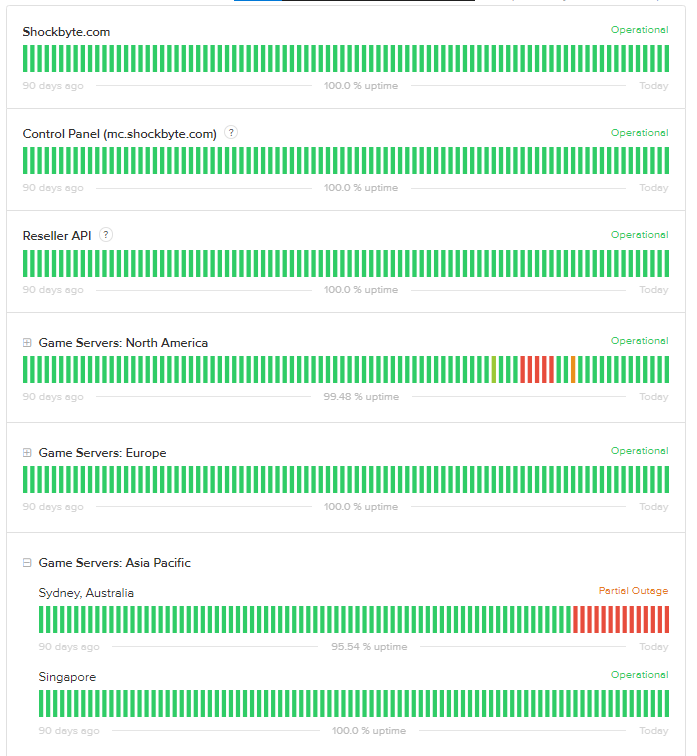 One of the main concerns is security. Shockbyte uses superior security features to keep your game server safe and secure.
Shockbyte offers 100% guaranteed DDoS protection which ensures it will stop 100% of all attacks. If they fail, this affected service is covered by the SLA.
Shockbyte provides full FTP access which allows you to safely access and manage your server files.
Shockbyte will automatically create backups of your server that you can restore when your data is affected by any sort of attack.
Shockbyte is a budget-friendly game host, offering 12 Minecraft server hosting plans that suit different users' needs. They also allow you to create a custom plan with your needs in mind.
The Dirt plan is the cheapest one that starts at $2.50/mo for 1GB RAM, 8 recommended player slots, unlimited NVMe SSD storage, and unmetered bandwidth. This plan is ideal for beginners (with tight budget) who just want to play with a few friends.
The Titan plan is the most expensive package that costs $40 per month for 16GB RAM, unlimited player slots, and unlimited NVMe SSD storage.
| Plans | Price | RAM | Players |
| --- | --- | --- | --- |
| Dirt | $2.50/Mo | 1GB | 8+ |
| Sand | $5/Mo | 2GB | 16+ |
| Cobblestone | $7.50/Mo | 3GB | 30+ |
| Iron | $10/Mo | 4GB | 40+ |
| Gold | $12.50/Mo | 5GB | 50+ |
| Redstone | $15/Mo | 6GB | 60+ |
| Diomand | $17.50/Mo | 7GB | 70+ |
| Emerald | $20/Mo | 8GB | 80+ |
| Obsidian | $22.50/Mo | 9GB | 90+ |
| Spartan | $25/Mo | 10GB | Unlimited |
| Zeus | $30/Mo | 12GB | Unlimited |
| Titan | $40/Mo | 16GB | Unlimited |
It's worth mentioning that Shockbyte offers a 72-hour money-back guarantee, so you can test the service.
Shockbyte has a knowledgeable and helpful customer support team that is available 24/7 through live chat and ticket system. Most times, they respond quickly, but sometimes it takes a long time to get back to the customer.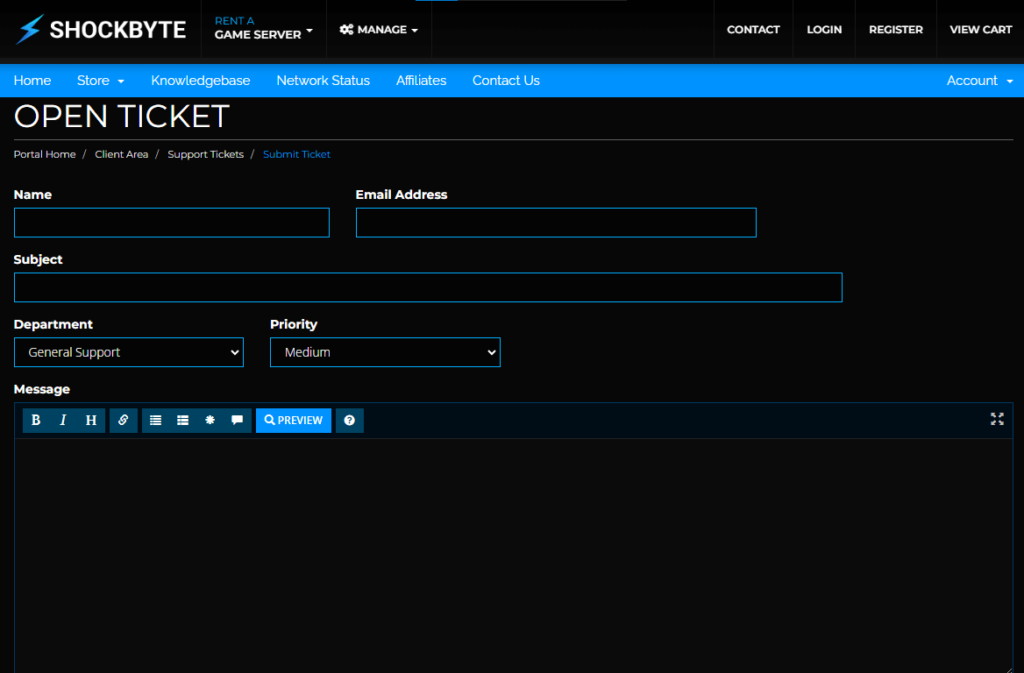 While the primary contact methods are live chat and ticket system, they are also available on Discord and other popular social media platforms, including Facebook and Twitter. The company has a large community that might help you solve your problem.
In addition, the platform has a helpful knowledgabase the covers the most topics. It also has a helpful YouTube channel where it publishes step-by-step video tutorials.
The interface is user-friendly and straightforward. Signing up and launching your game server is simple and don't require much technical knowledge. Once you sign up and make the purchase, your server will be up and running pretty much instantly.
Shockbyte uses a simple-to-navigate and easy-to-use control panel called Multicraft CP. It allows you to manage different aspects of your game server with just a few clicks. However, if you are a beginner, you may take a learning curve. After that, you'll absolutely love the interface.
Shockbyte Minecraft server hosting includes a variety of features as listed below.
Now let's discuss its pros and cons to understand the complete picture of its Minecraft server hosting service.
Shockbyte Review: Conclusion
Shockbyte is one of the leading game hosts for Minecraft servers. The platform offers dozens of powerful features that make your life easier and enhance your gaming experience.
The company provides unlimited NVMe SSD storage, 100% uptime, several server locations across four continents, and powerful CPUs that improve your server's performance.
The only disadvantage is that it charges extra for Asian and Australian server locations, which is not so good for these regions' users.
I hope you have found helpful our detailed Shockbyte review.
Read More: Top 5 Best Free Minecraft Server Hosting Websites