Welcome to our StableHost review! If you're looking to create a website or move your existing one to a reliable web host on the internet, you've probably heard about different web hosting companies. StableHost is one of those companies, and we're here to help you understand if it's a good choice for you.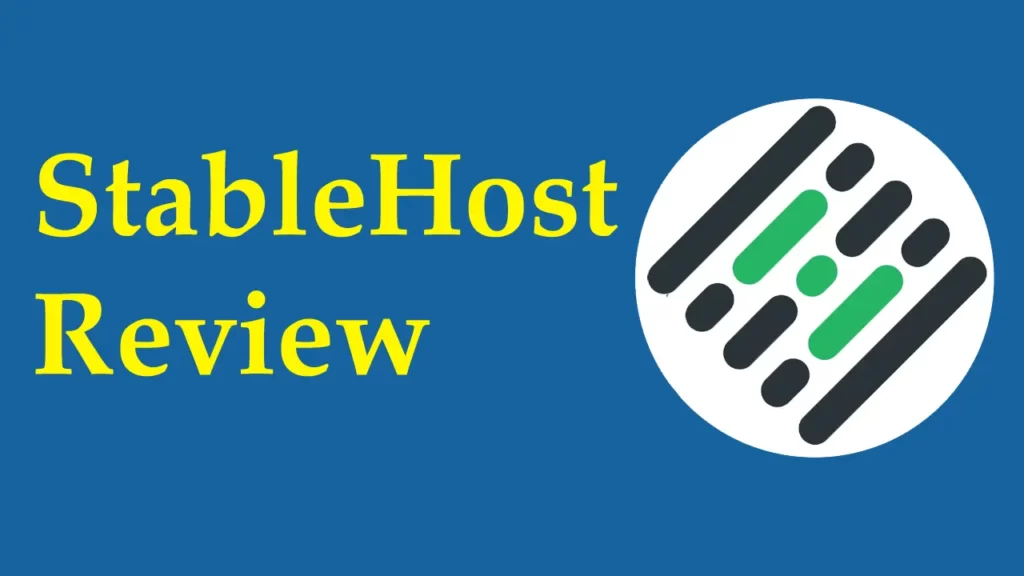 In this StableHost review, we'll explain what StableHost offers, how it works, and what you can expect from their services. By the end, you'll have a better idea of whether StableHost is the right web hosting provider for your needs.
Let's get started!
Web Host
StableHost
Uptime
99.99% (in Last 3 Month)
Datacenters
11 Datacenters (USA, Germany, Sweden, Netherlands, Singapore, Finland, Lithuania, and Spain)
Performance
Features
SSD Storage, Dual CPUs, Unlimited Bandwidth, LiteSpeed Web Server, and StableHost Cluster
Security Features
Free SSL, WAF, Anti-Spam, Daily Backups, 2FA, Virus Scanner, IP Blocker, SSH Access, etc
Other Features
Free Email Accounts, Free Site Migration, Free Website Builder, and One-Click Installation
Plans Pricing
Starting at 0.90/Mo
Support
24/7 Customer Support via Live Chat, Email, and Phone
Control Panel
cPanel
Refund Policy
45-Day Money-back Guarantee on Shared Hosting and Reseller Hosting
Discount Link
Click Here to Save Up to 50% on StableHost
Founded in 2009, StableHost is a well-established hosting provider that offers a variety of hosting solutions, including shared hosting, reseller hosting, VPS, and dedicated servers, catering to a wide range of website hosting needs.
One of StableHost's key strengths is its focus on stability and reliability, with a commitment to ensuring high uptime for websites hosted on their platform. They also emphasize website speed and security, implementing measures to enhance website performance and protect against online threats.
StableHost is known for its user-friendly approach, making it accessible to individuals, small businesses, and larger enterprises alike. Their customer support team is available to assist users with any hosting-related issues or questions they may have.
Performance and Reliability
One of the most important factors that makes or breaks your website is its performance. It means if your website is fast and accessible on the internet, it will increase your SEO rankings, CTR, traffic, and revenue, while low performance and downtime will decrease them.
StableHost implements many measures to boost your website's performance, as listed below.
#1. High-Quality Hardware Technology
StableHost uses high-quality hardware technology like enterprise-grade SSD storage, 96G of memory, and dual CPUs. This greatly enhances your website's performance.
Sometimes, a huge traffic spike comes to your website, which either slows down your website or makes it unaccessible. But that's not the case with StableHost; it offers unlimited bandwidth, and their 200 Gbps network can handle traffic spikes.
StableHost utilizes LiteSpeed Web Server, which really boosts performance. It serves static content faster than any other web server.
StableHost has good global location coverage; their datacenters are located in:
Phoenix, USA
Phoenix USA
Chicago, USA
Frankfurt, Germany
Stockholm, Sweden
Amsterdam, Netherlands
Valencia, Spain
Singapore, Singapore
Singapore Litespeed
Vilnius, Lithuania
Turko, Finland
Some web hosting companies host your website on a single server. When that server has issues, your website may become slow or inaccessible.
Luckily, with StableHost Cluster, it places your website on 50 different web servers on the backend. When a server has a hardware problem, they will automatically shift your website to other web servers to prevent downtime.
StableHost offers a 99.9% uptime SLA (Service Level Agreement) on shared hosting and reseller hosting services. If your server has a physical downtime that is not within 99.9%, you can request an entire month's credit into your account.
According to StableHost Uptime Status, they delivered 100% uptime in July, 99.99% in August, and 99.98% in September 2023; this made an average of 99.99% per month.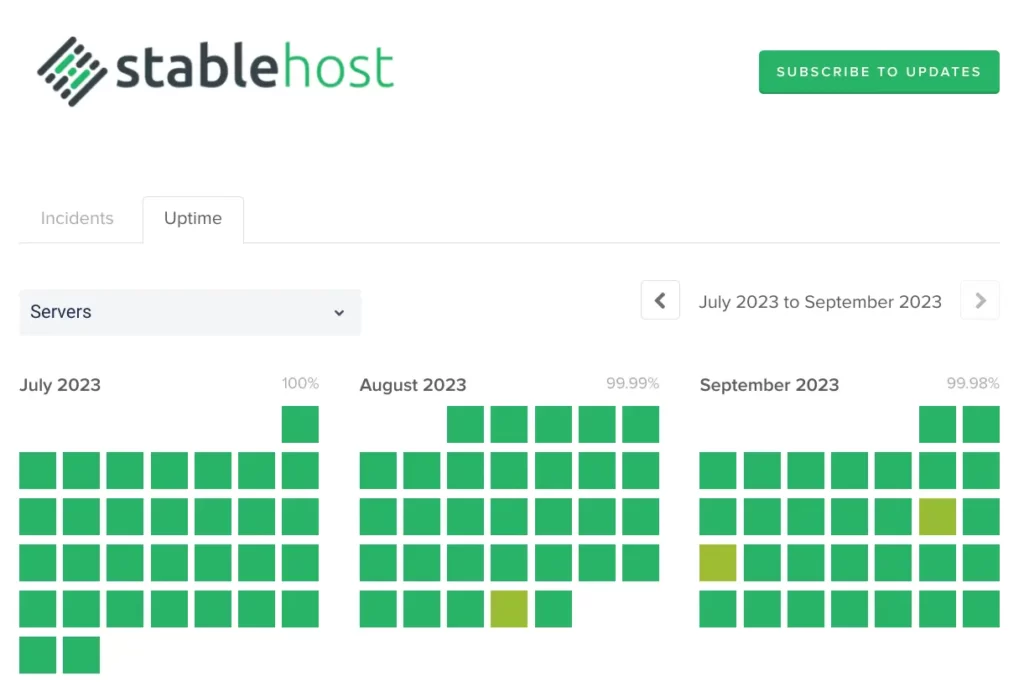 It's very important to keep your website safe and secure for your visitors. If it's not secure, visitors won't want to access your website. Therefore, hosting your website with a secure hosting provider is crucial.
StableHost emphasizes keeping hosted websites safe and secure. They follow the industry's best security practices, as mentioned below.
#1. FREE SSL Certificates
#2. Web Application Firewall
StableHost implements a WAF that monitors and filters your traffic using multiple layers. It detects DDoS attacks, web application vulnerabilities, virus files, client-side attacks, and more.
The anti-spam feature focuses on email security; it automatically filters spam emails into the spam folder or junk folder of your email account. This keeps your inbox clean, so you can focus on content instead of being distracted by harmful messages.
#4. Daily Backups Through R1Soft
#5. Two-Factor Authentication
StableHost enables two-factor authentication on your hosting account, which adds an additional layer of security. It will require an additional code beyond your email and password while logging into your StabeHost account.
This scans your entire email, home directory, public FTP space or web space to detect and metigate any virus present.
It allows you to block malicious IP addresses from visiting your website.
It's an antivirus tool that scans your website and detects and removes malware, trojans, adware, Spyware and more.
Secure Shell or Secure Socket Shell Access is a network protocol that allows you to transfer files securely on the internet. It's extremely important, specifically for sensitive data files.
StableHost offers shared hosting, reseller hosting, VPS hosting, and dedicated hosting.
Shared hosting works best for personal websites, blogs, and small to medium-sized business websites.
Reseller hosting is the best option for companies that need multiple control panels or reseller hosting businesses.
VPS hosting is the right option for medium-sized businesses, online stores, corporation websites, news websites, and educational websites.
Dedicated server hosting is an ideal solution for midsize to large companies that receive a lot of traffic.
Below is the summary table of StableHost's hosting services.
| Hosting Type | Starting Price | Storage | Discount Link |
| --- | --- | --- | --- |
| Shared Hosting | $0.90/Mo | 5GB-Unlimited | Save 50% |
| Reseller Hosting | $9.12/Mo | 20GB–60GB | Click Here |
| VPS Hosting | $10.95/Mo | 40GB–300GB | Click Here |
| Dedicated Hosting | $145/Mo | HD 2 x 300 GB SAS | Click Here |
Let's talk about their shared hosting plans.
StableHost offers four tiers of shared hosting service: Mini, Starter, Pro, and Platinum.
The Mini plan is a good fit for those who just want to get a small website live; it can handle up to 500GB of traffic.
The Starter package is the right solution for those who want to launch their first website, while the Pro plan works best for multiple websites; they can handle 300,000 visitors per month.
Finally, the Platinum plan is perfect for large websites that receive a lot of traffic.
| Aspects | Mini | Starter | Pro | Platinum |
| --- | --- | --- | --- | --- |
| Starting Price | $0.90/Mo | $1.75/Mo | $4.25/Mo | $27.99/Mo |
| Storage | 5GB | Unlimited | Unlimited | Unlimited |
| Bandwidth | 500GB | Unlimited | Unlimited | Unlimited |
| Email Accounts | 3 | Unlimited | Unlimited | Unlimited |
| Websites | 1 | 1 | Unlimited | Unlimited |
| Monthly Visitors | Up to 500GB | 300K | 300K | Higher |
| Free Website Builder | ✓ | ✓ | ✓ | ✓ |
| Free SSL Certificate | ✓ | ✓ | ✓ | ✓ |
| WAF | ✓ | ✓ | ✓ | ✓ |
| FREE Anti-Spam | ✓ | ✓ | ✓ | ✓ |
| VIP Support | X | X | X | ✓ |
| Inodes | 150,000 | 250,000 | 250,000 | 500,000 |
StableHost's shared hosting plans are cheaper compared to other popular options.
Quick Note: The prices mentioned are introductory prices. Once the initial period ends, you'll pay the regular prices.
45 Day Money Back Guarantee
StableHost offers a 45-day money-back guarantee on managed shared hosting and reseller hosting services. This refund policy is valid only for new accounts. After the first 45 days of purchase, no refunds will be issued.
There are no refunds for dedicated (VPS) servers, administrative fees, addons such as domain name purchases, dedicated IPs, or installation fees for custom software.
StableHost offers a huge discount of 50% for the first year on Starter and Pro web hosting plans. Just click on the below special button and apply this 50OFFYEAR1 coupon code at checkout to get 50% off.
StableHost offers 24/7 customer support via live chat, email, and phone. For enterprise (Platinum) web hosting users, VIP support is available. In addition, they provide priority call support that costs an additional one-time fee of $19.95.
I was connected with them on holiday through live chat. I got the initial response faster, but the second reply took about 3 minutes.
I asked many questions and got helpful responses. Their support agents were knowledgeable and behaved like friends.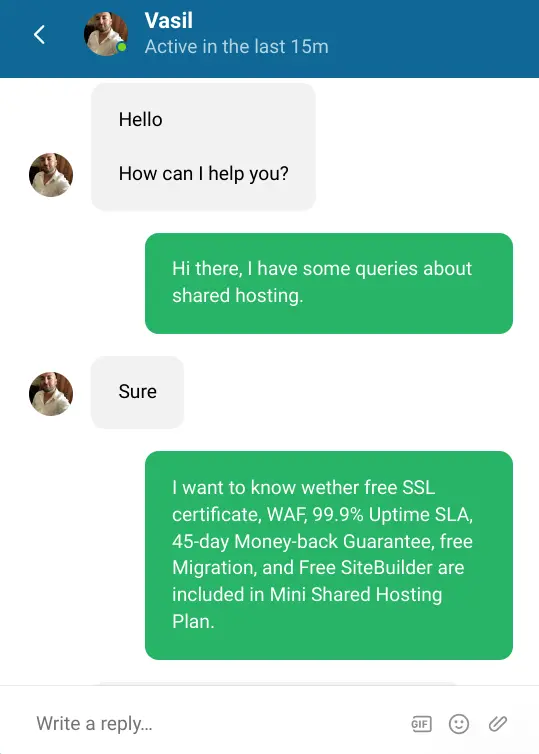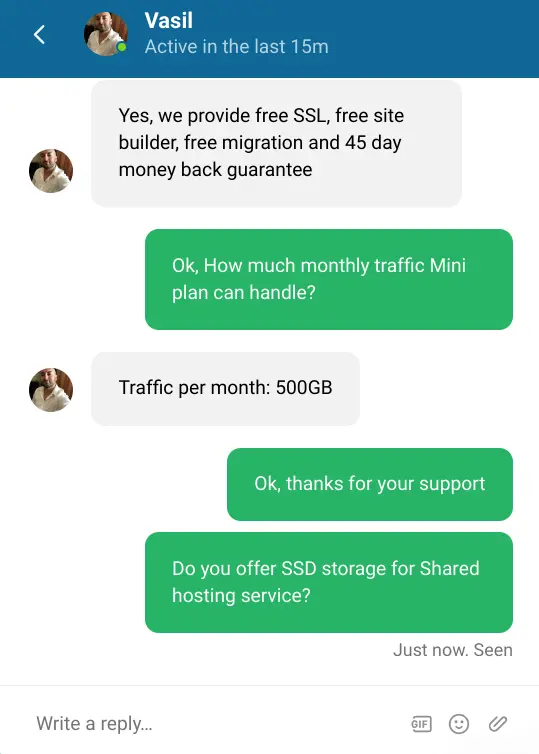 StableHost also has a knowledgebase that covers pre-sales & general FAQs, technical guides, account-related tutorials, domains, affiliates, and policies. At the time of writing this StableHost review, it had more than 200 posts.
StableHost is simple to use and easy to navigate. Let me explain.
Getting started with StableHost is easy and straight-forward. It has four steps to create and set up your account, including selecting your domain name, choosing a payment method, and entering account information. That's it.
Once you've signed up, you'll be able to log into your StableHost account.
StableHost provides cPanel to manage your web hosting account and website. If you have ever used cPanel, then it will be easy for you to perform tasks.
We have mentioned and explained many features in the above sections. Now let's talk about the remaining features we have not mentioned yet.
StableHost's Mini shared hosting plan includes three business email accounts, while the Starter and Pro plans come with unlimited accounts.
StableHost offers free website migration once per plan; it's valid for the first 30 days.
If your previous hosting provider uses cPanel, then StableHost will automatically transfer your entire account, like your domains, website content, databases, and email accounts, without charging a penny.
However, if your previous web host provides a different control panel, then they will transfer your one domain for free. It will include website content and databases linked to it.
StableHost provides the BaseKit website builder, which is easy to use to create websites and online stores. It has drag-and-drop functionality, which allows you to select elements and drag them to the editor to build stunning web pages.
#4. One-Click Installation
Installing popular scripts like WordPress and Jomla could be a tedious task for beginners. But fortunately, StableHost allows you to easily install them with a single click.
Conclusion: StableHost Review
StableHost is a decent web host that offers good services at affordable pricing. It focuses on speed, uptime, security, ease of use, customer support, and customer satisfaction.
Normally, web hosts offer a 30-day money-back guarantee, while StableHost comes with a 45-day money-back guarantee, which is longer than industry standards and completely risk-free.
I hope you found our StableHost review helpful.