Want to make an Instagram Marketing Strategy? let's get started.
Instagram is the picture and video-sharing social media platform that is used by more than 1.047 billion users. It's a Facebook-owned company.
Why Market On Instagram?
Instagram is a visual content-sharing platform. If you have a company and business that benefits from design, photos, and videos, then Instagram is the best place for your business and company. 
The latest statistics data shows that more than 25 million businesses use Instagram for marketing their services and products. 
How To Make An Instagram Marketing Strategy?
There's a big mistake that many businesses do which is not having the proper marketing strategy. A good marketing strategy helps you to get succeed in your business. 
Instagram is a little different from other social media platforms, you have to build a specific marketing strategy for Instagram.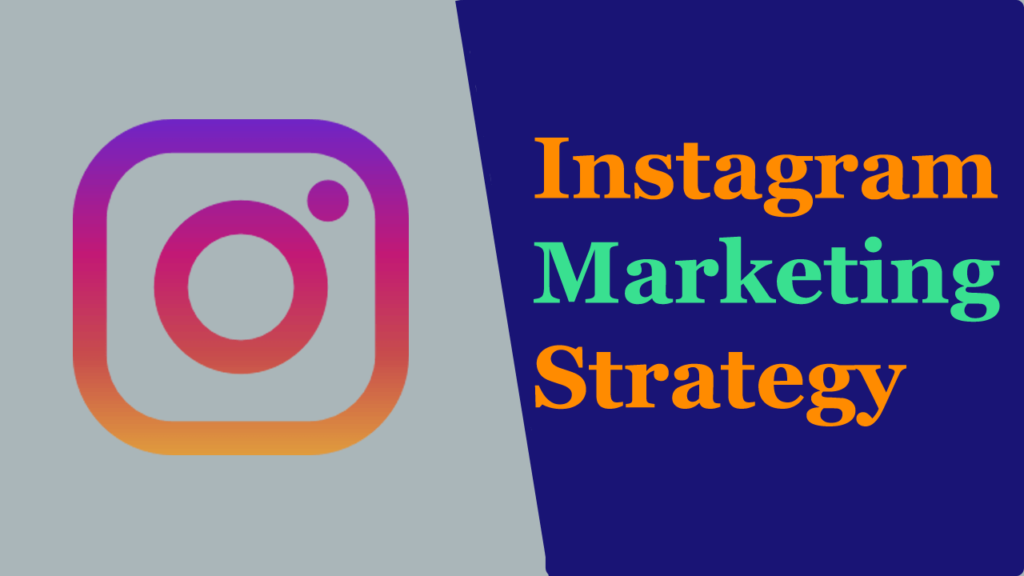 By implementing the following steps. you can make your Instagram marketing strategy.
#1. Set Your Goals For Instagram
First of all, set up your smart goals that why you use Instagram for your business. Maybe you have different goals, like selling your services and products, posting content to engage your audience, boosting your brand awareness, and so on.
Make sure that you must have SMART goals for Instagram marketing.
#2. Identify Your Target Audience
Next, you have to identify the target audience that you want to reach or sell your products and services to them. You can also identify your audience by analyzing your competitor's audience and followers.
#3. The Competitive Analysis
Once you identify the audience, you have to do the competitive analysis that which type of content your competitors publish on Instagram. If you are already familiar with your competitors, then analyze their Instagram profiles (what they post? who is their audience?, etc).
If you don't know about your competitors, then search-relevant hashtags, phrases, or keywords in Instagram search browsing. Especially check the account section of search results, there you will find your competitors. Then start by analyzing their profiles.
#4. Content Publishing Calendar
A social media marketer has many challenges managing all social media platforms. For this purpose, you have to create a content-sharing calendar.
A content-sharing calendar helps you to achieve your goals in the specific period of time. However, You should check the best time for publishing the content to get a good engagement rate.
#5. Build A Consistent Brand On Instagram
If you share random content on your profile, it's possible that you lose your followers and audience. You should build a consistent brand on Instagram by publishing quality content. 
#6. Grow Your Audience Follower Base
Every Instagram influencer wants to get more followers. For this purpose, they have to post and publish unique and quality content. Keep in mind that purchasing followers are not a good idea because they are not active users and they won't engage with the content that you publish.
11 Powerful Instagram Marketing Tips
After creating the Instagram marketing strategy, now I want to share with you 11 powerful tips and tricks that can help you to maximize your reach.
#1. Instagram Profile Bio
Instagram allows you to write a bio for your Instagram profile (150 max characters). You should write a strong profile bio that gives information about your business, who are you, and why users follow your profile.
Also, you can add the latest URLs related to the newest post along with emojis in your profile bio.
For adding the URLs, I recommend you short your URLs and track them that how many users click on them.
#2. Convert Your Instagram Personal Account Into A Business Account
When you create an Instagram account, Your account is a personal account by default but you have to convert your Instagram personal account into a business account.
#3. Connect An Instagram Business Account With Your Facebook Page
After converting your Instagram account into a business account, you are eligible to connect your Instagram business account with your Facebook page.
#4. Videos
Instagram lets you publish videos on your Instagram profile. You can upload the downloaded videos but I suggest that create and edit the videos for the platform.
Posting the videos, gain a high number of followers and viewers.
#5. IGTV
IGTV (Instagram TV) is the videos published on Instagram. You can watch these videos on the Instagram app and IGTV app.
You should upload the IGTVs on daily basis as a part of Instagram's marketing strategy.
#6. Hashtags
Basically, the hashtag is the link to a keyword or phrase. It starts with a special character called hash (#).
The statistic data shows that 95 million photos upload to Instagram per day. For that much content, the hashtags come in handy.
By using the relevant hashtags, you can improve and boost your organic reach. You can use up to 30 hashtags per post.
#7. Stories And Add URLs
Every day upload the stories and add a link to them. The Instagram Story is another way to boost and increase your organic reach naturally. If you have 10K followers, then you are eligible to share the direct link in your stories.
If you don't have the 10K followers then you should add your IGTV video and paste your URL in IGTV.
#8. Copywriting
If you have a business that sells the products and services and you want to generate leads and sales on social media platforms, then you must use copywriting.
Social media is all about copywriting. For selling the products and services, you have to learn and use copywriting skills.
Copywriting is an art that is necessary for selling services and products to clients and customers.
#9. Emojis
Nowadays emojis are trending on social media platforms. Use the emojis in your posts to engage your audience.
To find the emojis, navigate to emojypedia.org. there you will find the emojis that you can use on social media platforms. You just have to copy and paste them.
#10. Instagram Ads
By using Instagram, you can boost your brand awareness, generate leads and sales, grow your followers base, and more.
You can run ads on the Instagram platform through Facebook Ads Manager too.
#11. Website Traffic
Along with that, drive traffic to your website and blog. Add and update your link in the profile bio.