Want to learn 16 LinkedIn marketing tips and tricks for beginners? Do you want to better your Linkedin Marketing Strategy? Here're the tips and tricks that help you to improve your Linkedin Marketing.
Let's get started.
What Is LinkedIn Marketing?
LinkedIn marketing is the process of making connections, promoting content, generating leads, increasing brand awareness, business relationships, partnerships, business marketing, and driving traffic to websites and blogs.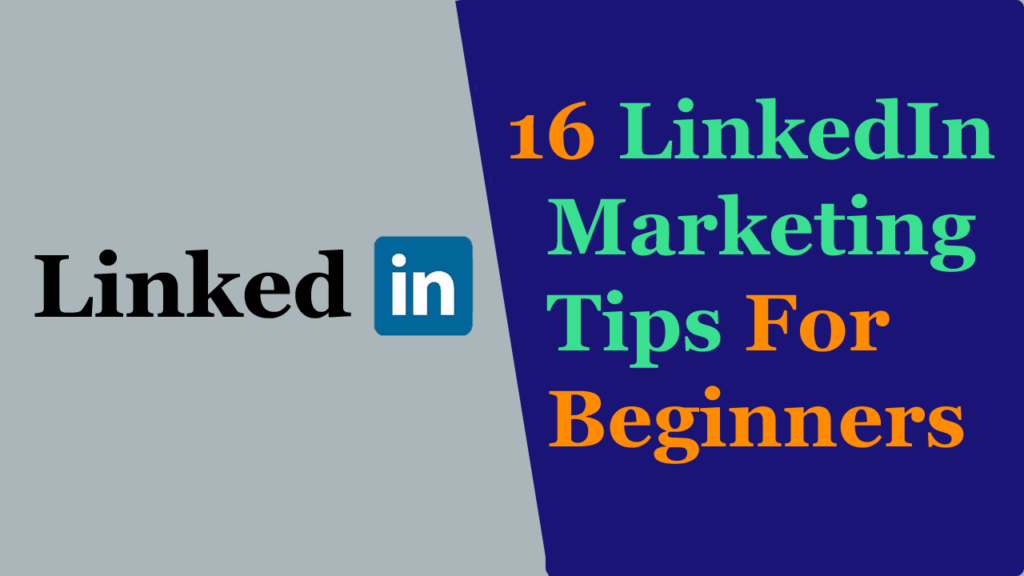 16 LinkedIn Marketing Tips & Tricks For Beginners
To boost your Linkedin marketing, apply the following steps.
#1. Build Your Profile
The first thing that you have to do on LinkedIn builds your profile. Building your profile on LinkedIn is very important because the companies and recruiters are viewing profiles to find experts. 
Read More: How To Create Account On LinkedIn?
Implement the following steps to build your profile on LinkedIn.
I suggest that use your real name, share valuable information about yourself.
Add your professional picture to your LinkedIn profile.
You have to give the information about your career and industry that what's your career and what's your accomplishment in the career?
Also, give the information about your jobs that what do you do? where do you do the job? give more information about the jobs.
Write the word about your education.
For adding the education information, answer the following questions.
What's your education level?
Where do you get the education?
From which school, college, and university you graduated?
Make More Connections & Friendship
Make more and more connections relevant to your niche and industry. The connection on LinkedIn is like a Facebook friendship.
If you have the certificates, upload them to your LinkedIn profile because the certificate helps you to get a good job.
#2. Create The LinkedIn Page
Once you build your profile, next, create a LinkedIn page for your website, brand, products, and services. In addition, publish the information about the page and which type of content and information you will share on this LinkedIn page.
I recommend you write the article with quality for your LinkedIn page. Then, the users will follow your LinkedIn page.
When you post on LinkedIn, you must use hashtags related to your post.
#3. Join LinkedIn Groups
LinkedIn has the groups too as we can see the Facebook groups. So join these groups related to your category and niche. The LinkedIn groups have a good engagement rate because the LinkedIn groups have a lot of members. Also, share your LinkedIn page posts in these groups to get a number of followers.
#4. Share LinkedIn Profile and Page on other Platforms
You should post the word about your LinkedIn profile and page on the other platforms to gain more followers.
#5. Share Your Blogs On LinkedIn
The LinkedIn platform is the best place for driving website traffic. Add your website URL to your LinkedIn profile and page too. 
When you have published the content on your website, share it on your LinkedIn page too. Next share this post from your LinkedIn page to your LinkedIn profile, share this post from the LinkedIn page into groups that you have joined. Then your organic reach will increase. Finally, you will drive a number of visitors to your website.
#6. Leads
You can generate leads in two ways on LinkedIn. The first way to generate leads is that search on the LinkedIn platform, use filters in searching to find the users that have an interest in your products and services.  The second way to generate leads is that LinkedIn provides you with a tool (Lead Generator Tool) that will help you to find the leads. 
#7. Customize Your Public Profile URL
Generally, LinkedIn creates automatically a profile URL but allows you to customize it as you want. You have to customize your public profile URL, just click on " View Profile", There you will view it at the right sidebar to edit your profile URL, Then edit it. I suggest that use your name or company name in the profile URL.
#8. Add A Professional Background Photo
Next, you have to add a professional background photo to looks your account more professional. LinkedIn recommends the 1584 × 390 pixels for the background photo.
#9. Add A Profinder Badge
The Profinder badge uses to identify freelancers. Freelancers can show their skills, expertise, and recommendations. If you're a freelancer, use the Profinder badge on your LinkedIn profile.
#10. Optimize Your Profile For SEO
SEO is not only important in search engines but also important in social media platforms too. You should optimize your profile for search results that users find you.
#11. Use Open Profile To Send Messages To Users Who Are Connected With You.
By using the open profile, you can send messages to those who are not connected with you. You can use the open profile feature in premium LinkedIn. The LinkedIn platform provides a one-month free trial of the premium LinkedIn. By joining it, you can access many other features and tools including learning courses, leads generator tools, etc.
#12. Check Out "Who's Viewed Your Profile?"
In the LinkedIn platform, when the users view your profile, LinkedIn sends you notifications that who's viewed your profile. You should know about the audience, leads, and members that are viewing your profile.
#13. Customize Your Network
If you want to build a professional network, you should customize your connections. You should make valuable and industry-related connections.
#14. Create Your Own LinkedIn Group
If you can manage the group, then create your own group that can help to share your content, increase brand awareness, build product or service credibility and drive traffic to your blog and website.
The one benefit of creating the LinkedIn group that I like the most is that you can contact the group members that are not connected with you.
#15. Mentions Or Tags
LinkedIn provides the ability of tagging. When you tag or mention someone, it is a link to his/her profile and LinkedIn alerts him/her that a user tags you. Mention the popular people in your posts to increase the organic reach.
#16. Post Company Status Update
However, Share content on your page and profile regularly to engage the followers and connections.
It's highly recommended to implement the above tips and tricks to boost your Linkedin marketing.