Wondering about how to create profile on Linkedin? Want to create professional profile on Linkedin? keep reading on.
LinkedIn is one of the most popular social media platforms that is used by most professional people. This social media platform is heaven for professionals because they can share their personal information, job experience, skills, career information, etc with the world.
It is the hiring social media platform. There you can make your own network.
More than 706 million users exist on LinkedIn.
2 new members join the Linkedin platform every second globally.
The 9 billion content impressions record every single week.
Important Points about Linkedin
LinkedIn is a social networking platform where you can make connections.
Always give your job experience information there because many companies view them and they looking for talented people.
There you can share your ideas with your network.
LinkedIn is popular for jobs, there you can get the jobs and post the jobs.
Why You Should Create An Account On Linkedin?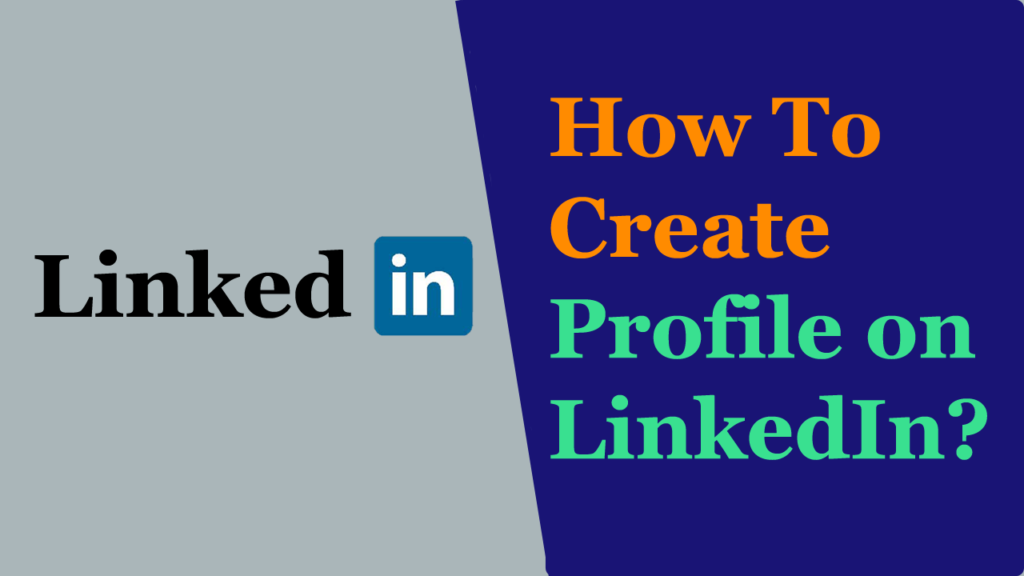 Here's a list of reasons that you should use Linkedin.
#1. Personal And Company Branding
By using LinkedIn, you can build your personal and company brand.
#2. Largest B2B Platform
LinkedIn is the largest B2B (Business to Business) platform and also B2C (Business to Consumer) platform too. It's mostly used for business.
The new research shows that 80% of B2B leads and 40% of all B2C leads come from LinkedIn.
#3. Networking
You can make a good network on the LinkedIn platform because it enables you many features that help you build your professional network.
#4. Leads And Sales
The platform lets you enjoy driving leads and sales. Additionally, LinkedIn provides you the "leads generator tool". You can use one month free trial of LinkedIn premium, then you have to pay for it.
#5. Posting The Jobs
If you have to post the jobs on LinkedIn, make the LinkedIn page for your company and post your jobs.
#6. Finding A Good Job
LinkedIn is popular for getting jobs. Many companies post their jobs on LinkedIn and you can apply for them.
#7. Website Traffic
It's the best source for generating website traffic. Add your website link to your LinkedIn profile and share your website's content on the platform.
#8. Build Credibility
By using LinkedIn, you can build the products and services credibility. The building of products and services credibility help to generate more revenue.
#9. Learning
LinkedIn provides you with the learning opportunity, it includes 16000+ courses.
Keep in mind that you can access these courses when you use premium LinkedIn. If you are new to LinkedIn, you can use the one-month free trial of LinkedIn premium.
#10. 706 Million+ Professionals
As you know LinkedIn is used by 706 million professionals. You can interact with them and learn from the professionals on the platform.
How To Create Profile On LinkedIn Step-By-Step?
Now you are going to learn the create account on LinkedIn.
Click the link to visit the "LinkedIn platform".
Then, click on the "Sign up" button.
There you will see the small boxes, enter account details and information.
Once you enter them, click "Join now" button.
Verify your account, there will display the small box, type the below information here.
How Do you want to get the verification code: Text Message or call – So I click the text message. Then select your country, enter your mobile number, then they will send the code to you.
After getting the verification code, enter this code in the small box. So your LinkedIn account will be verified.
Then they will show you the "welcome" page, it asks more questions to set up your account.
Answer their questions correctly.
Also, verify your email: LinkedIn sends the verification code to your emails and then enters the code here.
Add Profile Picture: Add your personal picture on your LinkedIn profie to recognize you.
Finally, your account will be created and you will see the news feed of Linkedin.
How To Make The LinkedIn Profile More Professional?
Now it's time to make your profile more professional. There I will share with you some tips and tricks that help you to make your profile more professional.
Add your profile picture with a headshot but make sure you follow these file sizes and dimensions.
400 × 400 (width and height)
picture types(PNG or JPG)
Max file size – 8MB
GIFs are not supported
Add Industry Revelant Details
Add information about your industry and accomplishments.
Add the amazing and strong header text.
Drafting A Compelling Summary
The summary appears in the about section, write a strong summary for the profile.
Fill Your Professional History
It is extremely important for visitors and users to value your past experience, accomplishments, current position, and skills. I recommend that use the videos, pictures, and documents that you are proud of.
What Is LinkedIn Most Used For?
#1. Marketing
You can use the LinkedIn platform for marketing and promoting. For instance, you have the new products that you want to promote but you haven't access to the companies. Here is the way that helps you to promote your products to companies and that's LinkedIn. Because many companies exist on the LinkedIn platform. 
#2. Hiring
Most companies looking for experienced, experts, and talented employers. They post their jobs on LinkedIn. More than 2.8 million recruiters (HRs) exist on LinkedIn and 4 million members are hired through LinkedIn. You should optimize the profile that the recruiters find you.
#3. Selling
Not only that, you can generate new leads and sales. LinkedIn provides a tool called the "Lead generator tool". You have to encourage and convince the audience to purchase the products and services.
#4. Learning
On the LinkedIn platform, you can learn something new. The 16000 courses are added to the LinkedIn learning system. You can also learn from professionals, experts, and experienced peers.