Looking for the best iThemes Security PRO vs Wordfence comparison, then this blog post is exclusively for you.
When you've published your WordPress website, you need to protect it against hack attacks and threats. Because WordPress has a few basic security features by default, which is nothing compared to a solid security solution.
You need to install a solid security solution plugin to protect your WordPress website. However, there're many WordPress security plugins, iThemes Security and Wordfence are the most popular ones.
iThemes Security and Wordfence are all-in-one security solutions, which do things differently.
We don't recommend installing both security plugins on your single site as it has a negative impact on several aspects. Hence, we tested both plugins for a couple of weeks to find out how each plugin works. And finally, we've provided this iThemes Security PRO VS Wordfence comparison to help you select the right one for your website.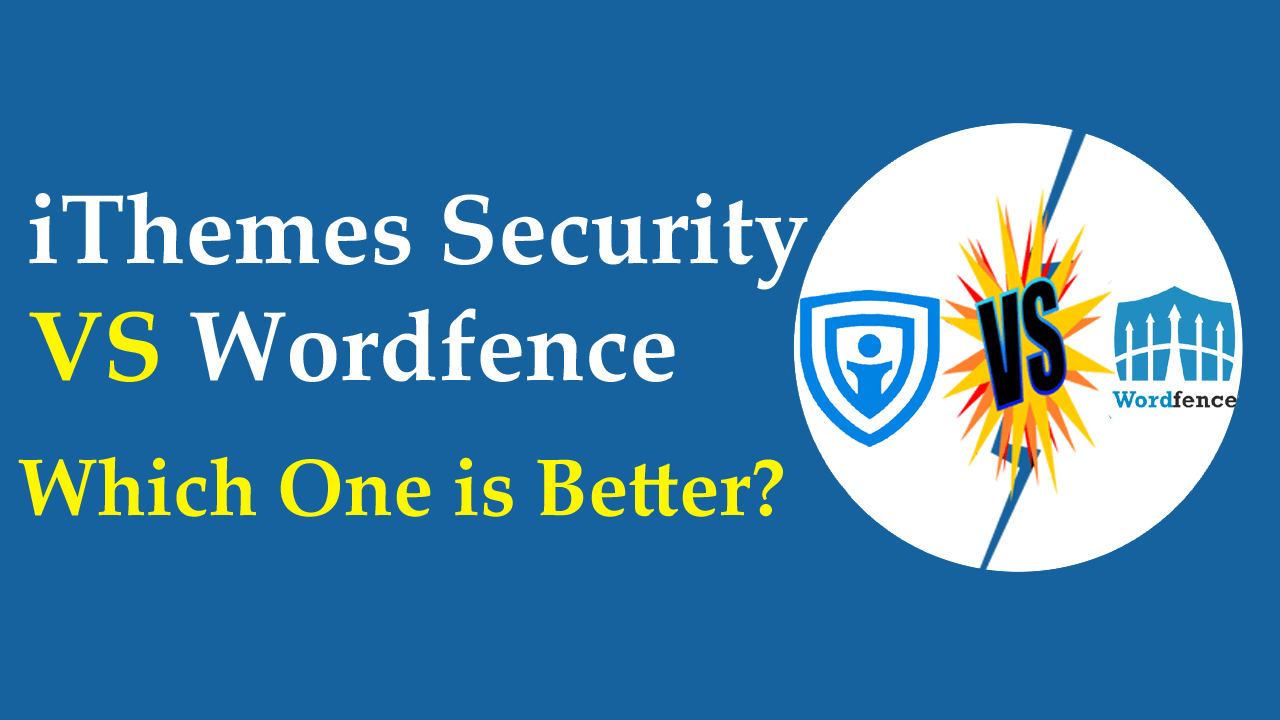 Our Wordfence VS iThemes Security comparison is divided into the following categories.
Features
Ease of Use
Pricing
That being said, let's take a look at how iThemes Security VS Wordfence stack up and which one comes out as the best overall WordPress security plugin.
iThemes Security and Wordfence are the big names in the WordPress security category. Both plugins have been installed on millions of websites.
iThemes Security PRO Overview
iThemes Security PRO is the all-in-one WordPress security plugin that defends your website in more than 30 ways. This prevents most common attacks and security threats as well as stop spam.
The plugin has many essential features to keep your WordPress website secure like brute force protection, reCAPTCHA, database backups, 2FA (two-factor authentication), away mode, hide backend, XML-RPC protection, and much more.
iThemes Security can tackle more than 40 vulnerabilities and fix common holes to secure your WordPress website. Its dashboard is beginner-friendly and initiative, making it easier to navigate around the security plugin.
Read More: iThemes Security PRO Review
Wordfence is another popular WordPress security plugin that makes sure your website stays fenced in.
The plugin includes many excellent security features including Web Application Firewall, an advanced malware scanner, comprehensive live traffic insights, country blocking, 2FA, and more.
Its UI (User Interface) is a little bit complex, beginners will take time to familiarize themselves with the interface while this is may not a problem for advanced users.
As we've briefly discussed the plugins, let's move to the features category.
iThemes Security PRO VS Wordfence Premium: Features
Both iThemes Security PRO and Wordfence Premium plugins offer different features to harden your WordPress website security.
iThemes Security PRO Features
iThemes Security PRO offers 30+ features as listed below.
Brute Force Protection: It

stops brute force attacks

on your WordPress login page by restricting failed login attempts per user in a specified time.
Network Brute Force Protection: Every malicious IP address will be locked out from your website if they try to break into a website that installed the iThemes Security plugin.
Ban Users: You can manually block suspicious IP addresses to keep attackers away.
Database Backup: You can manually

take or schedule a backup of your website

's database, which comes in handy when you've lost files.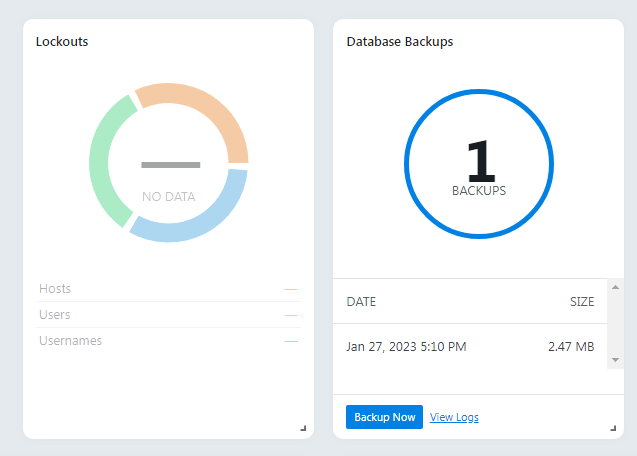 Enforce SSL: This enforces that all connections to your website are made via an SSL certificate.
File Change Detection: When this feature is enabled, you'll get email notifications about unexpected file changes on your website.
Security Check Pro: It helps you quickly audit the most critical elements of users' security on your website. It protects your site from poor password-related vulnerabilities as well as shows two-factor authentication status, password age, password strength, last time active, active WordPress sessions, and user role.
Site Scan Scheduling: This feature automatically scans your website twice a day. If any problem is found, you'll get an alert notification.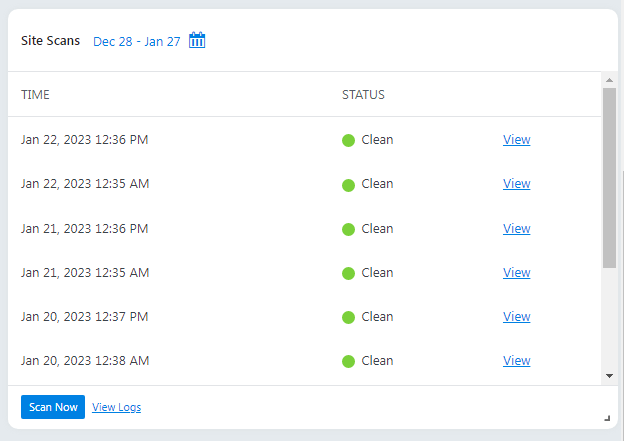 Two-Factor Authentication: 2FA adds an extra layer of security to your WordPress login page as users will be required to add an additional passcode at the second step beyond username and password to log in. iThemes Security supports Authy, Google Authenticator, FreeOTP, and Toopher.
User Groups: You can create specific user groups (like administrators, editors, authors, contributors, and subscribers) for which you can set specific rules.
Enforce Strong Passwords: As a website owner, you can force authorized users to use strong passwords for their WordPress login.
Refuse Compromised Passwords: It prevents leaked passwords from being used on your website.
Password Age: You can set up a password age after which the password will be expired. We recommend changing your password every 120 days.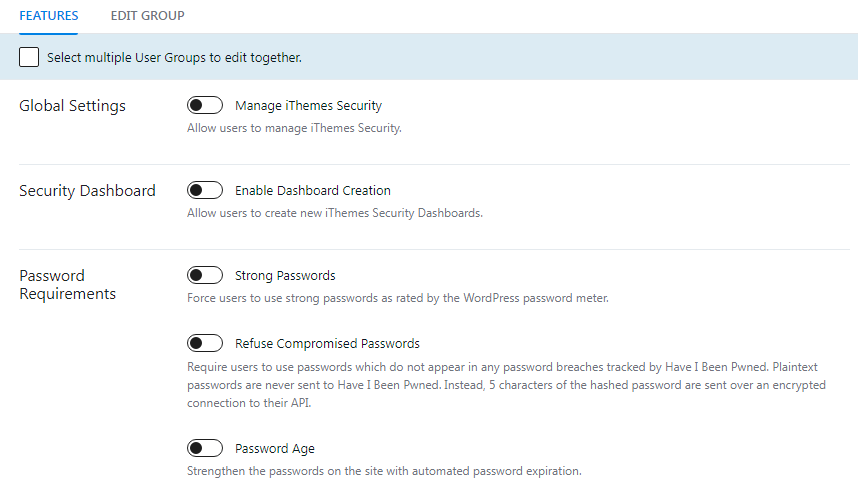 Protect System Files: This prevents public access to .htaccess, install.php, readme.html, readme.txt, wp-config.php, and wp-includes as they can give critical information that attackers may need.
Disable Directory Browsing: This forbids users from seeing a list of files in a directory when no index file is present.
PHP Execution: You can disable PHP execution in certain directories (including uploads, plugins, and themes) to improve your WordPress website security.
XML-RPC Protection: This allows you to enable or

disable XML-RPC in WordPress

along with disabling pingbacks.
Hide Backend: It lets you

mask your WordPress login page

by changing its URL slug. You can also redirect the users trying to access the default WordPress login page.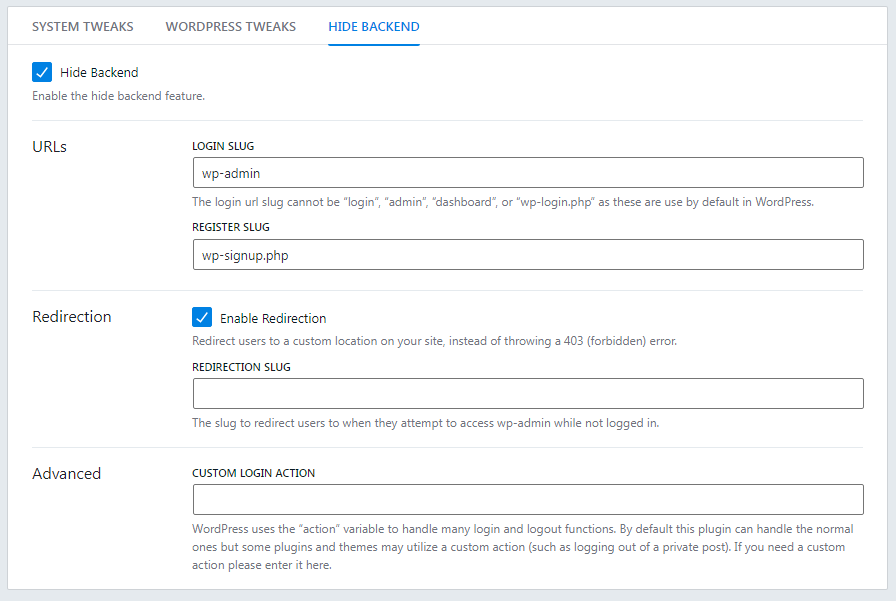 Change Database Table Prefix: WordPress uses the prefix wp- for all tables in your website's database. If you want to change it, you can do so to enhance your website's security.
Change WordPress Salts: If you suspect your website may have been compromised, you can change WordPress salts used to secure cookies and security tokens.
Magic Link Login: Authorized users can potentially get locked out if a brute force attack happens with their username. This is where the magic link login feature comes in, it enables users to bypass lockouts of their username by iThemes Security Brute Force Protection Network.
Passwordless Logins: It's a more secure way to log into your WordPress website without requiring a password. This means you'll be able to directly log into your website from a link securely sent to your email address.
Biometric Login With Passkey: iThemes Security PRO has recently added biometric logins like touch ID, face ID, and Windows Hello. This is the safest passwordless way to log into your WordPress website without the inconvenience of 2FA, password manager, and strong password requirements. iThemes Security is the first WordPress plugin that has introduced biometric logins to WordPress.
Temporary Privilege Escalation: It's a safe and secure way to grant admin access to outside contractors and support technicians for a specified amount of time. You don't need to create a new user every time you add admin access to your website.
Trusted Device with Session Hijacking Protection: It enables you to recognize devices used to log into your website to stop Session Hijacking attacks. It blocks admin user login from unidentified devices by limiting the admin capabilities.
reCAPTCHA: iThemes Security lets you integrate with Google reCAPTCHA to stop bot traffic. You can add reCAPTCHA to the registration page, login page, reset password, and comments to prevent spam.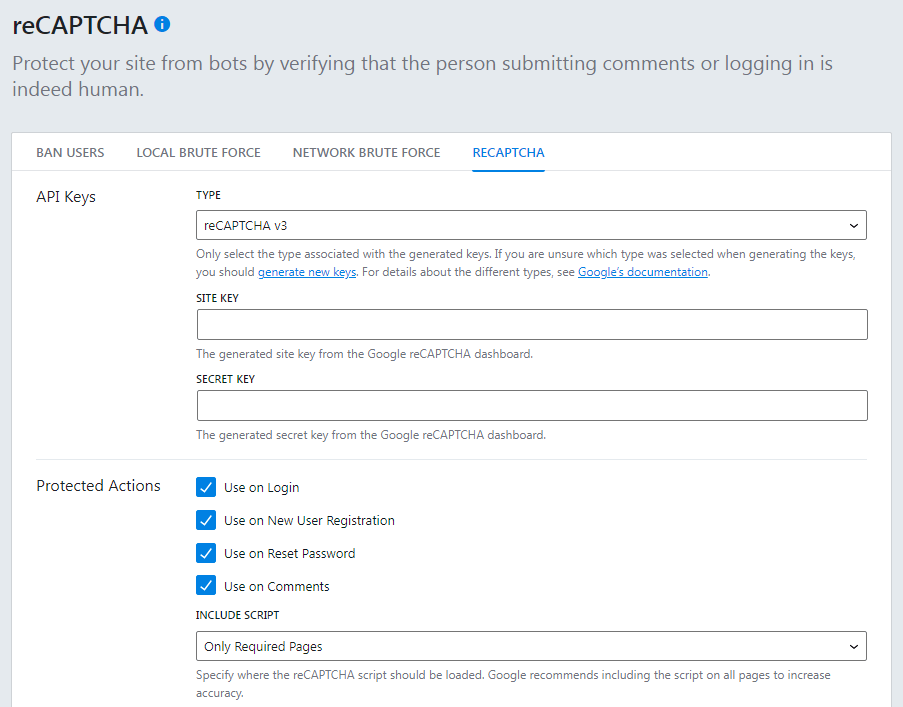 Security Log: It assists you to keep track of important events like brute force attacks, file changes, user activity, site scans, logins, user creation, adding & removing plugins, and more.
Version Management: This enables you to automatically update WordPress core, plugins, and themes.
Away Mode: You can set up a time lock for your WordPress admin dashboard, during which no one can access the WordPress dashboard.
Notification Center: This function aids you in configuring and managing email notifications related to various settings modules sent by iThemes Security.
Import/Export Settings: This helps you quickly export your iThemes Security configurations and import them to another WordPress website. This saves you time and stress.

Wordfence provides the following features.
Web Application Firewall: It stops malicious traffic from getting access to your website as well as prevents common threats and security issues like scanning websites by bots.
Advanced Malware Scanner: This scans your installed plugins, themes, and other files of your website to detect and remove malware and vulnerabilities.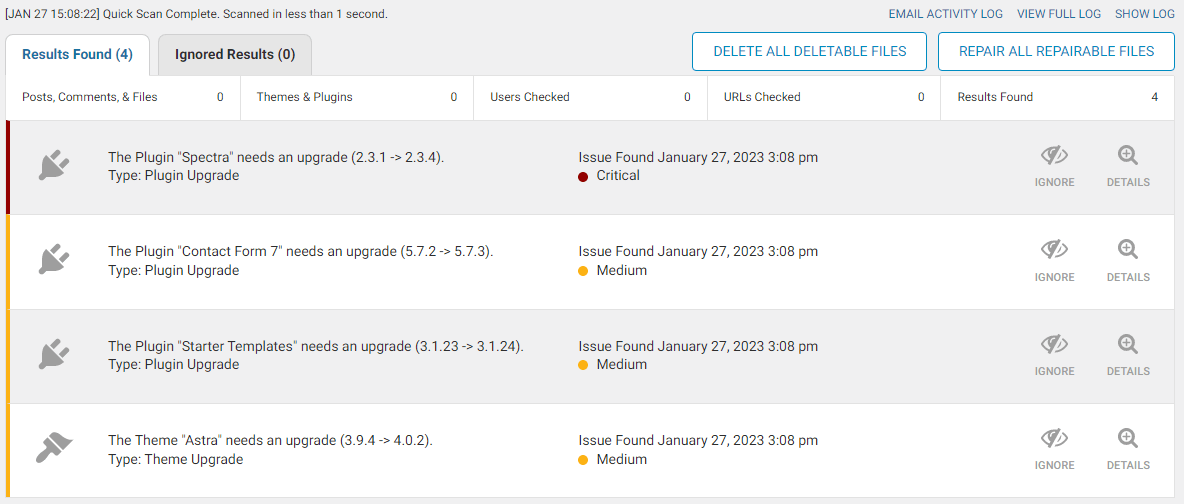 Live Traffic: Wordfence provides you with in-depth details of visitors such as their IP address, country, location, time of the day, visited page, type (human or bot), and response. If you see a suspicious visitor, you can directly block their IP address.
Whois Lookup: This gives you info about who owns an IP address that is visiting your website or engaging in malicious activities on your website.
Two-Factor Authentication: Wordfence allows you to add 2FA to your website by scanning the code or entering the key in the authenticator apps such as Authy, Google Authenticator, FreeOTP, and more.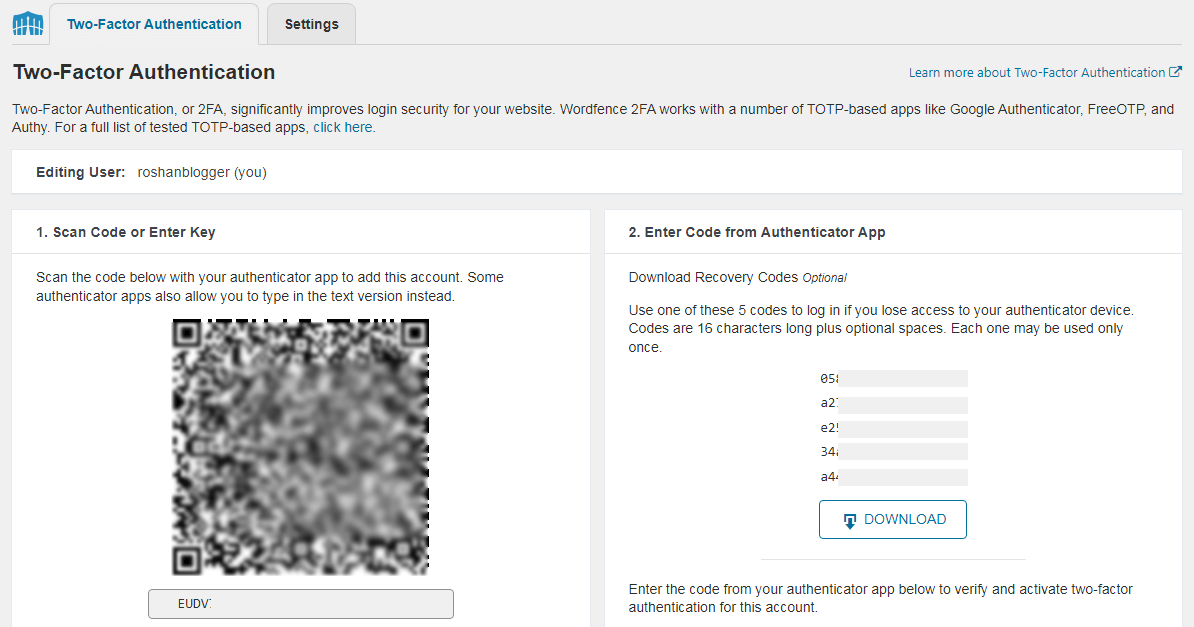 Disable XML-RPC Authentication: It helps you disable XML-RPC as it creates vulnerabilities in your WordPress website.
reCAPTCHA: You can add Google reCAPTCHA to your WordPress login page and registration page to keep away bots from engaging in abusive activities on your site.
Email Alerts: Wordfence will send you alert notifications when unexpected changes happen on your website like WAF is turned off.
Brute Force Protection: This will lock out users after specified login failures in a specified amount of time to ensure maximum safety.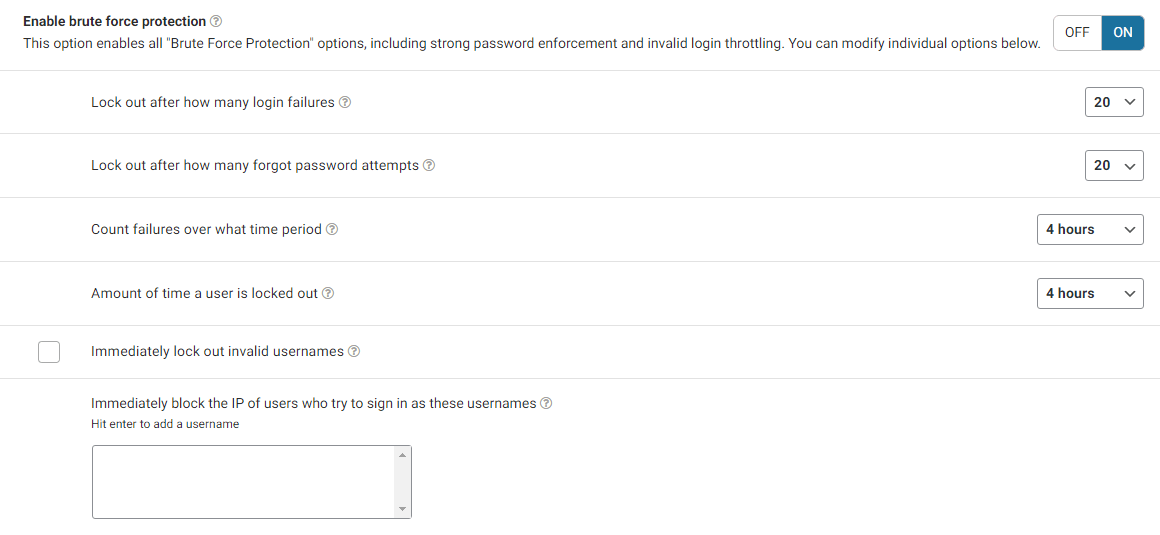 Enforce Strong Password: This enables you to force users to use strong passwords.
Refuse Leaked Password: It prevents the use of leaked passwords in data breaches.
Country Blocking: You can block a country that widely engages in malicious activities on your website.
Threat Defense Feed: It's an impressive feature that provides security and protection with its latest firewall rules, malware signatures, and listing of malicious IP addresses.
Import/Export Settings: This allows you to export the settings of the installed Wordfence plugin and import it on another WordPress website.
Winner: iThemes Security PRO
iThemes Security VS Wordfence: Ease of Use
Web security is a highly complex and technical field, that's why our second comparison category is ease of use.
iThemes Security: Ease of Use
iThemes Security plugin is beginner-friendly, newbies can easily navigate between different options. In addition, each option is clearly explained in the iThemes Security dashboard.
The installation and configuration are straightforward. After installing the plugin, you'll be presented with an onboarding wizard that will help you configure the most options.
iThemes Security dashboard provides you with a bird's eye view of important analytics to inform you what's going on on your WordPress website.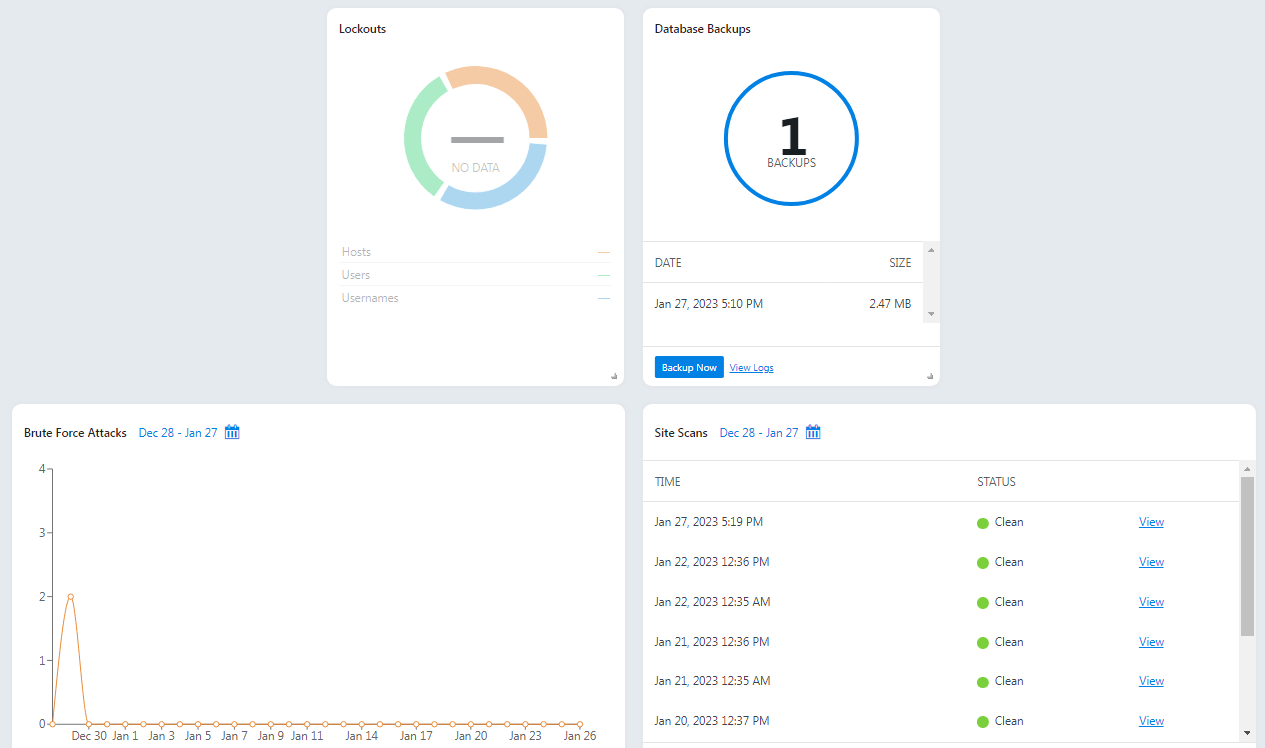 Wordfence UI (User Interface) is a little bit complex for beginners, so they'll take the learning curve. However, when you've installed the plugin, it will bring you to a wizard that will help you familiarize yourself with the Wordfence dashboard.
Wordfence explains each option in detail on your Wordfence dashboard which will help you to get an understanding of what each feature does.
Next, it enables the end-point web application firewall to run an automatic scan in the background. Once the scan is finished, you'll get a notification, informing you about critical issues and recommended actions.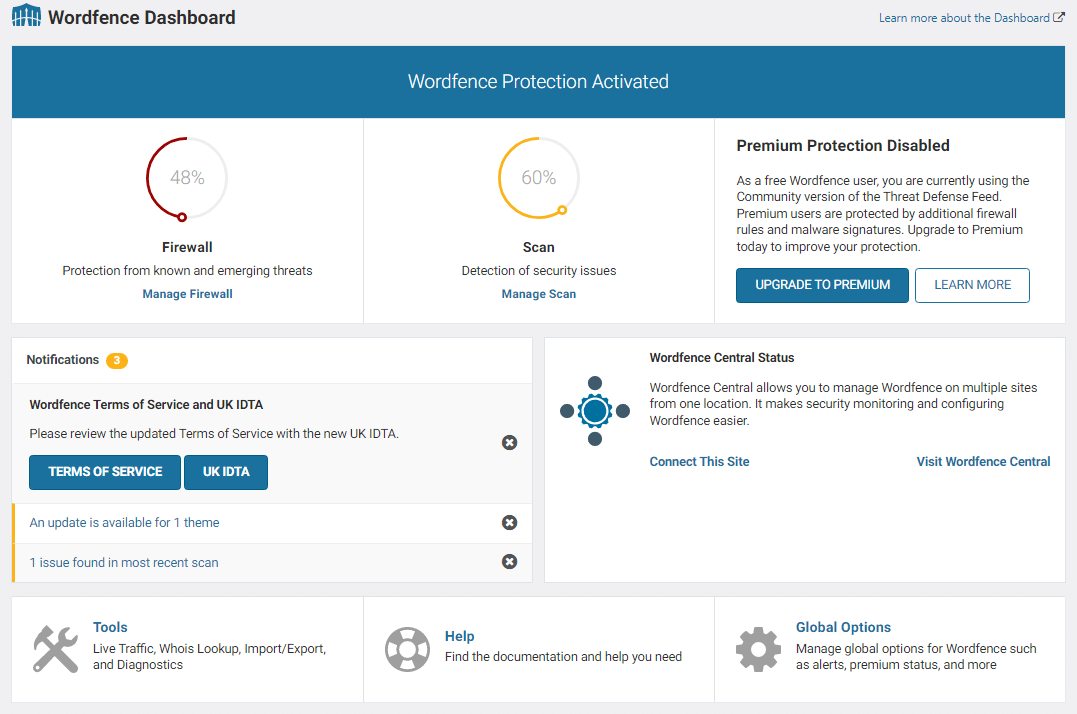 Winner: iThemes Security PRO
iThemes Security PRO VS Wordfence Premium: Pricing
Both iThemes Security and Wordfence come with FREE and PRO (Premium) versions.
iThemes Security PRO Pricing
iThemes Security PRO is the premium version that includes all advanced security features.
iThemes Security PRO comes with three plans, namely Basic, Plus, and Agency.
| Aspects | Basic Plan | Plus Plan | Agency Plan |
| --- | --- | --- | --- |
| Price | $80/Year | $127/Year | $199/Year |
| License for Site | 1 | 10 | Unlimited |
| Customer Support | ✔️ | ✔️ | ✔️ |
| Plugin Updates | ✔️ | ✔️ | ✔️ |
iThemes Security PRO Plans
Wordfence pricing plans work a little bit differently, a license for 1 website costs $119 per year. But if you purchase more licenses, the more discount you get.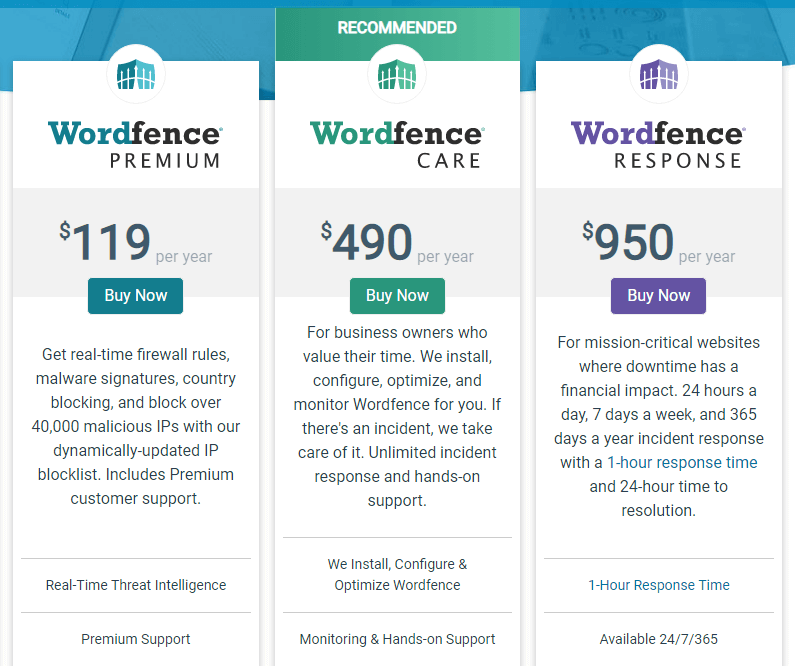 Winner: iThemes Security PRO
Pros and Cons Differences
This section gives you a quick and clear idea of both WordPress security plugins.
Pros and Cons of iThemes Security PRO
Let's take a look at the upsides and downsides of iThemes Security PRO.
Pros and Cons of Wordfence
Wordfence has the following advantages and disadvantages.
iThemes Security VS Wordfence Conclusion
iThemes Security and Wordfence are the top WordPress security plugins that have been activated on millions of websites.
We recommend iThemes Security PRO for small to medium-sized businesses as it has all the essential plus advanced security features.
However, if you're looking for end-point WAF and malware cleaning, then you should use the Wordfence plugin.
I hope this iThemes Security PRO VS Wordfence comparison has helped you select the perfect WordPress security plugin for your dream WordPress website.