Want to know whether Minecraft-Hosting.Pro is the right option for you or not? then this Minecraft-Hosting.Pro review is exclusively for you.
Let's get started.
Picking the best Minecraft server host can be tricky because there are lots to choose from. Getting the right one can enhance your gaming experience, but picking the wrong one can disappoint you. So make sure to look and choose carefully.
A really popular choice is Minecraft-Hosting.Pro. We'll check it out in our review to see if it's right for you.
Minecraft-Hosting.Pro Review
Our detailed Minecraft-Hosting.Pro review covers the most important aspects such as performance, security, customer support, ease of use, and pricing plans. We have tested their service and finally crafted this review.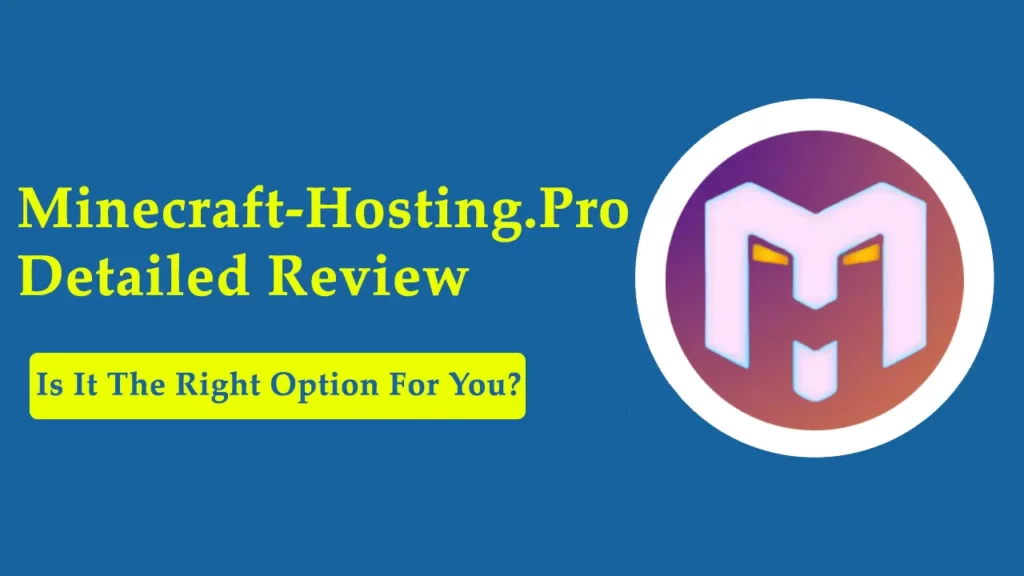 About Minecraft-Hosting.Pro
Founded in 2012, Minecraft-Hosting.Pro is a popular place for Minecraft players to have their own game servers. Since 2015, they have hosted over 150,000 Minecraft servers.
Their Minecraft hosting service has everything you need, like DDoS protection, automatic backups, instant setup, web FTP, and more.
The company uses the latest hardware technology and has data centers in North America, Australia, and Europe.
Performance and Reliability
Smooth gameplay requires better performance and reliability. Better performance is dependent on several factors like server locations, hardware technology, server resources, and more, while uptime is dependent on server technology.
Minecraft-Hosting.Pro has data centers in the United States, France, and Australia. Choosing a server location closer to where your gamers live will reduce latency and improve the gameplay experience.
Minecraft-Hosting.Pro uses the latest hardware technologies, like AMD Ryzen CPUs with high clock speeds and NVMe SSD storage. Additionally, their machines are always kept at 60% charge with enough available power to avoid overloads.
Minecraft-Hosting.Pro offers 99.9% uptime for all game servers, monitored by server status.
According to their Server Status, they have delivered 100% uptime for the last 7 days, which is great.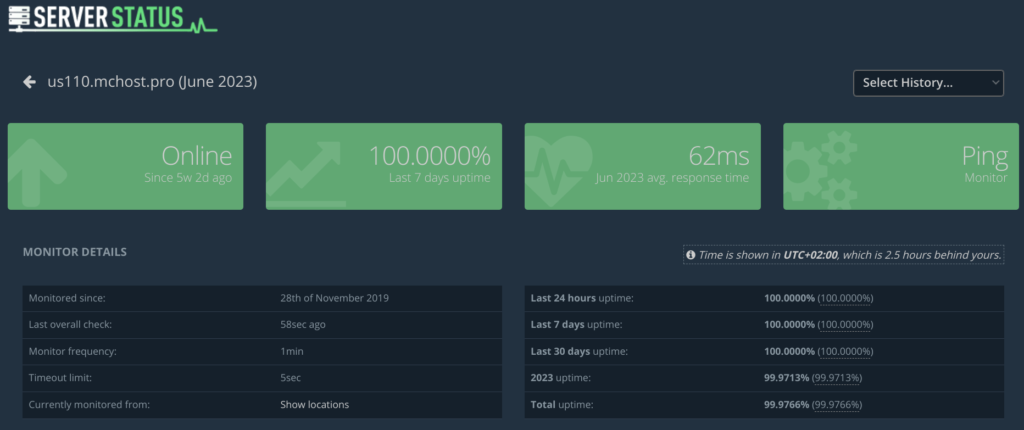 According to a study of attitudes from 10,000 gamers worldwide, 89% of gamers want game developers to pay more attention to cybersecurity issues. Hence, it's crucial to pick up a secure Minecraft server host.
When it comes to Minecraft-Hosting.Pro, it takes care of the security.
DDoS attacks are the most common attacks in the game industry. They disturb your legitimate players by overwhelming your server with a flood of internet traffic.
Thanks to Minecraft-Hosting.Pro's DDoS protection feature, it keeps your game server safe and secure.
Within the control panel, you can set it up to take backups automatically as well as manually, which are stored for seven days. You can also restore your game world to any backup point.
Minecraft-Hosting.Pro offers seven different plans that work best for different users, from those looking for a free plan to those running large communities.
The following table shows all the Minecraft-Hosting.Pro plans.
| Plans | Price | RAM | CPU Core | Players |
| --- | --- | --- | --- | --- |
| Freeman | Free | 3GB | 1 | 4 |
| Iron | $6.75/Mo | 3GB | 2 | Unlimited |
| Prime | $9/Mo | 4GB | 3 | Unlimited |
| Ultron | $13.5/Mo | 6GB | 3 | Unlimited |
| Lara | $18/Mo | 8GB | 4 | Unlimited |
| Orion | $22/Mo | 14GB | 4 | Unlimited |
| Thanos | $36/Mo | 20GB | 4 | Unlimited |
The Orion plan is ideal for those running vanilla PaperMC or Spigot, while the Thanos plan is perfect for larger community servers.
Minecraft-Hosting.Pro offers 24/7 customer support via ticket communication channel. Their support representatives are knowledgeable and helpful and respond within 48 hours.
However, they don't offer live chat or phone support, which is not good for those who need immediate assistance and a more personal touch.
Their control panel is user-friendly and straightforward, allowing you to easily manage your Minecraft server and perform administrative-level tasks. However, if you find the control panel unappealing, you can use the Live Web Console (a built-in tool) instead to manage most aspects.
The Live Web Console allows you to run commands remotely, monitor the status of your server, configure mods, debug plugins, and perform other tasks.
Additionally, you can install the most popular mods and plugins with just a single click. You can also set up various server types and custom maps quickly and easily. However, if you can't install the ones with 1-click, you can upload them via their own web FTP or a FTP client like Filezilla.
Here are some important features mentioned that will help you know what it has to offer.
Read out the pros and cons to understand its service's overall quality.
Minecraft-Hosting.Pro Review: Conclusion
Minecraft-Hosting.Pro is a good option for those looking for reliable, secure, and cost-effective Minecraft server hosting. They offer a free plan that lets you test their service before subscribing to a paid plan.
However, the lack of live chat and phone support is a drawback for those who need immediate assistance.
I hope you found our Minecraft Hosting Pro review helpful.
Read More: What is Minecraft Server Hosting?