Are you confused about the perfect WordPress security plugin for your website? then this iThemes Security VS Sucuri comparison is exclusively for you.
Let's get started.
WordPress is the most popular CMS, which has powered over 40% of all websites. This makes it a popular target for attackers, which results in thousands of attacks taking place every minute on WordPress websites. Hence, website owners must protect their WordPress websites by following best security practices.
Website owners must install the best WordPress security plugin to implement the best security practices. This way, they can minimize the risk of attacks and vulnerabilities.
iThemes Security and Sucuri are the excellent WordPress security plugins available. Both plugins aim to keep your WordPress website safe and secure.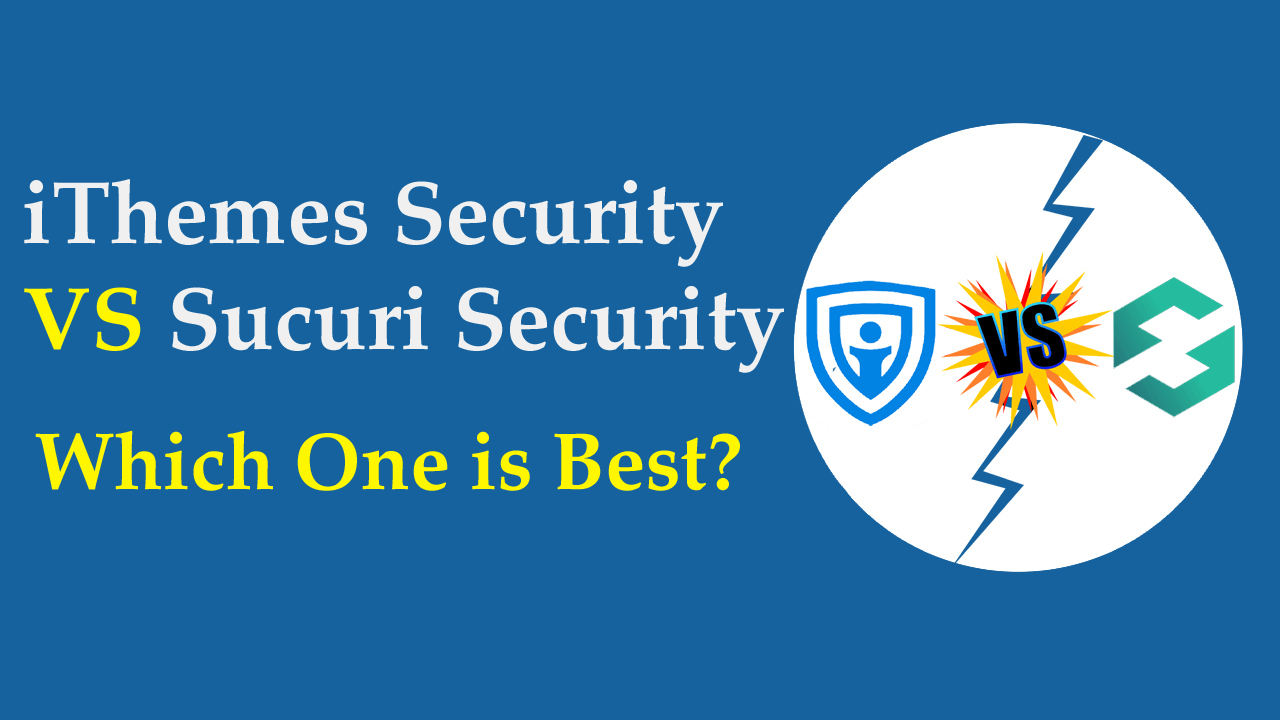 We tested both WordPress security plugins for a couple of weeks to find out how they work and protect our website from online threats and attacks.
Our iThemes Security VS Sucuri comparison is organized into the following categories.
Features
Ease of Use
Plans Pricing
By the end, you'll be able to select the right WordPress security plugin for your WordPress website.
Before jumping into the detailed iThemes Security VS Sucuri comparison, it's better to get a brief introduction to them.
An Overview of iThemes Security
iThemes Security is an excellent WordPress security plugin that can tackle over 40 types of vulnerabilities. It protects your WordPress website using 30+ ways, which is quite impressive.
iThemes Security locks out users after too many failed login attempts in a specified amount of time. You can also enable other best security features including 2FA, file change detection, reCAPTCHA, and trusted devices to improve your website security.
As an administrator, you can lock out the WordPress dashboard for a specific time when you know you won't be online like you're going on a vacation.
iThemes Security has a user-friendly security dashboard, which even non-tech savvy can easily use and configure.
Sucuri is another top security company that prevents attackers from breaking into your website. It has two main products namely the Sucuri Security plugin and Sucuri Firewall.
The Sucuri Security plugin has an improved malware scanner and allows you to integrate with a cloud-based firewall.
Sucuri WAF (Web Application Firewall) stops bad traffic from accessing your website while allowing legitimate users.
The Sucuri Security plugin has an easy-to-use interface, making it easier to configure and set up the plugin in little time.
iThemes Security VS Sucuri: Features
Both iThemes Security and Sucuri have numerous useful features that improve your overall website security.
iThemes Security Features
iThemes Security offers more than 30 helpful features.
Local Brute Force Protection: iThemes Security locks out a user after the specified number of failed login attempts in the defined time period.
Network Brute Force Protection: This blocks all known malicious IP addresses from getting access to your website (as they've tried to get into websites installed iThemes Security plugin).
Read More: How to Prevent Brute Force Attacks on WordPress Site?
Database Backup: The plugin allows you to schedule or perform an on-demand backup of your website's database.
File Change Detection: It keeps you informed about your website's file changes via email alerts.
2-Factor Authentication: This Enhances your website security by requiring an additional OTP (One-Time-Password) code sent to your mobile device when you log into your website.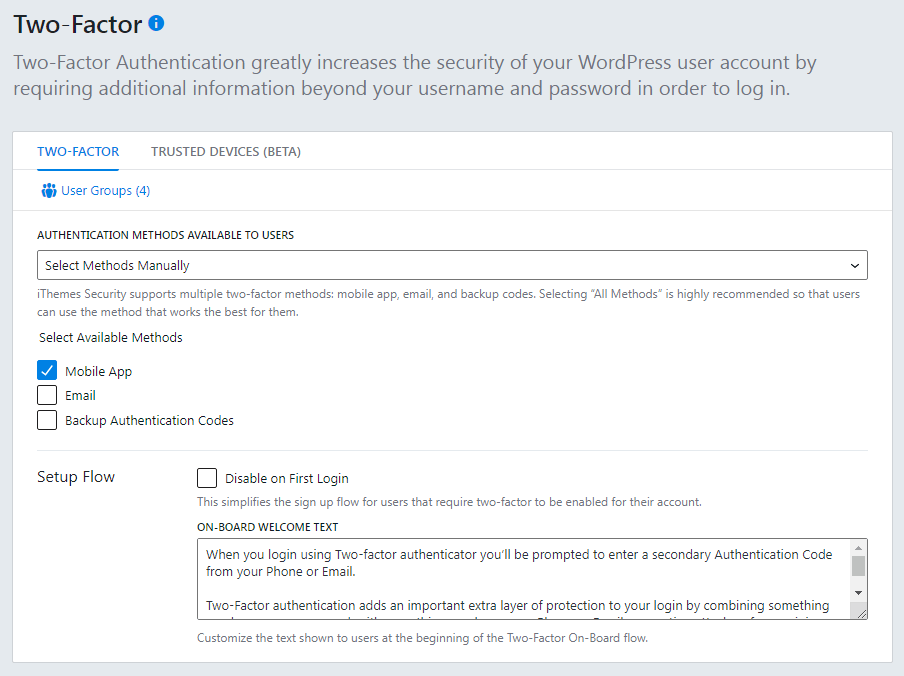 Hide WordPress Login Page: IThemes Security lets you

mask the WordPress login page

by changing its URL slug and redirect users who try to access the wp-admin page while not logged in.
Block Users: This feature enables you to manually block malicious IP addresses from reaching your website.
Site Scan Scheduling: It automatically scans your website twice daily and alerts you if any problem is detected.
Security Check Pro: This enables you to audit critical elements of users' security like 2FA, password age, password strength, and user role as well as displays active WordPress sessions, and the last time active.
Enforce SSL: It will redirect users to the HTTPS version when they load your old, non-secure web address (HTTP version).
User Groups: The WordPress security plugin lets you create user groups like admins, editors, contributors, authors, and subscribers for which you can then set specific rules.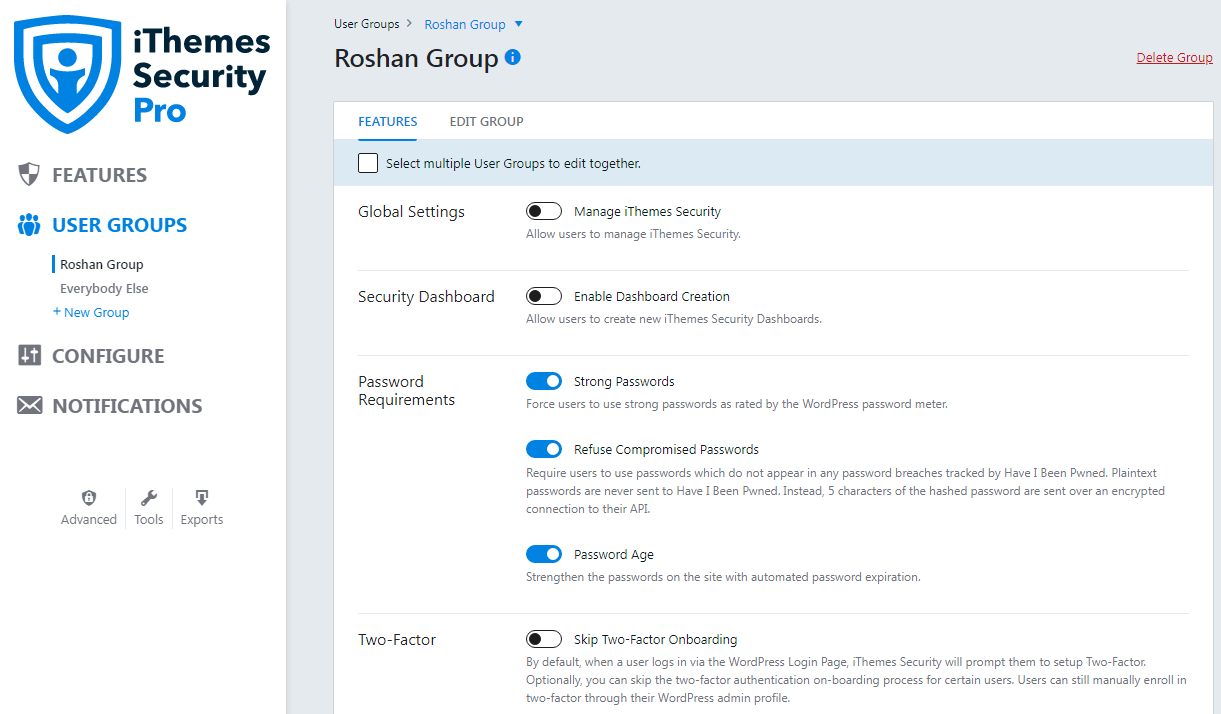 Strong Password Enforcement: iThemes Security allows website owners to enforce users to use strong passwords.
Refuse Leaked Passwords: This prevents the use of leaked passwords found in data breaches.
Password Age: It aids you to set up a password age after that the password will be expired.
Protect System Files: iThemes Security allows you to prevent public access to important files such as install.php, wp-config.php, wp-includes, .htaccess, readme.txt, and readme.html as they can give critical information that attackers may need.
Disable Directory Browsing: It stops showing important information to attackers which can be used to exploit vulnerabilities in your installed theme and plugins.
XML-RPC Protection: Helps you to easily

disable or enable XML-RPC in WordPress

as well as disable pingbacks.
Passwordless Logins: This makes it easier to directly log into your WordPress website via a secure link sent to your email address, without entering the password.
Magic Link Login: If your username has been locked out (brute force attacks happened with your username), you can bypass the lockout of your username by iThemes Security Brute Force Protection Network through magic link login.
Biometric Login With Passkey: You can enable biometric logins such as touch ID, face ID, and Windows Hello on your dream WordPress website for superior security.
Trusted Device: This identifies devices used to sign into your website to protect your WordPress account from being accessed by hackers if they manage to steal a user's session ID.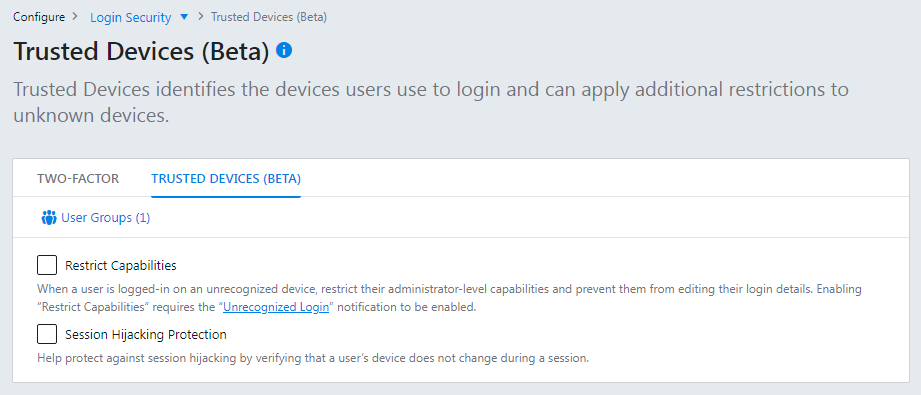 Temporary Privilege Escalation: It assists you to easily grant admin access to users for a specified amount of time in a secure way.
reCAPTCHA: Enabling reCAPTCHA on the WordPress login page, registration page, password reset box, and comments will stop bots from engaging in abusive activities on your website.
Change Database Table Prefix: The plugin allows you to change the default database table prefix (wp) to improve security.
Change WordPress Salts: You can change WordPress salts however it is not necessary but doing periodically can harden your website security.
Version Management: It Automatically updates the WordPress core, theme, and plugins on your website.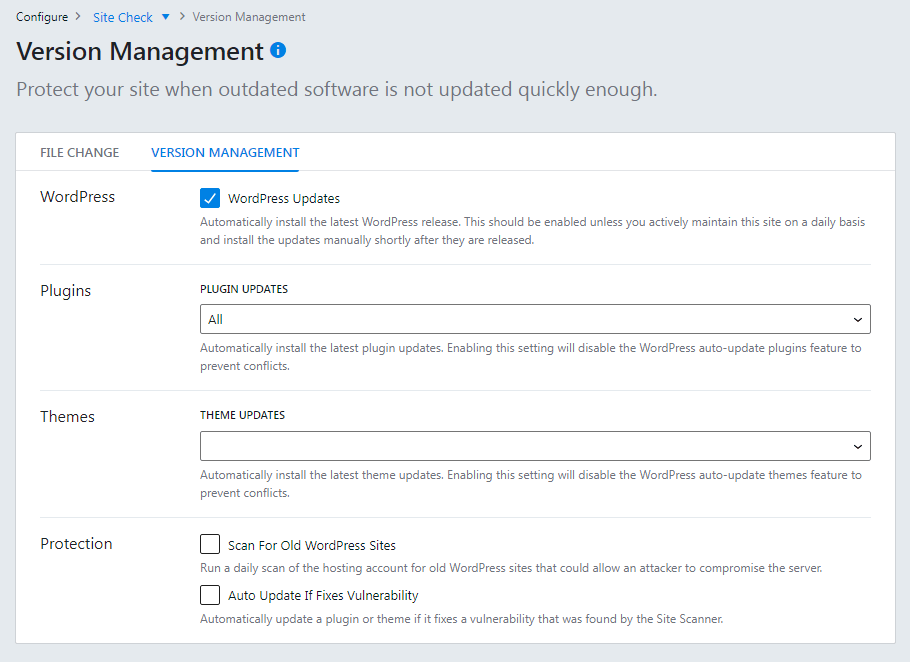 Away Mode: You can lock out the WordPress dashboard for a certain period of time.
Security Log: It keeps records of important events including logins, failed login attempts, user creation, site scans, user activity, file changes, adding & removing plugins, and switching themes.
Notification Center: It allows you to configure notification-related settings accordingly.
Import/Export Settings: iThemes Security lets you Import and export its settings, which saves you time and stress.
Sucuri offers the following security features.
WordPress Hardening: Security hardening options are preventative measures to improve your website's overall security like verifying the WordPress version, blocking specific PHP files, disabling plugin & theme editors, and more.
Malware Scanning: Sucuri scanning engine is fast and lightweight, which scans your entire website daily however you can change frequency to meet your requirements. Sucuri's remote scanner, Sitecheck is constantly updated to address the spread of malicious content, website errors, blocklisted status, and out-of-date software.
Core Integrity Check: It checks the integrity of your core WordPress files that come with the original WordPress version. It'll alert you if it finds any compromised core files, you can then take appropriate action: either replace the compromised files with the original ones or mark them as false positives.
Sucuri Firewall Integration: You can connect Sucuri's WAF with the plugin, which blocks all attacks before they reach your web hosting server like brute force attacks, DDoS attacks, SQL injection attempts, backdoors, XSS, RFI, and many others.

Site Audit Logs: It keeps records of important events on your website like last logins, failed login attempts, new users, new posts, file changes, plugin activation, and more.
Post-Hack: If your website has been compromised, this feature helps you clean up your website by resetting user password, generating new secret keys, reinstalling installed plugins, and updating plugins and theme.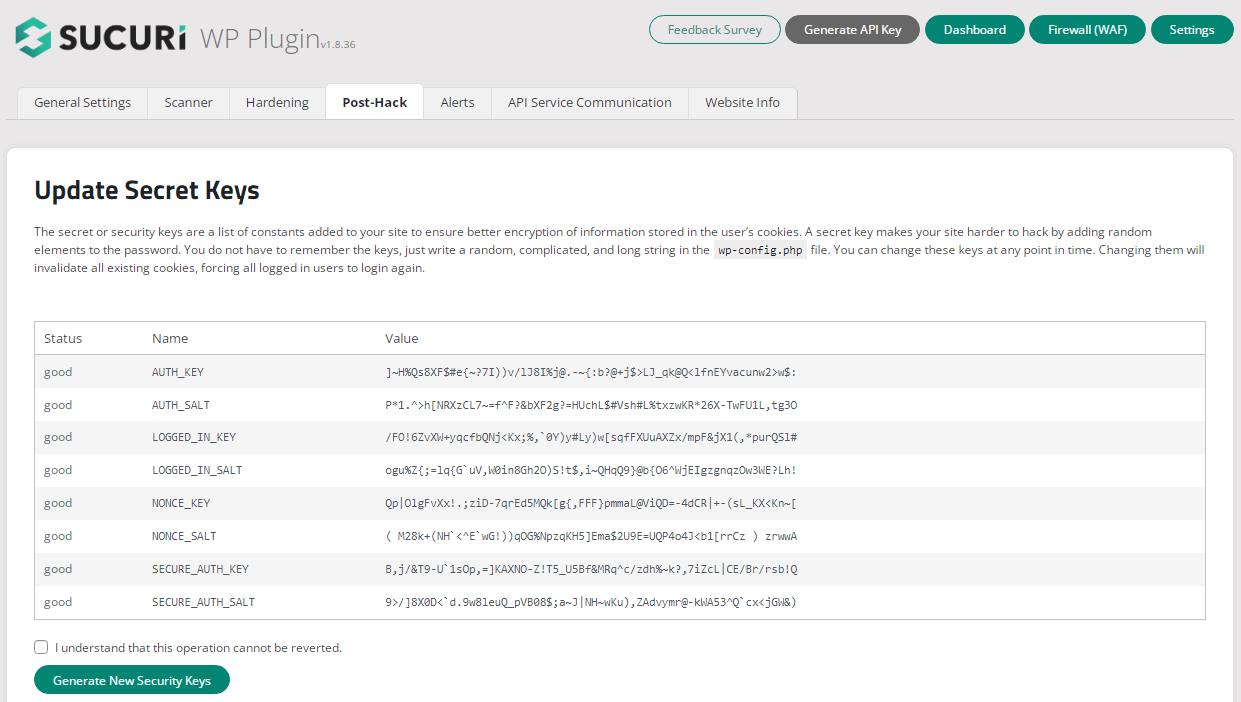 Email Alerts: Sucuri will send you email alerts about suspicious activities observed on your website, you can then take appropriate action to harden the security.
Winner: iThemes Security
iThemes Security VS Sucuri: Ease of Use
Website security is a little bit technical field. Thus, our second iThemes Security VS Sucuri comparison category is the ease of use.
iThemes Security: Ease of Use
iThemes Security is simple to use. Users can easily enable the best security features with just a single click.
Once you install the plugin, you'll be redirected to a wizard that aids you to configure the settings and familiarize yourself with the iThemes Security dashboard.
iThemes Security automates most features, so you can configure them at once and then forget forever.
iThemes Security dashboard is beginner-friendly, making it easier to protect your WordPress website from online threats in little time.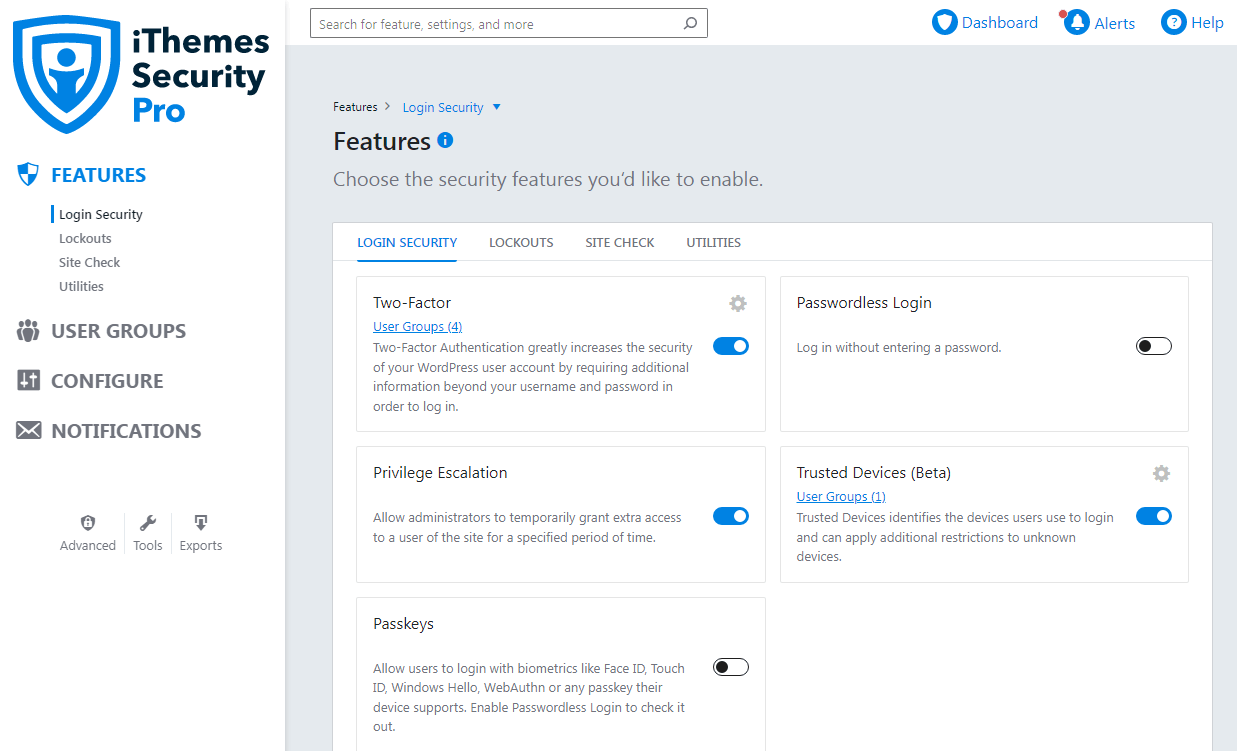 The Sucuri security plugin is also easy to use. You can enable the Hardening Options with just a single click.
After installing the plugin, it will ask you to generate its free API key to connect with Sucuri Cloud, which you can do from your WordPress dashboard.
Navigate to Sucuri Security > Dashboard from the WordPress menu, there you get the results of the malware scan, which automatically starts after the plugin activation.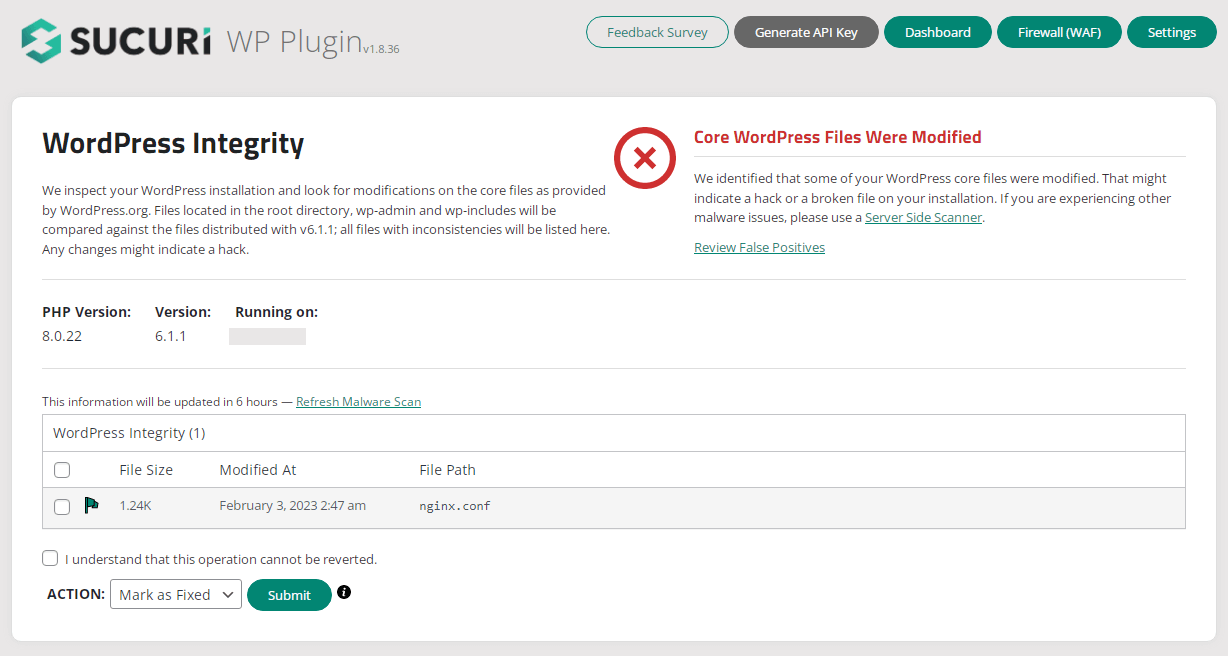 Sucuri's WAF is cloud-based, which means it doesn't run on your web hosting server and no technical maintenance is required on your end.
Overall, Sucuri is simple to use and easy to configure.
Winner: Fifty-Fifty
iThemes Security VS Sucuri: Pricing
Both security plugins provide free and premium versions. The free version includes basic features while the premium version includes advanced features.
iThemes Security PRO Pricing
iThemes Security PRO comes with three pricing tiers: Basic, Plus, and Agency. The Basic plan starts at $80 per year for one website with all the premium features.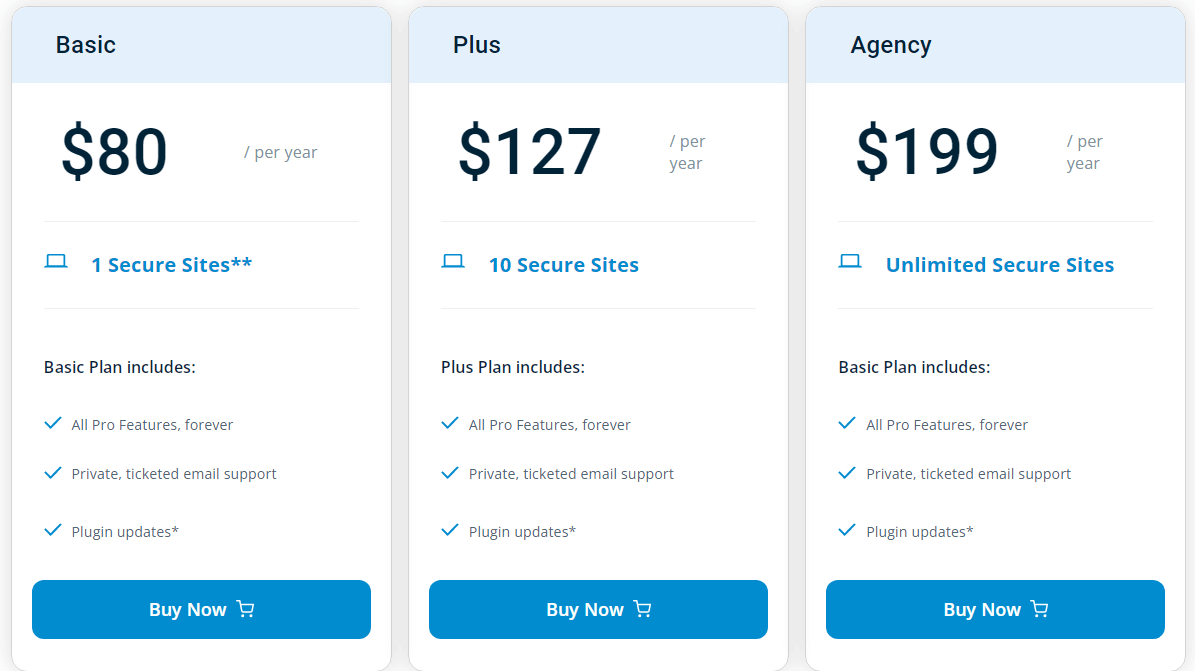 The bigger plan and longer the billing cycle you choose, the more discount you get.
Sucuri offers three pricing plans: Basic, Pro, and Business. The Basic plan charges $199 per year for one website with unlimited malware and hack removal, an unlimited number of web pages check, WAF, and more.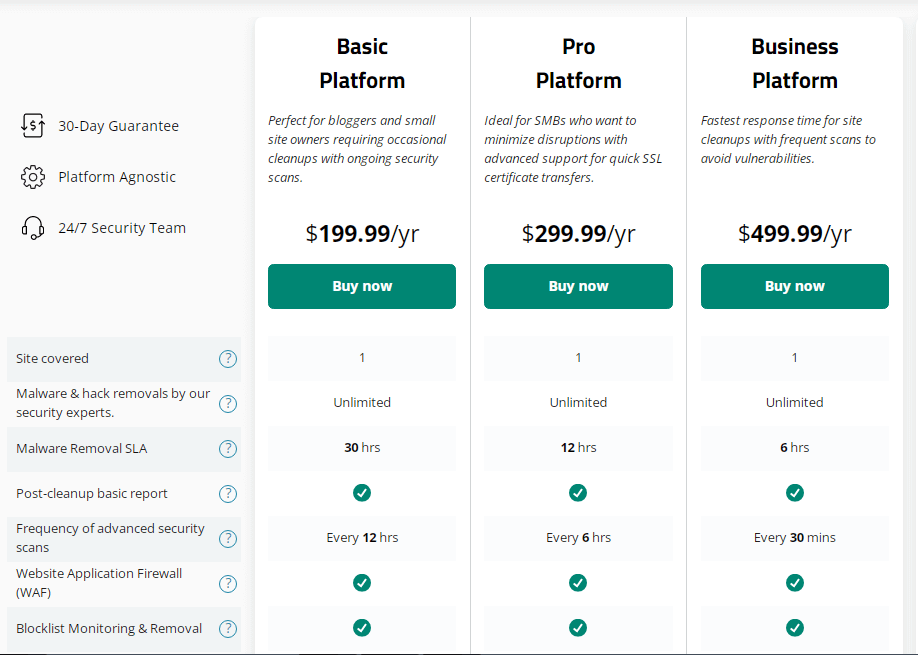 Additionally, Sucuri offers two separate WAF (with CDN) plans namely, Basic Firewall and Pro Firewall.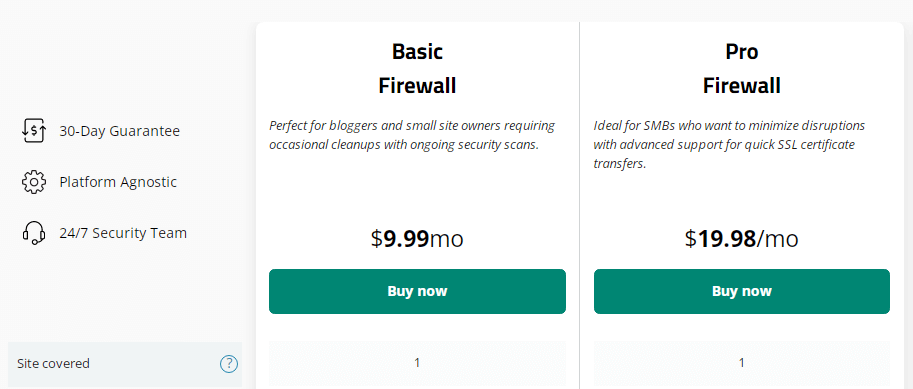 Winner: iThemes Security PRO
Pros and Cons Differences
Let's take a look at their advantages and disadvantages.
Pros and Cons of iThemes Security
iThemes Security VS Sucuri: Conclusion
iThemes Security and Sucuri are the top WordPress security plugins available. You should choose one of them as per your requirements.
If you want to use a comprehensive WordPress security plugin that includes essential plus advanced features, then you should go with iThemes Security.
However, if you want to install a WordPress security plugin that features cloud-based WAF and malware detection & removal, then you should opt for Sucuri Security plugin.
I hope you've found helpful our Sucuri VS iThemes Security comparison. If you want to explore other WordPress security plugins, then read our iThemes Security VS Wordfence comparison.