If you are one of those that looking for the Interserver web hosting review, then this review is specially for you.
Do you know what is web hosting? – Web hosting is the online space to store the website's content files and make them visible to internet users. In the simple term, to live a website on the WWW (World Wide Web), you need to purchase web hosting to house your website files. The website's content files are stored on special computers called Servers.
The shared, WordPress, WooCommerce, cloud, VPS, and dedicated hosting are the major types of web hosting.
A web host or hosting provider is a business company that offers website hosting services. Currently, there're hundreds of web hosts including, Bluehost, Interserver, Nexcess, HostGator, Hostinger, and Namecheap.
Keep in mind that you should analyze each web host before purchasing any hosting plan from it. That's why RealBSG publishes web hosting reviews to aids webmasters to find out the ideal hosting provider that suits their budget and needs.
.Now let's come to Interserver web hosting review.
Interserver is the hosting provider that has 2 decades of experience in hosting services. So let's read this review to find out is it the right web host for you or not.
Interserver Discount Coupon Code
RealBSG is partnered with Interserver. Therefore, Interserver offers our viewers a special discount offer. You just need to click the below button and apply the TRYINTERSERVER coupon code at checkout.
Unbiased Interserver Web Hosting Review
This review will let you know about Interserver's performance, customer support, plans & pricing, features, pros & cons, and much more that you need to know about.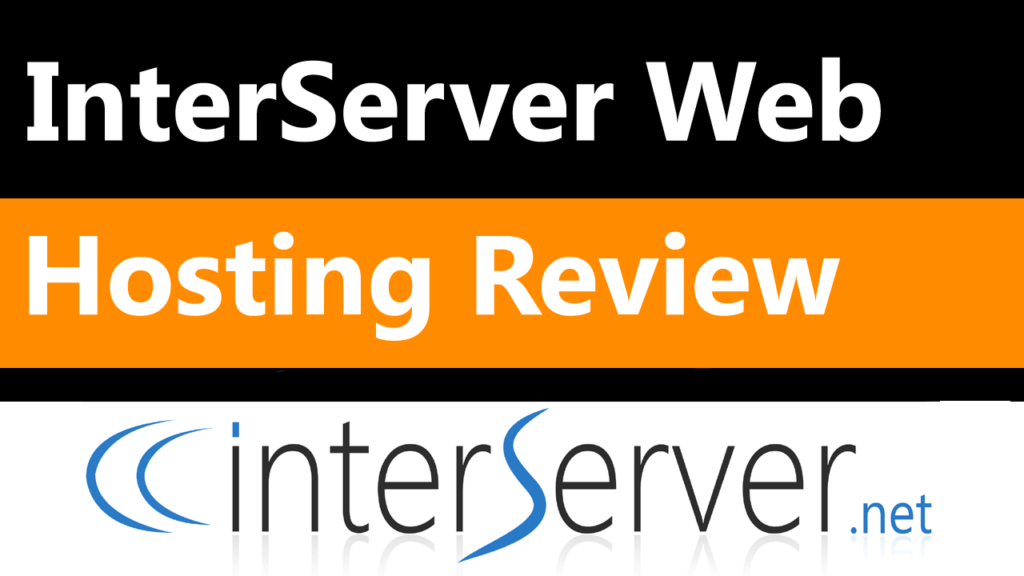 First things first. So let's talk about Interserver at a glance.
What is Interserver?
Interserver is the oldest and reliable web hosting brand that has experience of 22 years, founded in 1999. It focuses on shared hosting, cloud hosting, VPS, dedicated hosting, reseller hosting, colocation services, and many more.
Interserver hosts 174325+ websites around the earth planet and it has 20376 servers.
The web hosting company supports popular CMSs (Content Management Systems) including WordPress Joomla, Magento, Drupal, Mambo, and Prestashop.
Its data centers are 5 which are located in the US, 4 data centers in Secaucus, and another one in Los Angles.
They claim that 70% of their clients are migrators and provide 24/7 customer support.
Interserver Hosting Plans Pricing
Choosing the right hosting plan is what matters because each hosting plan doesn't work best for everyone. That's why Interserver offers the following hosting plans for different clients.
#1. Standard Web Hosting
The standard web hosting of Interserver (also called the shared hosting) costs you $2.50/mo for the first term and renews at $7/mo.
You get unlimited SSD storage, unmetered bandwidth, Intershield protection, free SSL certificates, 461 cloud apps, SitePad (Website Builder), unlimited email addresses, money-back guarantee of 30 days, global content caching, free website migration, weekly backups, Cloudflare CDN, Inter-Proxy Caching, etc.
#2. Window ASP.NET Hosting
Most (shared) web hosting plans use the Linux operating system which is very popular and cheapest in the industry. But the window hosting uses Windows operating systems and technologies which is better in some cases than Linux hosting. Window hosting is more expensive than Linux hosting.
Interserver offers the Window ASP.NET hosting option for windows-based servers fans.
The Interserver Window ASP.NET hosting charges you $8/mo for installing 25 websites paired with 10 parked domains, unlimited subdomains, free SSL, unlimited storage, unlimited email accounts, free site migration, Intershield protection. global content caching and much more.
#3. Reseller Hosting
If you want to get started with your own web hosting firm, then you need reseller hosting. Reseller hosting is the process of renting storage and bandwidth from a hosting provider, and then the firm's owner (who rented the storage and bandwidth) sells these hosting services to 3rd parties (bloggers, individuals, etc) at a profit. That's how reseller hosting adds more resources to the income of the firm's owner.
The Interserver reseller hosting enables you to create cPanel login for each client or site. The clients will get all the features included in Interserver standard web hosting. The reseller hosting owner can manage and control all customers' hosting accounts with ease.
The reseller hosting plans are 5: RS ONE, RS TWO, RS THREE, RS FOUR, RS FIVE
RS ONE: You get 80 GB disk space, and 500 GB monthly bandwidth for only $19.95 a month.
RS TWO: The plan supports 120 GB disk space, and 700 GB bandwidth per month and costs you $29.95 per month.
RS THREE: The package includes 160 GB disk space and 1000 GB bandwidth/month for $39.95/mo.
RS FOUR: The pack enables you 200 GB disk space and 1300 GB monthly bandwidth for $49.95/mo.
RS FIVE: The plan receives you 280 GB disk space and 2000 GB monthly bandwidth for $69.95 a month.
Quick Note: All plans include unlimited accounts (of customers), all Interserver hosting features, hosting unlimited domains, a one-click script, each customer will get a cPanel login (direct admin), and no setup fee. The plans differ in the amount of disk space and bandwidth.
#4. Cloud VPS
VPS (Virtual Private Server) is the hosting type where you get more control over your hosting account and dedicated resources. VPS hosting is the best option for medium-sized businesses and medium-level traffics.
The cloud VPS hosting of Interserver starts at $6/mo which is an affordable solution in the market. Its starter plan receives you 1 CPU core, 30 GB SSD storage, 2 TB bandwidth plus 2048 MB memory.
They give you root access (allows you to install OS and control panel without permission of Interserver), ultra-fast loading speed, private resources, self-healing hardware, better collaboration, advanced security, 99.9% uptime guarantee, remote backup service, managed support, easy provisioning, and so on.
In addition, they offer three control panels such as Direct Admin, cPanel, and Plesk.
Keep in mind that there is no money-back guarantee and free trial for VPS plans. You're allowed to pay on monthly basis, and you can cancel your plan anytime.
#5. Dedicated Servers
Want to get full control over your server to host your websites or applications, then you should enjoy the dedicated servers.
Enterprise businesses and websites should use dedicated servers because they need more power and resources to handle high traffic and grow smoothly.
The Interserver dedicated servers offer numerous features that boost flexibility and performance including SSD storage, hardware RAID, more RAM, etc.
The dedicated servers of Interserver enable you managed support, DDoS protection, Remote Reboots, 150 TB transfer, no setup fees, 24/7 uptime monitoring, Remote KVM. 4 hours provisioning, IPMI or ILO access, data migration, remote operating systems (OS) reinstall, and much more.
The Interserver dedicated hosting plans start at $67/mo that allows 150TB transfer, IPMI console, DDoS Protection, 6 Cores Single CPU, 64GB Memory, (2)HDD or (2)SSD or (2)NVMe.
The more dedicated resources you get, the more power and flexibility your website or application will get. That's why you should choose the dedicated server plan with needs and budget in mind.
#6. WordPress Hosting
If you want to get online a WordPress website, you should purchase WordPress hosting plan because it comes with WordPress-specific features.
In addition to dedicated hosting, they offer a reliable WordPress hosting solution powered on Interserver's VPS Cloud.
The basic plan of Interserver WordPress hosting costs you $6/mo where you gain 30 GB storage plus 1 CPU core, 2 TB transfer, and 2048 MB memory.
Its WordPress VPS hosting plans come with SSD disk space (ranging from 30 GB to 240 GB). And it claims 20 times faster speed than standard SATA (Serial Advanced Technology Attachment) disk drives.
With WordPress hosting, you get features such as root access, 99.9% uptime guarantee, free site migration with little (or zero) downtime, instant provisioning, support for multiple language servers, an easy control panel, and more.
Features of Interserver Web Hosting
Here's the list of general yet important features of Interserver shared hosting.
#1. Unlimited Storage, Websites, Bandwidth, Email Accounts
The best part of Interserver standard shared hosting is that you get unlimited in terms of ULTRA SSD storage, bandwidth, websites to host, and email addresses for an affordable price ($2.50/mo).
In the simple term, there's no limit to your plan's several features such as websites (to take live), SSD storage (to publish more content), bandwidth (to send unlimited data to users when they need it), email accounts (to create your brand-specific email addresses).
#2. Intershield Protection
Intershield is the in-house developed system that blocks web attacks, scans for viruses, detects malware, and more to safeguard your site.
#3. SitePad Website Builder
SitePad is the Website Builder of Interserver which comes with standard web hosting free of cost. This website builder includes more than 354 themes, 40+ widgets, and responsive designs to add to your site.
The SitePad Website Builder is excellent for those people who don't have any coding knowledge like you. It enables you the drag-and-drop functionality that makes your website compatible with all screen sizes.
#4. Global Content Caching
One of the ways to speed up your website is Caching Proxy. Caching Proxy is the process of storing a website's content pages on local proxy servers to load faster to visitors, lower bandwidth usage, and minimize data downloading. It meant caching improves your website performance.
Fortunately, Interserver uses a caching technique called Inter-Proxy Caching which reduces your website access time.
#5. 450+ Cloud Apps
There're 461 cloud apps that are available for 1-click installation including popular blogs, CMSs, eCommerce, forums, social networking apps.
#6. Free Website Migration
As you know that beginners want to publish new websites but there're some clients that have established sites. If the established sites' owners want to migrate over to Interserver, the platform has a free migration service for them. Their experts will aid you to transfer your website onto your Interserver account.
Also, Interserver claims that 70% of its clients are transferred from other hosting providers.
#7. Free SSL Certificates
Interserver is one of those hosting providers that offer Secure Sockets Layer certificates free of charge.
Do you know what happens If your website doesn't have an SSL certificate? Google will warn your audience that your site is not secure and as a result, your website will lose traffic and the audience's trust. In addition to that, your website can be hacked.
#8. 30-Day Money Back Guarantee
Don't worry if you purchased the Interserver standard web hosting plan and you're not satisfied. Interserver offers 30-day money-back guarantee for standard web hosting.
Keep in mind that domain registration fees, VPS, and dedicated servers aren't refundable. The refund policy is only valid for standard web hosting.
#9. Free Inter-Insurance
If your website (hosted on Interserver ) is hacked or infected, their free Inter-Insurance feature comes in handy. Their experts will investigate the situation that why the problem occurred, try to solve the problem and restore the website to its original state. And also it tries to prevent repeat attacks.
#10. Easy To Use Control Panel
Control Panel is a web-based interface that lets you manage and build your successful website according to your needs and wants.
Like most reliable web hosts, Interserver enables you standard industry cPanel that is beginner-friendly.
#11. Weekly Backups
The Interserver web hosting includes free WEEKLY backups that will be stored on a remote server. But If you update your website on daily basis, then this option is not too good and you need DAILY backups.
#12. Customer Support
You can contact them anytime as they offer 24 hours a day and 7 days a week customer support. You can reach them through live chat, phone calls, emails, and Facebook chat.
Why Choose Interserver Web Hosting? (3 REASONS)
Are you still confused? take a look at the reasons.
#1. Superior Security
Interserver web hosting provides website security-specific features to keep your website away from hackers.
The SSL certificate is included for free.
The hosting provider takes WEEKLY backups to store your website content.
The CloufFlare CDN is available to integrate with your website to prevent DDoS attacks.
InterShield and Inter-Insurance are systems of Interserver to keep safeguard your website.
PRO TIP FOR WEBSITE SECURITY: For more website security, you need the iTheme Security PRO plugin which comes with advanced security features. The plugin allows you to change your website login URL, stop brute force attacks, block the attackers' IPs, access your website from whitelist IPs, and more essential setting.
#2. Better Performance
For your website, Interserver gives you a 99.9% uptime guarantee (your website may be or not experience 43.83 minutes of downtime per month).
You can find out the Interserver uptime guarantee at HRANK as I found a 99.917% uptime guarantee.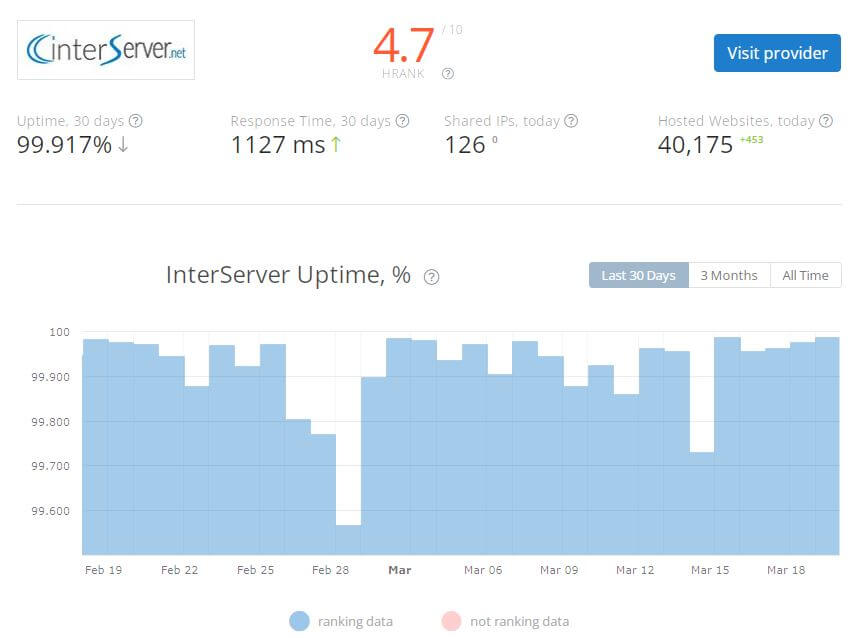 The hosting provider gives your website fast loading speed by using the following technologies.
Interserver is partnered with Cloudflare Content Delivery Network to cache your website content to load faster to every visitor.
They use SSD (Solid State Drives) disk space which is better and faster than HDD (Hard Drive Disk).
They use Litespeed web services.
#3. Unlimited Resource
What do you get unlimited with Interserver web hosting?
Unlimited websites to get live
Unlimited SSD storage to publish much content
Unlimited bandwidth to utilize
Unlimited email addresses to repute your website as a brand
Unlimited customer support to solve your problems
much more!
Why Avoid Interserver Web Hosting? (3 REASONS)
As you know that everything has upsides and downsides. Also, there're some downsides of Interserver web hosting.
#1. US-based Datacenters
All data centers are located in the US (Secaucus and Los Angles) which is not good for those websites that target other countries' residences (except the residences of US).
By contrast, it's an excellent option for those websites that target the audience of US because the website will load faster.
#2. Poor Live Chat Support
Their live chat support isn't good because sometimes you have to wait up to 1 hour in queue and I experienced it. But the experts are knowledgeable and behave like a friend.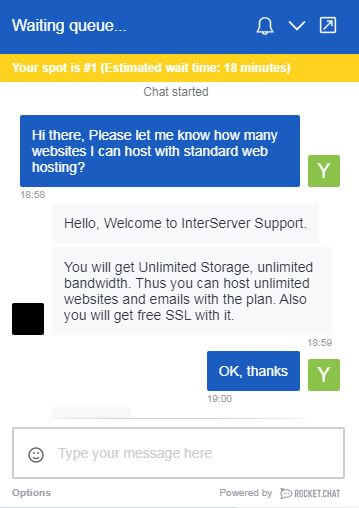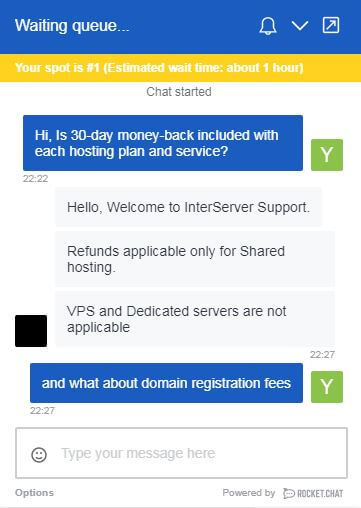 #3. No Free Domain Name
Some reliable web hosts like InMotion Hosting offer you a free domain. But Interserver doesn't provide you with 12 free domain registration.
Read More: How to Register .COM Domain for $5.98 for Entire Year?
Pros and Cons of Interserver Web Hosting
Conclusion of Interserver Web Hosting Review
Interserver is one of the reliable hosting providers in the market that come with rich-featured plans.
It offers you 99.9% reliability, weekly backups, advanced security, faster speed, free SSL, unlimited websites with unlimited storage, unmetered bandwidth, a ton of email accounts, and much more useful features for only $2.50/mo.
Although we recommend you to host your website on Interserver, you are backed by the money-back guarantee of 30-day.