Hosting is the service that allows businesses and entrepreneurs to publish websites on the internet and the domain is the URL of the website. Therefore you need to acquire hosting and domain to create your website.
As you know that there are tons of web hosts but Namecheap is perfect because it offers additional and great features than other web hosts.
Some Namecheap features are great including installing 3 websites at the basic-level plan for $1.44/mo. And along with that, Namecheap hosting prices are the cheapest like starts at $1.44/mo.
Namecheap
Namecheap is the cheapest domain registrar and web host, launched in years 2000 by Richard Kirkendall.
This web host manages 10 million+ domains. In addition, the company is well known for cheap domain registration as its name shows.
Moreover, Namecheap comes with multiple data centers around the United States and the United Kingdom.
Read More: Get .COM domain for $5.98/year at Namecheap
Namecheap Hosting Products
Along with the domain registration service, Namecheap comes with the following hosting products.
Shared Hosting
WordPress Hosting
Reseller Hosting
VPS Hosting
Dedicated Hosting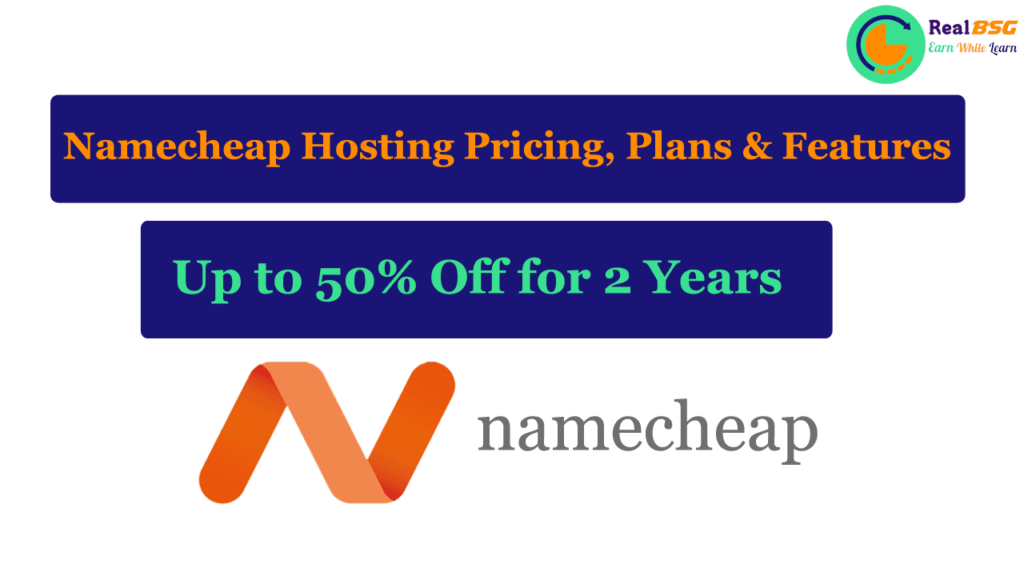 Important: Choosing a perfect hosting solution is crucial to publish your beautiful website on the internet. Along with that, keep in mind the RAM aspect while you are choosing the hosting, more RAM helps to run multiple processes on your website at once. You need at least 512 MB RAM for installing the WordPress on the server, therefore the suggested at least RAM is 512MB – 1GB. And Namecheap keeps care of these aspects.
#1. Shared Hosting
Shared hosting is the cheapest solution where multiple websites are hosted on a single server, the resources are shared with other users.
Shared hosting is the best solution for beginners that want to create a small business website.
Its plans come with unmetered bandwidth, domain & privacy protection, 50 positive SSL certificates automatic installation at free of cost, free content delivery network, free website builder, personalized email service, free website migration, free 100+ apps with 1-click installation, 24/7 customer support, and a 30-day money-back policy if you aren't satisfied.
There are three plans for shared hosting as listed below.
Stellar Plan: The entry-level plan starts at $1.44/mo and includes a free domain name, 20GB SSD storage, free domain (not .com), free CDN and up to 3 websites can host.
Stellar Plus: This popular plan charges you $2.44/mo for 2 years billing cycle and enables you to host unlimited websites, free domain (including .COM), unmetered SSD storage, auto backups, and free CDN.
Stellar Business: This business plan starts at $4.44/mo and comes with free domain (including .COM), hosting unlimited websites, 50GB SSD storage, auto backups, cloud storage, and free CDN.
#2. WordPress Hosting
WordPress hosting has been optimized for WordPress CMS. Namecheap WordPress hosting delivers various features to include 1X WordPress website, WordPress installation within 90 seconds, hosted on Namecheap cloud, 99% uptime guarantee, shameless scalability, 3X faster than traditional hosting, support for any domain buyer, safety, security, easy backups & restores, and easy to use dashboard.
Like shared hosting, it comes with three plans and various pricing structures.
EasyWP Starter Plan: Starts at $3.88/mo and incorporates 10 GB SSD storage and can handle 50K visitors/mo.
EasyWP Turbo: Charges you $7.88/mo and incorporates 50 GB SSD storage, 1.5x more RAM, 1.5x more CPU, Free CDN, Free SSL, and handles 200k visitors/mo.
EasyWP Supersonic: Costs you $11.88/mo and incorporates 100 GB SSD storage, 2x more RAM, 2x more CPU, free SSL certificate, 99.99% uptime, controls 500k visitors/mo.
#3. Reseller Hosting
Reseller hosting is the perfect choice for businesses and entrepreneurs that want to start their own web hosting firm. In the simplest sense, entrepreneurs and businesses rent the bandwidth and hard drive SSD storage to sell to others at a profit.
With Namecheap's reseller hosting, you get unmetered bandwidth, free Cpanel/WHM, 30-day money-back guarantee.
The following three packs are offered by Namecheap reseller hosting.
Nebula: You'll pay $19.88/mo for this plan which gets you 25 cPanel accounts and 30 GB SSD storage.
Galaxy Expert: You'll pay #36.88/mo for this popular package which gets you 100 Cpanel accounts and 90 GB SSD storage.
Universe Pro: You'll pay $54.88/mo for the pack that gains you 150 Cpanel accounts, 150 GB SSD storage, WHMCS starter.
#4. VPS Hosting
VPS is the abbreviation for Virtual Private Server that provides virtual machines to customers. Namecheap's VPS solutions ensure flexibility, High-level security, free migration, full control, 30-day money-back guarantee, choice of selecting server management & operating system, and full root access. VPS hosting comes with the following two plans.
Popular Pulsar: Charges you $6.88/mo and comes with 40 GB SSD RAID 10, 1000 GB bandwidth, 2 GB RAM, 2 CPU cores.
Best Quasar: Charges you $12.88/mo and comes with 4 CPU cores, 6 GB RAM, 120 GB SSD RAID 10, and 3000 GB bandwidth.
#5. Dedicated Server Hosting
Dedicated hosting, dedicated servers, or managed hosting service is the hosting that provides a physical server (servers) to a business or entrepreneur with full control.
Namecheap offers dedicated server hosting that comes with free site migration, a 99% uptime guarantee, same-day setup, etc.
You can choose from these plans as described below.
Xeon E3-1230 v6: Priced at $40.88/mo and receives you 4 cores @ 3.4 GHz, 8 GB DDR3, 1 TB HDD, and 100 TB/month bandwidth.
Xeon E-2236: Priced at $62.88/mo and receives you 4 cores @ 3.5 GHz, 16 GB DDR3, 2 x 480 GB SSD, and 100 TB/month bandwidth.
Dual Xeon Silver 4208: Priced at $159.88/mo and receives you dual 8 cores @ 2.1 GHz, 64 GB DDR4, 500 GB backup storage, 2 x 1 TB NVMe, and unmetered bandwidth.