Are you interested to become the DreamHost Affiliate? so this short and comprehensive DreamHost Affiliate Program Review is exclusively for you.
DreamHost Affiliate Program Review
The DreamHost Affiliate Program is the best affiliate program because you can earn up to $200 per sale based on the performance-based within a 30-day cookie window.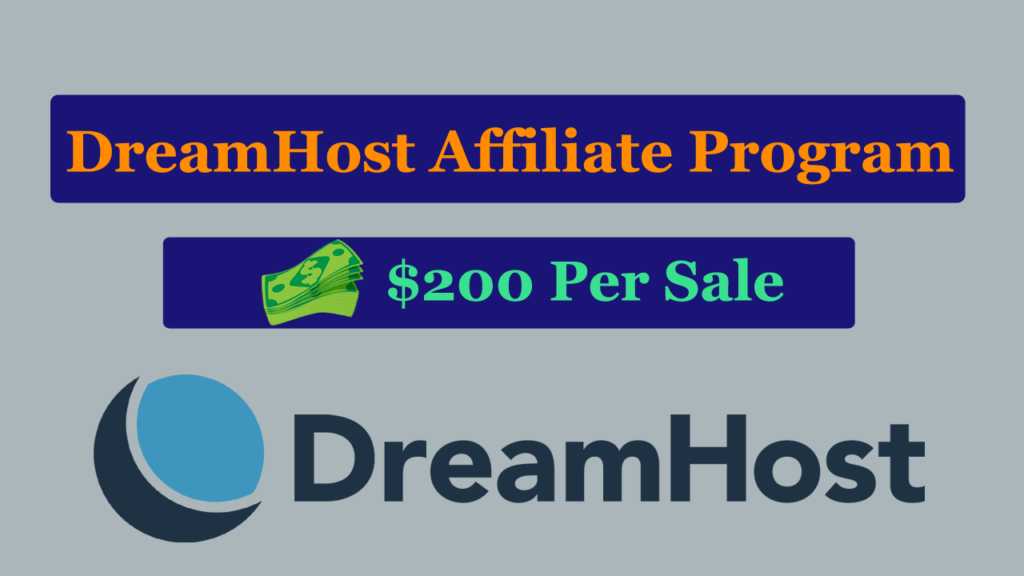 How To Sign-up at the DreamHost Affiliate Program?
Follow these steps to sing-up at the DreamHost Affiliate Program.
Click this link, you'll be redirect to the DreamHost affiliate program.
Click on Sign-up button, you'll see the sign-up forms, fill them, and submit the application.
Finale, your profile will be created, login to your account and promote its hosting products.
4 Best Ways to Make Referrals for DreamHost's Affiliate Program
To make the passive income, You have to make referrals for its affiliate program. The 4 best ways are listed here, let's explore each one.
#1. Affiliate Blogging
Write the affiliate blogs that highlight DreamHost's products and include all the aspects of hosting. Along with that, optimize the blogs for search engines to get potential visitors that actually want and need the products.
Note: If your affiliate blog is created recently, you won't get too much traffic, that's why you have to do patience to make referrals.
#2. Promote Using Banner Ads
A banner ad is an image that contains a title, important details, call to action (CTA) button, key elements, and logo. This affiliate program allows you to live the banner ad on your website and within blogs.
To get live the banner ad within blogs, copy the HTML code of the banner ad within the dashboard, log in to your WordPress dashboard, open the blog that you want to add the banner, click + Add Block, search the Custom HTML, click it to open and simply add the HTML code of banner ad within that particular block. That's it.
#3. Social Media Marketing
Spread the word about DreamHost Hosting on social media
Create and upload the videos on youtube that highlights the DreamHost's products
Build relationship with niche-specific people to buy the products on social media
Create boards and pins on Pinterest about DreamHost
Create attractive and valuabel Facebook Ad
#4. Email Marketing
Firstly, sign up at the email service provider, I recommend the Constant Contact because it lets you 60-day free trial.
Display the Email Subscriber Widgets on your website to collect a ton of email addresses
Send the subscribers great and exclusive content-emails about DreamHost
Engage the subscribers and include your affiliate link
Continue sending emails to subscibers to promote the DreamHost's hosting products.
Advantages and Disadvantages of DreamHost Affiliate Program
How to Make Money with the DreamHost Affiliate program?
Become the DreamHost affiliate (sign up at the program)
Get your personalized affiliate link
Promote the Dreamhost's products along with your affiliate links
Drive successful sales to get paid