Are you confused about which web host is ideal for your website? then this Cloudways VS Bluehost comparison is exclusively for you.
Cloudways and Bluehost are popular web hosts that offer managed WordPress hosting services but similarities end there.
Cloudways is a managed cloud hosting service provider that is partnered with the top 5 cloud hosting providers. The web host provides faster technology, multiple caching layers, excellent customer support, and robust security.
Bluehost is another popular web host that offers a wide range of hosting services including shared hosting, managed WordPress hosting, VPS hosting, and dedicated hosting. The hosting provider offers a free domain for 1st year, free SSL certificates, free CDN, and a staging environment.
Comparing and choosing one of them could be a tedious task for you. Therefore, we've done this homework for you.
Cloudways VS Bluehost: Which One is Better?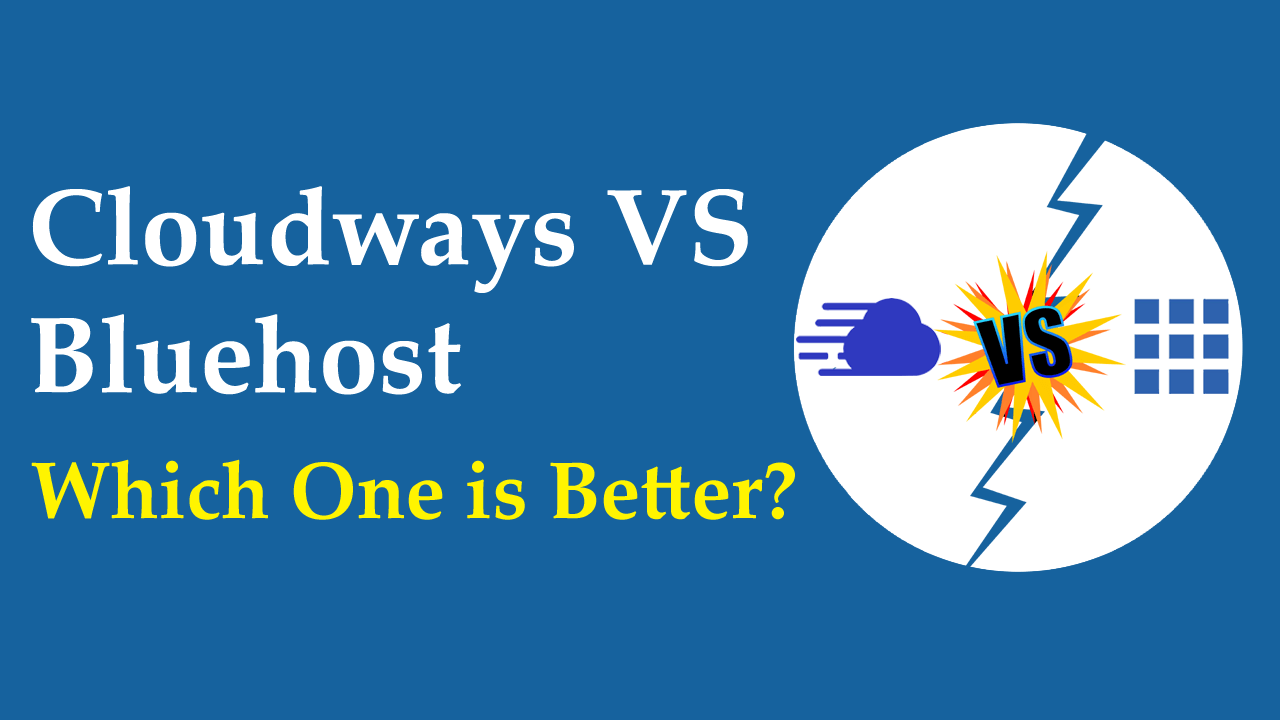 Both Cloudways and Bluehost offer managed WordPress hosting. Hence, we focus on their optimized WordPress hosting plans.
Our Cloudways VS Bluehost comparison is organized into the following categories.
Performance
Customer Support
Security
Ease of Use
Extra Perks
Pricing and Plans
It's essential to know the web hosts before comparing them side-by-side.
Founded in 2012, Cloudways is a modern, reliable, and optimized cloud hosting service provider trusted by more than 80,000 developers, businesses, and agencies.
The hosting provider is partnered with top-notch cloud hosting service providers such as Digital Ocean, Linode, VULTR, Google Cloud Platform, and AWS.
The web host provides dedicated resources and environment to every user, which results in better performance and robust security. In addition, they deliver excellent customer support to help you grow and build your website.
Quick Note: Cloudways offers a 3-day free trial without a credit card which assists you to try out every feature of the platform.
Founded in 2003, Bluehost is an oldest web hosting provider which has 20+ years of experience in the hosting industry. It's also one of the officially recommended WordPress web hosts by WordPress.org.
The web host offers different types of hosting like shared hosting, optimized WordPress hosting, VPS hosting, and dedicated. However, it's well-known for its cheaper shared hosting plans.
Bluehost's basic shared hosting plan includes 1 website, 10GB SSD storage, a free domain for 1st year, free CDN, a free SSL certificate, and Google Ads credit, which is more than enough for starter blogs.
Read More: Bluehost Review
Cloudways VS Bluehost: Performance
If your website is accessible and loads faster, it's more efficient and delivers a much better on-page user experience, which takes your business website to the next level.
There're many factors that affect your website's performance and your web host plays a critical role in it. Thus, you should choose a faster web host with optimal uptime.
Cloudways offers the following features that boost your website's performance.
Excellent Uptime SLAs: Cloudways is basically a middleman for cloud hosts, you are visiting their servers (not Cloudways). Each cloud infrastructure Cloudways works with has its own excellent uptime SLAs.
SSD Storage: Their plans include only SSD storage which is slightly faster than traditional HDDs. Some plans like Vultr High-Frequency plans have NVMe SSD storage which is even faster than standard (SATA SSD) storage.
Cloud Hosting: Cloudways offers cloud hosting, which is almost always faster than shared hosting.
Dedicated Resources: You get isolated resources from other users which gives Cloudways a major upper hand. This gives more freedom to users than shared hosting as there are no competing interests.
60+ Data Centers: Cloudways allows you to choose from 60+ data centers, geographically located in Asia, Europe, the Middle East, Australia, North America, and South America. This makes it easier to choose a closet data center for your target audience, which significantly improves your website's speed.
Advanced Caching Layers: Cloudways uses superior cashing layers: Memcached, Varnish, and Redis Object Cache Pro. It helps to serve content much faster.
ThunderStack: This is a unique set of tools like Apache, Nginx, MySQL, and MariaDB, which combine to boost your website's performance.
Pre-configured PHP-FPM: It allows PHP-based processes to run more independently from the web server, which makes faster your content delivery and improves response times.
Supports Multiple PHP Versions: You can switch between PHP versions with just a single click. Cloudways supports 7.4, 8.x PHP versions.
Cloudflare Enterprise CDN: Cloudways offers Cloudflare Enterprise CDN, which efficiently enhances your page loading speed.
Bluehost includes the following features that improve your website's performance.
Uptime: According to HRANK, Bluehost has delivered 99.966% uptime for the last 30 days. However, Bluehost has no official uptime SLA, which means your website can be down for an indefinite amount of time and the web host won't be responsible for the loss of service.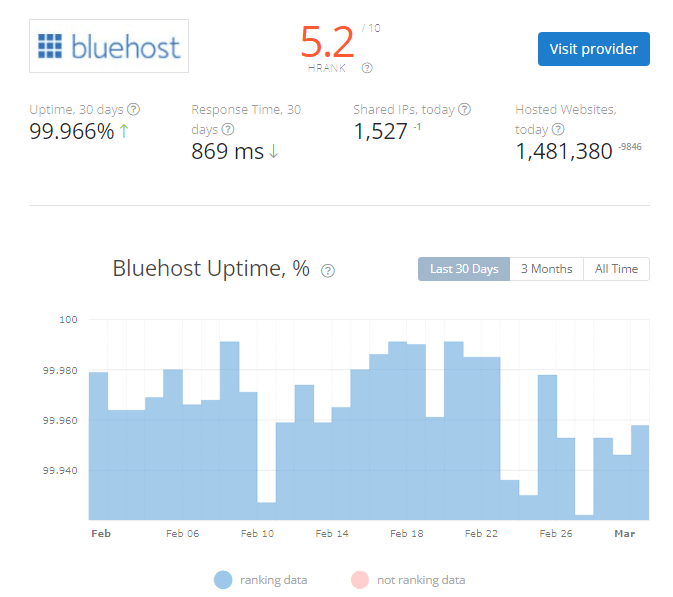 SSD Storage: Bluehost uses Solid State Drives to store your website's content and serve them faster to end-user.
Cloudflare CDN: Bluehost enables you to activate Cloudflare CDN (free version) to speed up your website.
Caching: Bluehost uses only page caching which you can enable for your blog, portfolio, and online store.
Winner: Cloudways
Cloudways VS Bluehost: Customer Support
Sometimes issues occur that you can't fix on your own, so you'll need faster and quality customer support from the web host. Hence you should give priority to customer support.
Cloudways: Customer Support
Their specialists are knowledgeable and available 24/7 via live chat, ticketing system, and phone (for Premium support).
Cloudways offers three levels of customer support: Standard Support, Advanced Support, and Premium Support.
Standard support is more than enough for most customers while Advanced and Premium support work best for mission-critical and established websites. Cloudways charges $100 monthly for the Advanced Support add-on and $500 per month for the Premium Support add-on.
Additionally, they provide helpful guides and tutorials with documentation to help you fix issues on your own.
Here's my latest chat with the Cloudways support agent.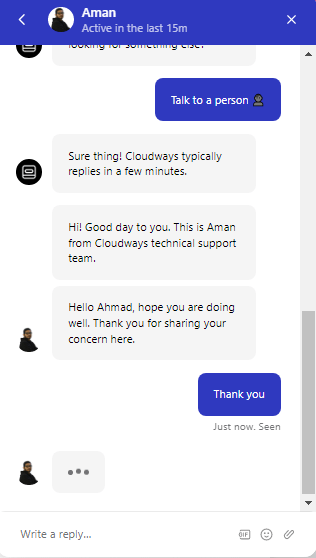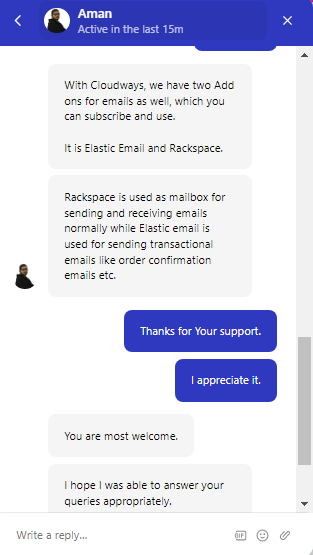 Bluehost: Customer Support
Like Cloudways, their experts are available 24/7/365 through live chat, ticket system, and phone. They solve your problems and answer the questions efficiently. However, sometimes you have to wait in a row to get connected to the support team.
On higher-tier plans, you get access to various levels of access to BlueSky, WordPress specialists team. However, you can purchase the BlueSky support add-on separately which will likely double your monthly cost.
Below you can see my latest interaction with the Bluehost support team.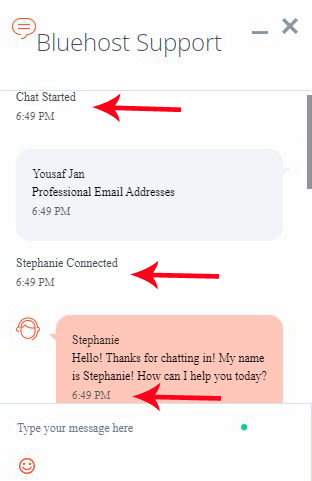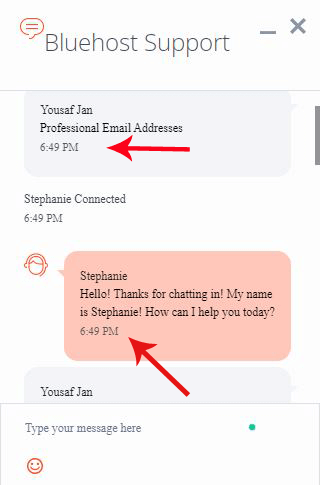 Cloudways VS Bluehost: Security
You know building a website takes years and years but crashing only takes a few minutes. Thus, you must choose a web host that protects your website from cyber-attacks.
With Cloudways, you get these features that enhance your website's security.
SSL Certificate: Cloudways offers you free Let's Encrypt SSL certificates to keep your users' data safe, verify ownership of your website, and deliver trust to users.
Managed Backups: You can set a frequency of your choice for automatic backups as well as on-demand backups are just a few clicks away. If you want to restore a backup, you just need a single click.
Dedicated Firewalls: Cloudways uses built-in firewalls to prevent malicious traffic, malware, and intruders to keep protected your website.
Safe Updates for WordPress: Cloudways allows you to automate the process of detection, testing, and deployment of WordPress updates with just a single click, which saves you time and worry.
Dedicated Environment: Since Cloudways provides you isolated hosting environment, you don't have to worry about other websites infecting yours with malware.
Bluehost managed WordPress hosting plans incorporate the following security features.
Free SSL Certificates: All Bluehost's plans include free SSL certificates to make an encrypted connection between your website and the user's device.
Automated Backups: Like Cloudways, Bluehost offers automated and on-demand backups along with unlimited restores.
Malware and Spam Protection: Bluehost provides malware and spam protection through free plugins to protect your WordPress website.
Winner: Cloudways
Cloudways VS Bluehost: Ease of Use
You know the web hosting industry is a little bit technical and complex. Therefore, our fourth comparison category is the ease of use.
Both Cloudways and Bluehost provide a web hosting management panel where you can manage all website's functions. But they slightly differ with their management panels.
Cloudways uses a custom built-in web hosting management panel that makes website and server management easier. It's used to perform administrative-level tasks from one place.
You can quickly go from zero to launch your server with Cloudways, all while staying free to customize, adjust and configure settings accordingly.
Overall, Cloudways is user-friendly, its clean and intuitive interface make it easy to launch your cloud server.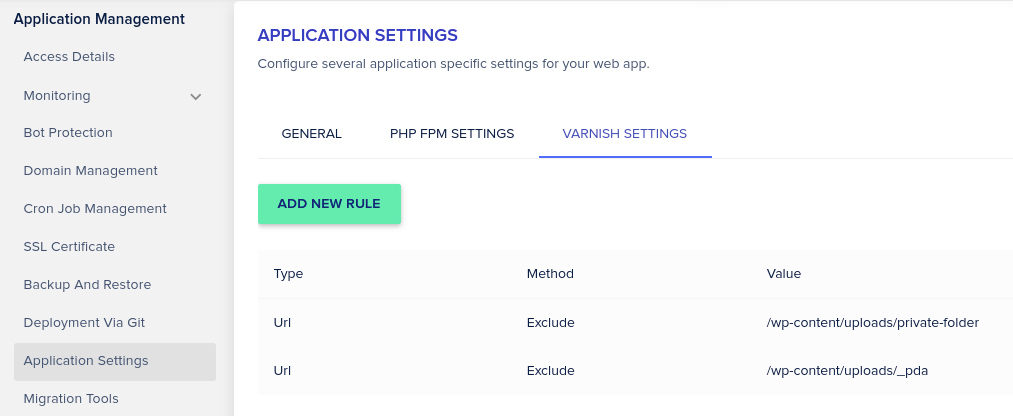 Bluehost uses cPanel (control panel), making it easier to use your web hosting with an improved interface – you just click on the icons and get started. You can perform certain actions with just a single click in one central location.
Overall, Bluehost is easy to navigate and it works well for both beginners and professional web developers.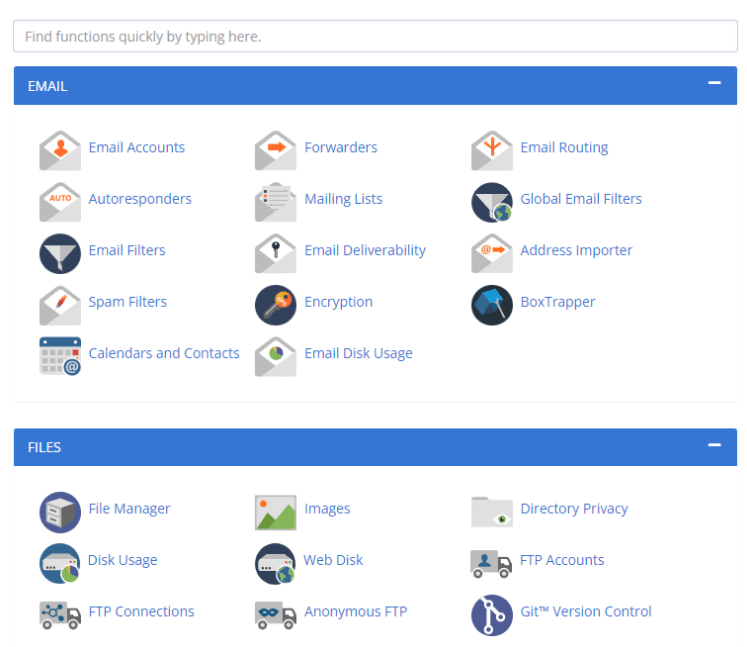 Cloudways VS Bluehost: Extra Perks
Managed WordPress hosting plans are a bit different from traditional hosting packages. Not only they are fully optimized but also they come with some great features to help you take your website to next level.
You get these additional features with Cloudways.
Free Migration: Cloudways offers you a free website migration without breaking your live website hosted on the old host.
Unlimited Staging Area: It allows you to test and develop without making changes to your live website.
Auto-Healing Servers: Since auto-healing servers resolve most issues quickly, you don't have to worry about your website crashing.
Collaborative Tools: The hosting platform has everything from GIT integration to SFTP and SSH access. You can create groups, revoke access to certain parts of your website, and much more.
Free Trial Without Credit Card: Cloudways offers you a free 3-day trial that helps you experience the hosting service.
Bluehost also gives you access to the following features.
Marketing Center Dashboard: This helps you to control and monitor your SEO, social media, and traffic channels along with keyword selection and content improvement recommendations.
Bluehost SEO Tools: This helps you to improve your search engine rankings by using the web host's built-in SEO tool.
Elastic Search: This boosts your website's search functionality by using advanced filtering and displaying fast results.
Staging Environment: This allows you to test your website before publishing it live for everyone to see, so you can safely preview changes or updates.
Winner: Cloudways
Bluehost VS Cloudways: Plans and Pricing
Managed WordPress hosting costs a bit more than standard web hosting because they are much more involved than normal shared hosting, so expect to pay more over time.
Now let's look at how much it will cost you to purchase a hosting plan from these providers.
Cloudways: Plans and Pricing
Their plans' pricing can vary quite a bit based on the particular cloud infrastructure you choose to go with. The best part, Cloudways uses pay-as-you-go pricing model, which means you're only charged for the resources you consume.
As mentioned earlier, Cloudways offers 5 cloud hosting infrastructures with various packages.
Cloudways basic plan (DigitalOcean Basic plan) costs $10 a month for 1GB RAM, 25GB storage, and 1TB bandwidth, which is much cheaper than Bluehost's WP Build plan.
Below are the plans and pricing of Cloudways.
$20 Discount: Apply the REALBSG coupon code at checkout to get a $20 discount.
Bluehost: Plans and Pricing
Bluehost's managed WordPress hosting plans are more expensive than Cloudways ones. However, their introductory discounted prices start at $19.95 for one website. When renewal kicks in, Bluehost is 2-3 times more expensive than Cloudways.
Below are the plans and pricing of Bluehost's managed WordPress hosting.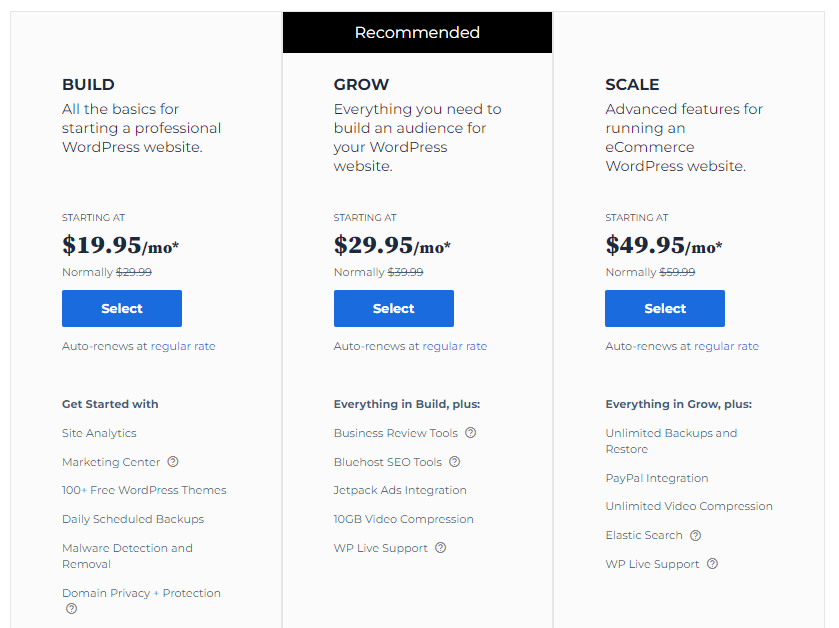 Cloudways VS Bluehost: Pros and Cons
Now let's look at the upsides and downsides of Cloudways and Bluehost.
Cloudways VS Bluehost: Conclusion