When it comes to website hosting, you have a plethora of options to choose from, with hundreds or even thousands available. However, the selection narrows down when you look for game servers. Still, fear not, as there are a good number of game server providers, especially for Minecraft.
Among the top choices for Minecraft server hosting is Server.Pro. Before getting started with the platform, it's wise to read this Server.Pro review to determine if it's the right game host for you.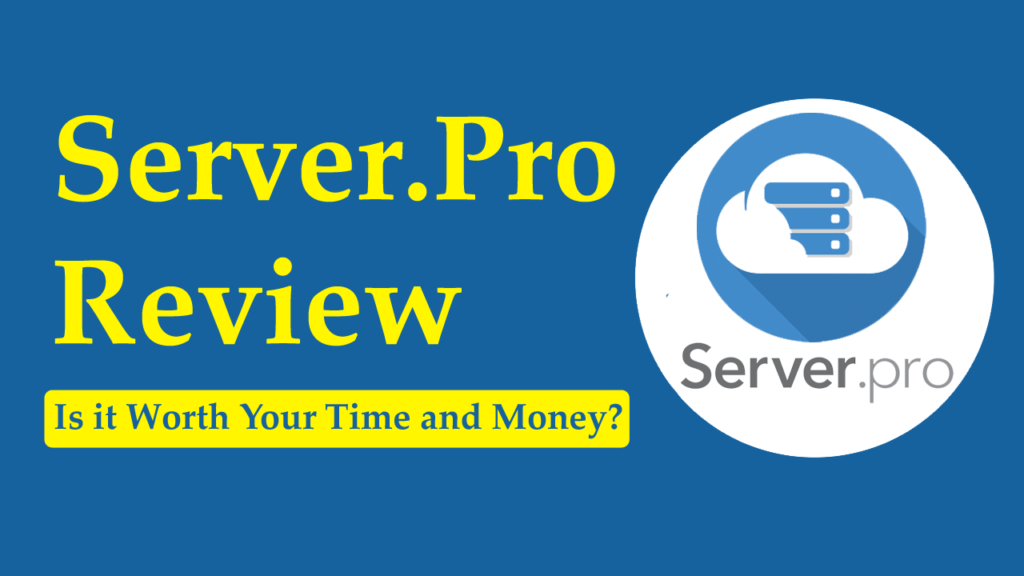 In our comprehensive Server.Pro review, we've examined every aspect of this game host, including performance, security, customer support, and plans and pricing. We tested their service to compile this review for you.
Server.Pro, a well-known game host based in Sweden, caters to gamers with game servers for Minecraft, Terraria, GTA, Velheim, and Factorio. Their expertise particularly shines in providing Minecraft servers.
With datacenters spread across four continents – North America, Europe, Asia, and Australia. Moreover, they support both the standard and Bedrock editions of the game, accommodating players on different platforms.
Performance and Reliability
Server.Pro provides fantastic features that enhance server speed and accessibility.
#1. Global Datacenters
Server.Pro has an impressive network of 9 datacenters located in the US, UK, France, Germany, Canada, Poland, Australia, and Singapore. This broad coverage allows you to select the server closest to you and your players, minimizing latency and providing faster speeds.
For Free and Premium plan users, the server location options are limited to Canada and France, while Pro plan subscribers can choose from all nine locations.
#2. NVMe SSD Storage
Server.Pro sets itself apart by providing cutting-edge NVMe SSD storage. With its lightning-fast performance, it ensures smoother gameplay, reduced loading times, and an overall enhanced gaming experience for users.
#3. Reliability
While Server.Pro does provide reliable servers, it's important to note that they do not offer an uptime guarantee.
Server.Pro ensures the safety and security of your game server by employing proactive security measures.
#1. DDoS Protection
With Server.Pro's robust DDoS protection in place, you can trust that your server is shielded from malicious cyber attacks, allowing you to focus on uninterrupted gameplay.
#2. Daily Backups
The free plan lacks daily backups, while the Premium and Pro plans offer the added benefit of daily backups.
#3. Dedicated IP
The Pro plan exclusively includes a dedicated IP, enhancing network security and providing a safer gaming environment. Moreover, it ensures smoother gameplay by reducing lag and optimizing bandwidth, preventing performance issues.
#4. Game Firewall
Server.Pro's firewall is available exclusively to PRO plan subscribers for Minecraft servers, effectively detects and mitigates the most common attacks.
Server.Pro presents a range of plans for users to choose from. The Free plan suits newcomers with a few friends, offering 2 vCores, 1GB RAM, 5GB NVMe SSD storage, and a maximum of 10 players.
For those seeking more, the Premium category consists of two packages: Basic and Medium. The Basic plan costs $5 per month and includes 2 vCores, 2GB RAM, 20GB NVMe storage, and unlimited players. Meanwhile, the Medium plan is priced at $10 per month, providing 2 vCores, 4GB RAM, 20GB NVMe storage, and also unlimited players.
Stepping up to the PRO plans, users can choose between High and Ultra. The High plan is priced at $20 per month, featuring 3 vCores, 6GB RAM, 40GB NVMe storage, and unlimited players. On the other hand, the Ultra plan offers 12GB RAM, 4 vCores, 80GB NVMe storage, and unlimited players.
Aspects
Free
Basic Premium
Medium Premium
High Pro
Ultra Pro
Price
$0
$5/Mo
$10/Mo
$20/Mo
$40/Mo
RAM
1GB
2GB
4GB
6GB
12GB
vCores
1
2
2
3
4
NVMe
Storage
5GB
20GB
20GB
40GB
80GB
Players
10
Unlimited
Unlimited
Unlimited
Unlimited
Plugins
10
Unlimited
Unlimited
Unlimited
Unlimited
Anti DDoS
Standard
Standard
Standard
Advanced
Advanced
Ad-free
X
✓
✓
✓
✓
Backups
X
✓
✓
✓
✓
Multi Admin
X
✓
✓
✓
✓
Dedicated IP
X
X
X
✓
✓
Firewall
X
X
X
✓
✓
Server.pro's customer support has room for improvement. While they tend to respond relatively quickly compared to some other providers, their support options are limited to email (tickets). Unfortunately, there is no phone support or live chat available.
Server.Pro features an extensive knowledge base, providing users with a valuable resource to find answers to common questions and troubleshoot issues on their own.
Server.Pro is designed to be user-friendly and easy to use. They provide a straightforward multi-admin control panel that allows for simple server management.
Additionally, they offer one-click installers for popular plugins and modpacks, making it easier for users to customize their servers according to their preferences.
Overall, Server.Pro aims to provide a seamless and hassle-free experience for both newcomers and experienced users alike.
Let's explore the pros and cons of Server.Pro to get a better idea of its services' authenticity and reliability.
Conclusion: Server.Pro review
In conclusion, Server.Pro proves to be a fairly decent game hosting service with several noteworthy features. Its user-friendly control panel, diverse game support, and global datacenters contribute to a smooth gaming experience. The implementation of NVMe SSD storage and DDoS protection further enhances performance and security.
However, it's important to consider the limitations of customer support options and the lack of an uptime guarantee. Despite these drawbacks, Server.Pro remains a good option for gamers seeking a reliable game hosting solution. 
I hope you found our Server Pro review helpful and informative.