Want to know about Bluehost's pros and cons. So keep reading on.
When you need to take online your website, you need a web host that provides you with more pros than other web hosts. And that hosting provider must help you to get success in your online business.

But as you know that there're many web hosts to include Bluehost, Hostinger, a2 hosting, iPage, Hostgator, Liquid Web, Nexcess, etc. So it's a difficult task to choose a web host that is perfect for you.

Among all of them, there's a trusted and leading web host which is hosted over 2 million websites in its journey. And that's web host is the Bluehost.

Bluehost offers a wide range of hosting services such as Shared Hosting, Managed WordPress hosting, VPS hosting, and Dedicated Hosting which are great solutions for different businesses' needs and wants.

If you're one of those that want to build their website through WordPress Platform. Then we have good news for you. The good news is that WordPress.org recommends Bluehost.
WordPress officially recommends three web hosts such as Bluehost, SiteGround, and DreamHost. Here you can read WordPress.org's blog about 3 recommended web hosts.

So if your goal is to create and build the wordpress website, then you should definitely host your website on Bluehost.

Not only that, Bluehost comes with more advantages, let's see what're the pros that you gain with Bluehost.
Bluehost Pros and Cons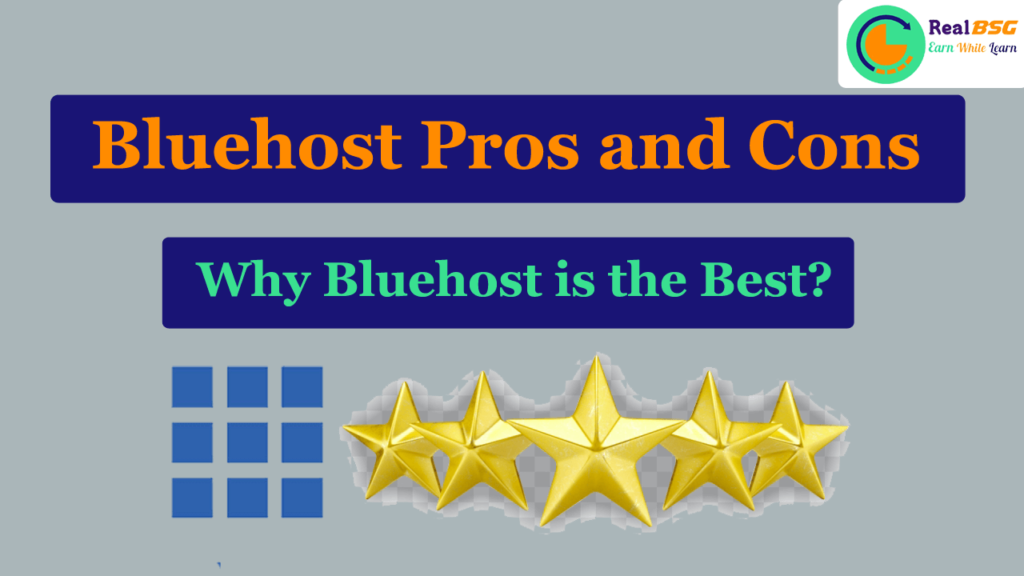 Here we have mentioned the Bluehost pros and cons.
Pros
Bluehost is the first choice for most starters and experienced experts. Because Bluehost gives everything to its customers to build the successful online business.
These are the powerful Bluehost pros that you get including:
1. High Performance
The website performance is linked with speed and uptime. Bluehost is great in terms of speed and uptime.
Bluehost provides high-performance servers to its customers.
In addition, all Bluehost hosting plans include SSD disk space that boosts your website performance and loads your website quickly around the clock.
In addition, they incorporate FREE Cloudflare CDN that makes your site speed even faster.
Speed Test
We analyzed the website that is hosted on Bluehost through the most popular website performance and speed checker tools.
GTmetrix
GTmetrix is the most favorite tool of most web developers that measures the web pages' performance and speed.
We examine the website that is hosted on Bluehost.

As you can see, the website performance is 95% (A-Grade) and the loading time is 1.4sec. So it's great.
Pingdom
Another favorite tool of most web developers is Pingdom that's used to analyze the website's performance and speed.
We measured the same website's performance and speed through this tool.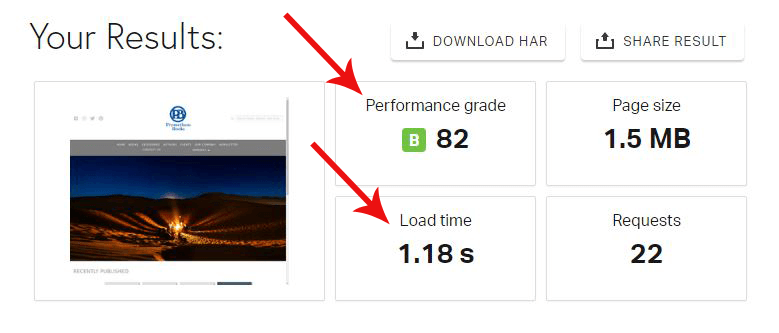 We got the 82% (B-Grade) performance score and 1.18sec load time.
Uptime Test
There isn't a web host that offers 100% uptime guarantee, so it's good to choose a web host that offers an uptime guarantee of close to 100%.
And Bluehost is one of them, it offers an uptime guarantee of 99.99%.
Although if you're not satisfied with its uptime guarantee, you can check out it by the HRANK platform.
The HRANK is the platform that provides each web host real-time uptime guarantee.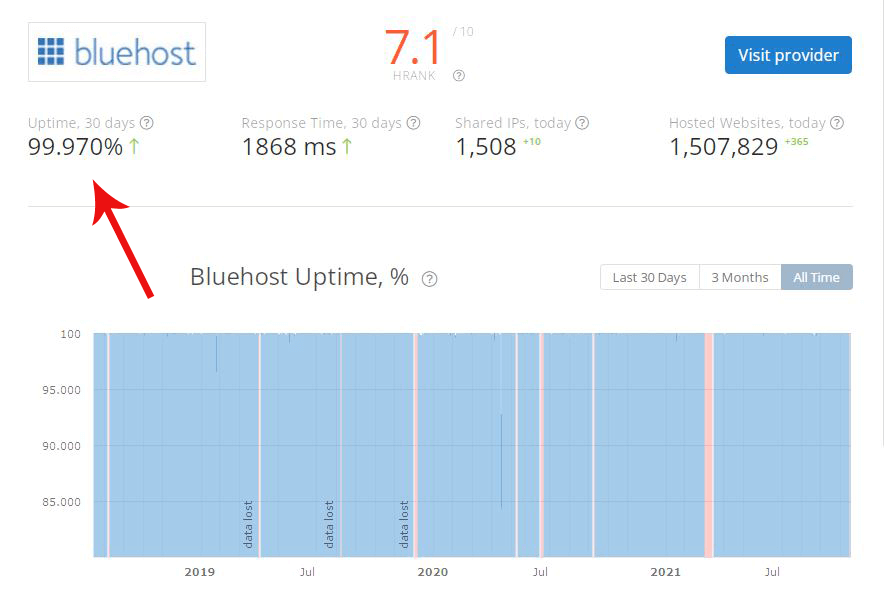 So you can see the 99.970% uptime guarantee for the last 30 days, which almost equates as claimed by Bluehost.
2. Free Domain Name
Probably, you will pay around $12 for registering your domain name.
But Bluehost every plan includes the FREE domain name for the first year. So not only you will save your money, but also you stay away from the troubles of DNS configuration.
3. Free Cloudflare CDN
The Cloudflare CDN (Content Delivery Network) caches the website content. It reduces the web pages loading time, bandwidth usage, and CPU usage on the server.
Another pro of Bluehost is that you get FREE Cloudflare CDN that improves your site performance and speed.
4. FREE SSL
Nowadays it's crucial to enable an SSL (Secure Sockets Layer) certificate on your website. Because it secures your site visitors' data (data transfer, secure credit card transactions, and logins), verifies your site ownership, conveys trust to your site visitors, and so on.
Bluehost hosting packages incorporate FREE SSL certificate.
5. 1-Click WordPress Installation
Don't worry about WordPress installation, you just need a click to install and setup it.
If you have registered your domain on Bluehost, then you don't need to point your domain to hosting. Otherwise, if your domain is registered on another domain registrar, then simply add Bluehost nameservers to your domain at the domain registrar.
After that, install WordPress on your hosting to get online your website.
6. Free Custom Branded Emails
Even with the Shared hosting basic plan, you can create up to 5 email addresses, which is amazing (e.g. @yourdomain.com). Although, with all other hosting plans, you can create unlimited email addresses.
7. Free WordPress Migration
Bluehost recently launch this feature to move your site from another web host to Bluehost free of cost.
In contrast, some web hosts charge for site migration.
8. 24/7 Customer Support
The Bluehost customer support team is available 24/7 via phone and live chat.
Every time you run into any hosting-related issue or have a query, simply get in touch with the Bluehost support team. They resolve your issue and answer your query like friends yet knowledgeable.
9. Manage Your Site with Ease
With the Bluehost, you can manage your site easily because each Bluehost hosting plan incorporates the top-notch control Panel.
10. Enjoy Unlimited Websites
You can host an unlimited number of websites on Bluehost. All you have to do is choose a bigger plan that allows you to host unlimited websites.
11. Unlimited Storage and Bandwidth
Along with hosting unlimited websites, you get unlimited SSD storage and bandwidth. These features let you stay away from hitting storage and bandwidth limits.
12. Affordable Introductory Pricing
If you're new to Bluehost, Bluehost has a Gift for you in terms of Cheap Introductory Pricing.
Their basic hosting plan starts at INR 149/month for 36 months term. Thus, you will save your money.
Click this special link to get a big discount on Bluehost hosting services.
13. Best For WordPress
As we mentioned earlier, Bluehost is officially recommended by WordPress. So in that way, it's perfect for WordPress CMS (Content Management System).
14. Money Back Guarantee
In last but not least, if you have purchased the Bluehost hosting service, and it's not suitable for your specific needs and wants or if you don't like it, you can get back your money.
But keep in mind that the money-back guarantee is for 30 days. This means you can cancel your purchase within 30 days after the signup day.
For getting your money back, contact the support team.
Con
We have found only one Bluehost con.
For the Shared Hosting, monthly billing cycles not provided. In the simplest sense, you have to sign up for at least a year.
Bluehost has the data centers only in the USA.
Conclusion on Bluehost Pros and Cons
Bluehost is overall a good web host and provides everything you need to build your website.
The Bluehost hosting packs enable you a FREE domain name for a year, FREE SSL, FREE Cloudflare CDN, unlimited websites, unlimited storage, unlimited bandwidth, 24/7 customer support, 1-click WordPress installation, and more helpful features.
Whether you're a beginner or experienced digital marketer, you should go with Bluehost especially for building your WordPress website.
Now launch your website for the cheapest price as low as INR 149/month and share your business ideas with the world.